Article
DANZ
The Clearing - Footnote New Zealand Dance
31 July 2019, James Hay Theatre, Christchurch
Christchurch Arts Festival
Reviewed by Kerri Fitzgerald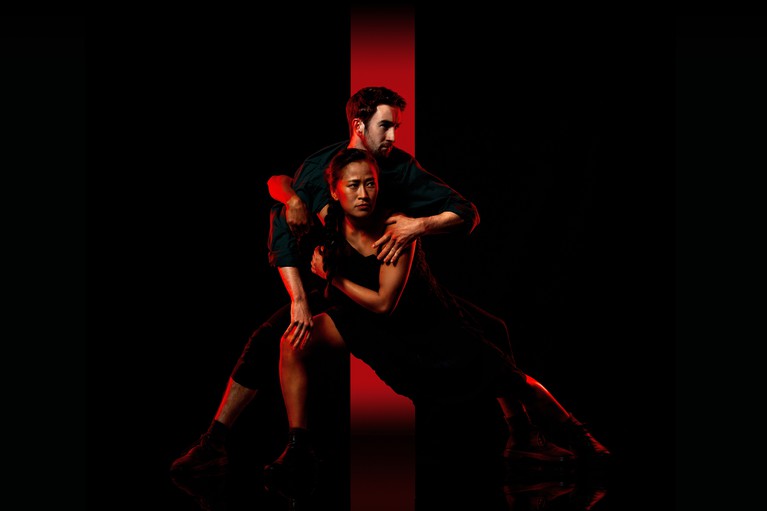 This is a bold, new, and somewhat unsettling work. Choreographer Ross McCormack creates a clearing that is full of uncertainty and layered with a mysterious energy. There are inert bodies, tumbling forms, and entwined limbs; the dancers/ beings seem to morph in and out of each other. An eclectic movement vocabulary yields a series of evocative dance episodes accompanied by a sinister soundscape (which includes voice) and interspersed with drama. McCormack gives the audience much to muse on in what is described as: "an alluring and perplexing," work. This reviewer was left entranced and beguiled.
A lonely form is slumped on a mound in a clearing with sound boxes and mist; it is a seemingly benign environment. Quickly this place changes into one of uncertainty where danger appears in a frighteningly random way. A sculptural figure wearing a black box on its head interacts with the technology visible onstage, whilst a figure like a paleontologist is searching. The figures in the surreal clearing are lost, but they are united in their anxiety. Together they help 'birth' another being from the mound. They pit themselves against the environment and each other, and all the while a mysterious, malevolent energy threatens them. But like Godot, it does not materialise.
Repeatedly, land, human, and animal forms merge then disengage in a series of spasmodic, writhing interludes. Convulsive twitching and precise, tightly articulated moves are contrasted with bundles of bodies in rolling formations. The result makes for mesmerising viewing. The section using the tripods (used primarily to support the sound system) is particularly effective; they take root (upside down) in the mound and suddenly the silhouettes of empty branches appear within the eerie landscape. And this is just one riveting moment within the innovative choreography.
Another stunning section is the use of the five bodies to recreate a hunt; the gun, the hunter and his swag stalking within the forest. Forceful repetition of the motifs accentuates the haphazard nature of this quest and allows the audience to savour the artistic ingenuity of the choreography. Scenes tip into turbulence; an oily cloth encompasses a form, it strains and pushes ... then is consumed back into the mound. An aura of the supernatural pervades.
The Clearing is accompanied by Jason Wright's stunning soundscape which has a life force entirely of its own. Fragments of conversation are pitted against this disturbing force. At times the energy of the sound makes the seats of the theatre reverberate as if in an earthquake, reinforcing the idea that nothing is certain on this planet and we, humans cannot control the environment.
Footnote has succeeded in every sense of the word and can place this work on the world stage. Like Betroffenheit (Crystal Pite), McCormack is willing to tread new territory. Every dancer is beautifully controlled, totally committed, and clearly connected to the piece and to each other.
An enthralling night of contemporary dance.