Article
DANZ
Soundscape - Momentum Productions
11 September 2019, Q Theatre, Auckland
Reviewed by Christopher Connolly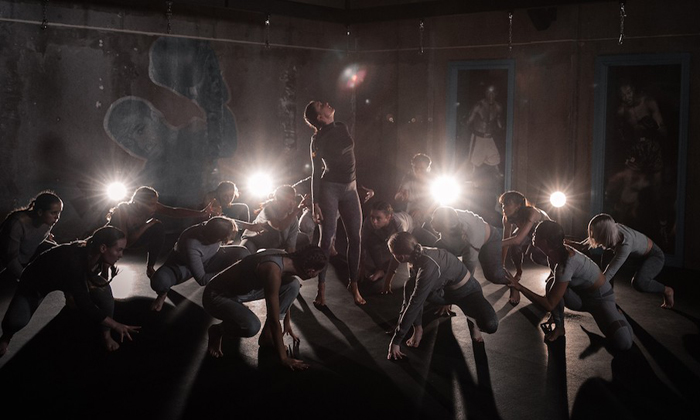 Seconds before the show begins, neatly ordered dancers in compact rows offer the illusion of anything but the powerhouse performance that followed.
After a sold-out season last year, Momentum Productions returns with what has grown to be expected of them; a high-octane, relentless evolution of movement. One that should come with a warning for those of a nervous disposition. At times an overwhelming mix of genres, eclectic music helps guide the audience around the visual map of Soundscape. Andrew Cesan's musical production spans a hypnotic opening piano melody, into dramatic swells of jazz and modern rap. Kayla Paige follows carefully in those footsteps with fragmented elements of contemporary, urban and commercial choreography - held together on stage with youthful vibrancy and trust in the direction.
Soundscape gives the impression that the 33 young dancers from Momentum's pre-professional and professional development programs reserve some artistic license in their movement, despite the restrain on a true emotional narrative. The work's stand out moment sits on the shoulders of Lochie Brooks and Chance McKay's duet, containing physicality often reserved for established professional dance. The segment serves up a Momentum highlight reel of grungy music and gymnastic athleticism, with a vibe that wouldn't look out of place in an episode of Black Mirror.
Despite occasionally confronting the audience with some darker moments, Soundscape manages to retain its enjoyment factor with relative ease due to artful aptitude by Cesan and Paige, aided by a group of talented young dancers growing in passion, confidence and love for the art. However, more showcase than show, the production fails to deliver on an emotional note usually associated with a stage production, but does deliver on its main purpose of exemplifying the talent of New Zealand's next generation of dancers.
The latter act involves a faultless solo from Dani Taylor, devolving into a spider-like posture and clambering over a sudden web of strewn bodies. Either ironically or comically reminiscent of the pre-professional rigour dancers have to go through to climb above one another and sit pretty at the top of the company tree.
Momentum's will to enforce an equal emphasis on dance and music is starting to result in the forging of a distinctly recognisable style. Whilst overwhelmingly commercial at heart, Soundscape teases what could be if they shift productions to a place where artistic storytelling trumps the formula of showing all of what their dancers can do. There's an aggressive physicality - and emphasis on the athleticism of the performer - that can prohibit the often overlooked importance of stage personality in commercial dance. No matter the genre, dance isn't just movement. Dance is art, and art tells a story.