Reviews
DANZ

Performance Season 2022
New Zealand School of Dance
Te Whaea: National Dance & Drama Centre,
Wellington.
16-17 November 2022
Choreography (Classical): Loughlan Prior
Choreography (Contemporary): Craig Barry, Christina Chan & Aymeric Bichon, Holly Newsome, Tyler Carney-Faleatua, Sarah Foster-Sproull.
Lighting Design: Wendy Clease
Costume Support: Anne de Geus & Elishia Ward
Reviewed by Brigitte Knight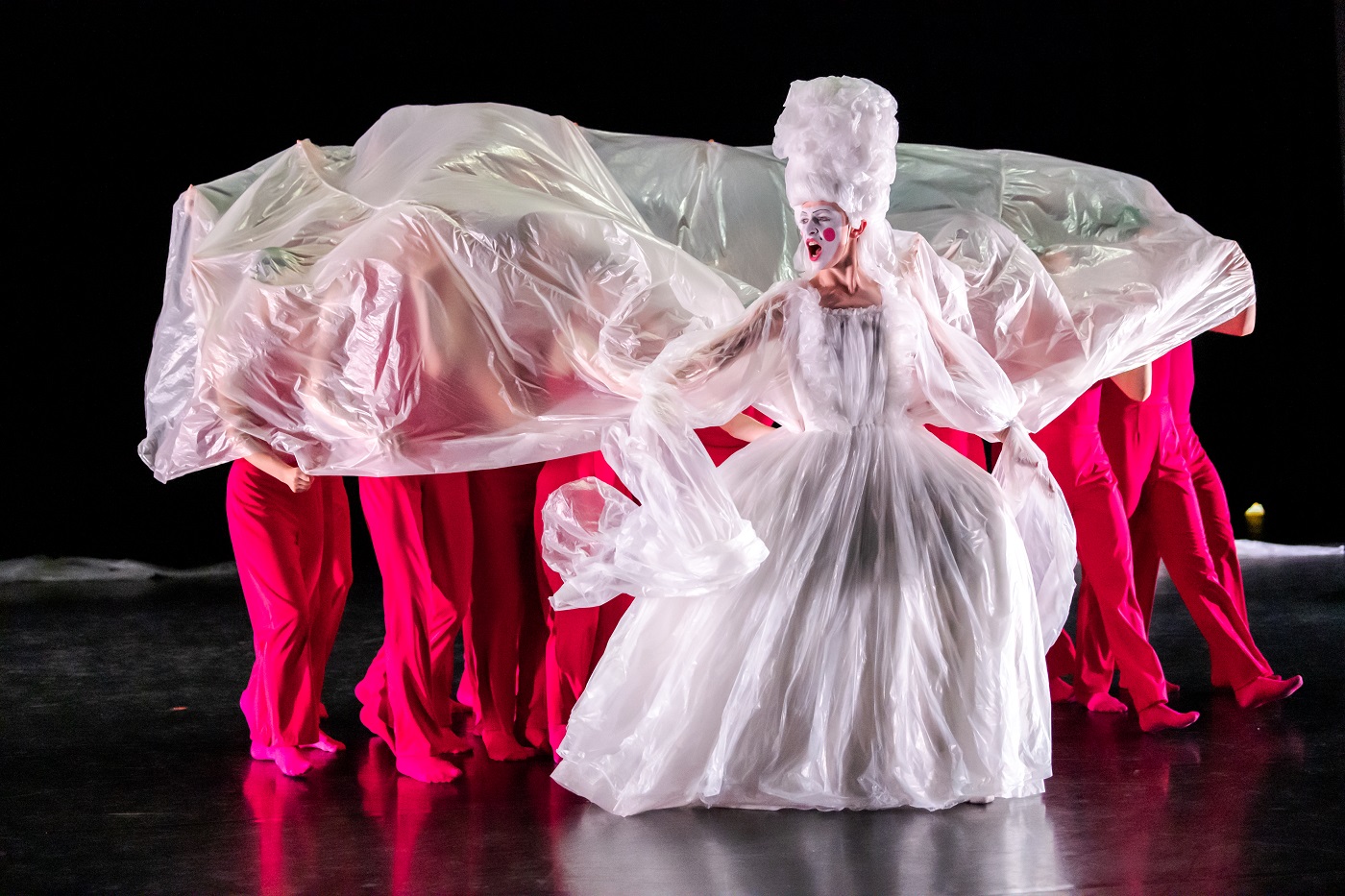 In 2022 The New Zealand School of Dance is celebrating its 55th anniversary, exclusively featuring works by Distinguished Graduates, alumni and current teachers. Performance Season 2022 is divided into alternating programmes; All Loughlan Prior Programme (classical ballet stream students) and Contemporary Dance Programme. Performances showcase students from all year groups to reflect recent changes to the NZSD curriculum and qualifications. Formatting the Performance Season in two parts is highly successful, allowing each stream of students sufficient time and variety to display their talents. Complemented by curating contrasting programmes, the first is a celebration and exploration of a single choreographer's voice, and the second an eclectic variety of choreographic voices and styles.
Opening the season is the All Loughlan Prior Programme with five works choreographed by NZSD Distinguished Graduate and highly sought-after dance maker, Loughlan Prior (Choreographer-in-Residence to the Royal New Zealand Ballet). The programme boasts two world premieres - Coloratura and Storm Surge, three retrospective works Verse (2012), Curious Alchemy (2017), and Time Weaver (2021), and is the first time NZSD has celebrated the work of a single choreographer in their performance season.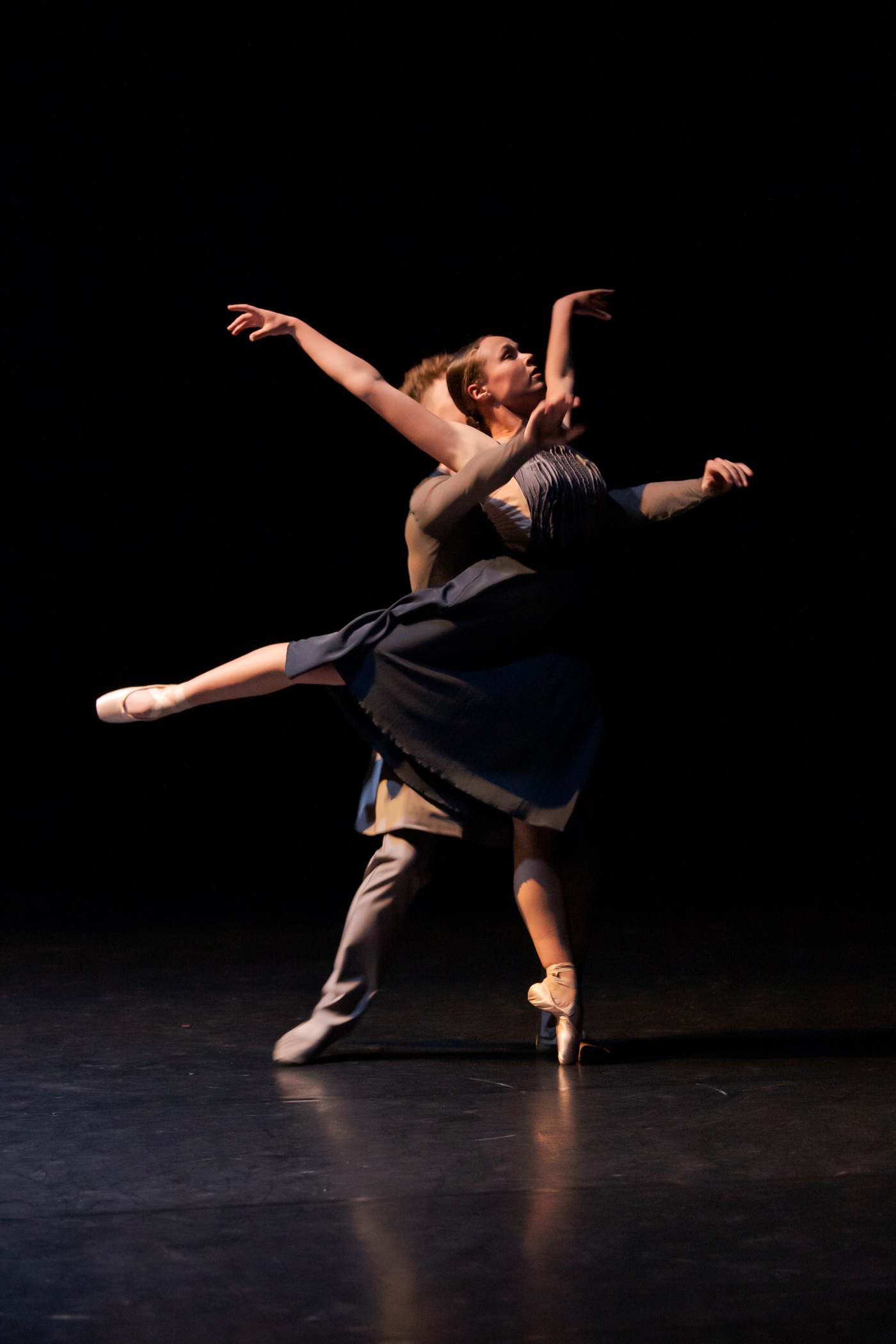 Moody and dark, Storm Surge moves restlessly through groupings, patterns and movement motifs beautifully integrated with compositions by Matteo Sommacal. Prior describes the work as "…Inspired by the wild weather of Wellington…[it] explores the drama, beauty and fragility of the human body…the dancers are seen to dart and weave through a vibrant landscape evoking turbulent skies…" The choreography is largely locomotor while still incorporating imaginative modern pointe work and pas de deux partnering, offering students challenges to meet in terms of technique, stamina and control. With space to grow in assuredness during the season, the dancers will be repaid with dance that flatters and celebrates them and builds to a rewarding crescendo.
Originally created for third year student Luis Piva Jr. at NZSD's 45th anniversary, ten years on the intimate solo Verse is managed admirably by first year student Joshua Douglas. Created to a poem spoken by Piva in his first language, Portuguese, and composition by Jordi Saval the work explores and manipulates classical ballet positions and alignments, fragmenting, exploding and reimagining shapes while maintaining familiar planes of movement and facings. Verse is a lovely opportunity to consider Prior's choreographic voice, its development over time, and to note the depth of consideration he awards each movement selection.
Curious Alchemy is the sharpest and most succinct work in the All Loughlan Prior Programme, created to showcase NZSD students for the Assemblée Internationale, hosted by Canada's National Ballet School in 2017. Vivacious and quick, Curious Alchemy's cast of four bring nuance, mastery and precision to their performance infusing this ballet with confident style and humour. Dancers Ruby Ryburn, Hannah Thomson, Miguel Herrera and Khaan Scrivens are still first and second year students; an indication that there is plenty to look forward to from these artists in years to come.
Created for the 2021 NZSD Graduation Season, Time Weaver is an ethereal, technically demanding and rigorously choreographically-nuanced contemporary ballet pas de deux. Second year India Shackel and third year Aidan Tully are both courageous and careful as they meet the challenge in Prior's work, moving through moments of suspension, stillness, counterbalance and torque. Set to Philip Glass' beautiful Metamorphosis: Metamorphosis Two, Flowing, the ephemeral Time Weaver contrasts extension and length with confidently-manipulated fractured line, tension and risk. This work too has space for the dancers to grow in assuredness and control during the season, especially in the more dynamic areas of partnering and level transitions.
The All Loughlan Prior Programme finale Coloratura is a glorious riot of colour and irreverence, involving a large ensemble cast of all the classical stream students from each of the NZSD year groups. With highly effective costuming by Max de Roy and vibrant compositions from Nicola Porpora, Oliver Davis, Geminiano Giacomelli, Riccardo Broschi Coloratura pays homage to the world-renowned mezzo-soprano Cecilia Bartoli. As with the earlier Storm Surge, Prior's hand in this most recent work is masterful and confident, moving decisively through fresh and dynamic planes of movement and tweaking the limitations of classical vocabulary. Rilee Scott is resplendent as the plastic-gowned Diva, and the ensemble members commit themselves to the choreography with energy and flair. Soloists Rebekah Terry and Joshua Linkhorn are perfectly cast here, delivering an unabashed and simply joyous performance.
Craig Bary's State of Perpetuation has its world premiere opening the Contemporary Dance Programme; a colourful and energised ensemble work of layered motif and perpetual fluidity. The contemporary stream dancers are confident and controlled in this movement vocabulary, and the work is balanced and anchored by the mana of Micah Tofilau at its centre.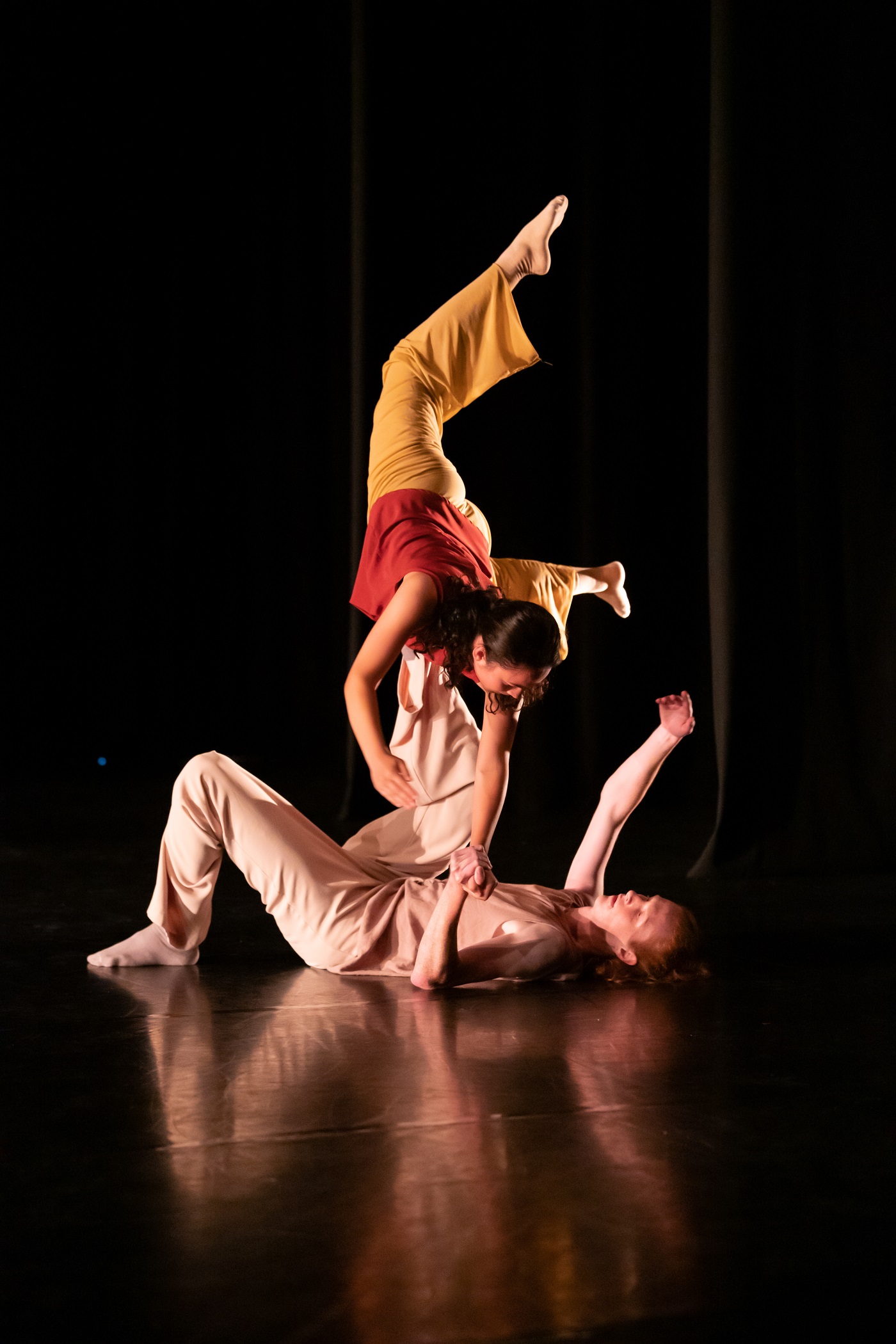 Acquired by NZSD in 2017 the intimate duet Midlight by Christina Chand and Aymeric Bichon is performed on opening night by graduating third year dancers Persia Thor-Poet and Seth Ward. Choreographed to the haunting Der Vorghormia (Armenian, Lord Have Mercy) by Lévon Minassian, the work is simultaneously roiling and meditative, and dismissive of the audience's gaze all the while drawing it in. At times weight transferral and release/grounding would benefit from more precision and control in order to sustain the illusion of effortless grace and surprising suspensions offered within the choreography. Thor-Poet and Ward are strong in both physicality and stage presence and Midlight will continue to be refined throughout the season.
Rubble by Holly Newsome is a large ensemble choreography for sixteen dancers, a grinding and monochromatic dystopian dance work infused with subtle humour. Accompaniment includes The Ultimate Motivational Clip juxtaposed with pounding electronic music, as the dancers work, rework, deconstruct and reconstruct their environment. Highly stylised and effectively uniform black suiting by Anne De Geus costumes the performers in a perfectly impersonal and uniform fashion, effectively providing a blank canvas for Newsome's inventive movement vocabulary and considered facial expressions to shine.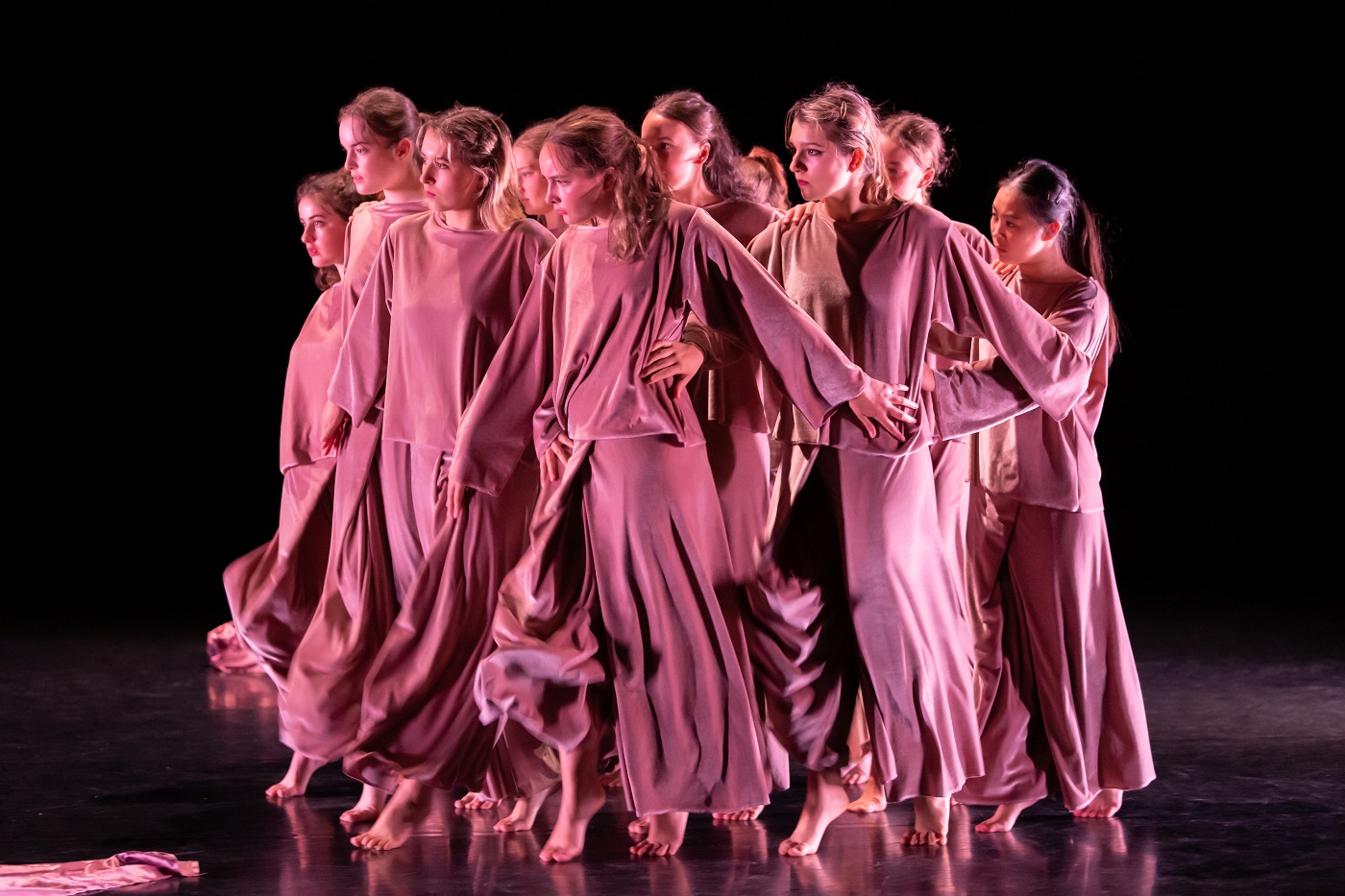 Tyler Carney-Faleatua's A Kind Tone takes a thoughtful approach to an ensemble choreography for twelve women. Described by the choreographer "this group of wāhine are ultimately exploring what it means to be an individual with the support of a community…" the work builds calmly and evenly through pairings, groupings, stillness and motif. Swathed in an excess of rich pink fabric, A Kind Tone, like the preceding work Rubble, would benefit from tightly groomed hair which would provide contrast (and an holistic aesthetic, respectively), to the fabrication of costumes and movement material.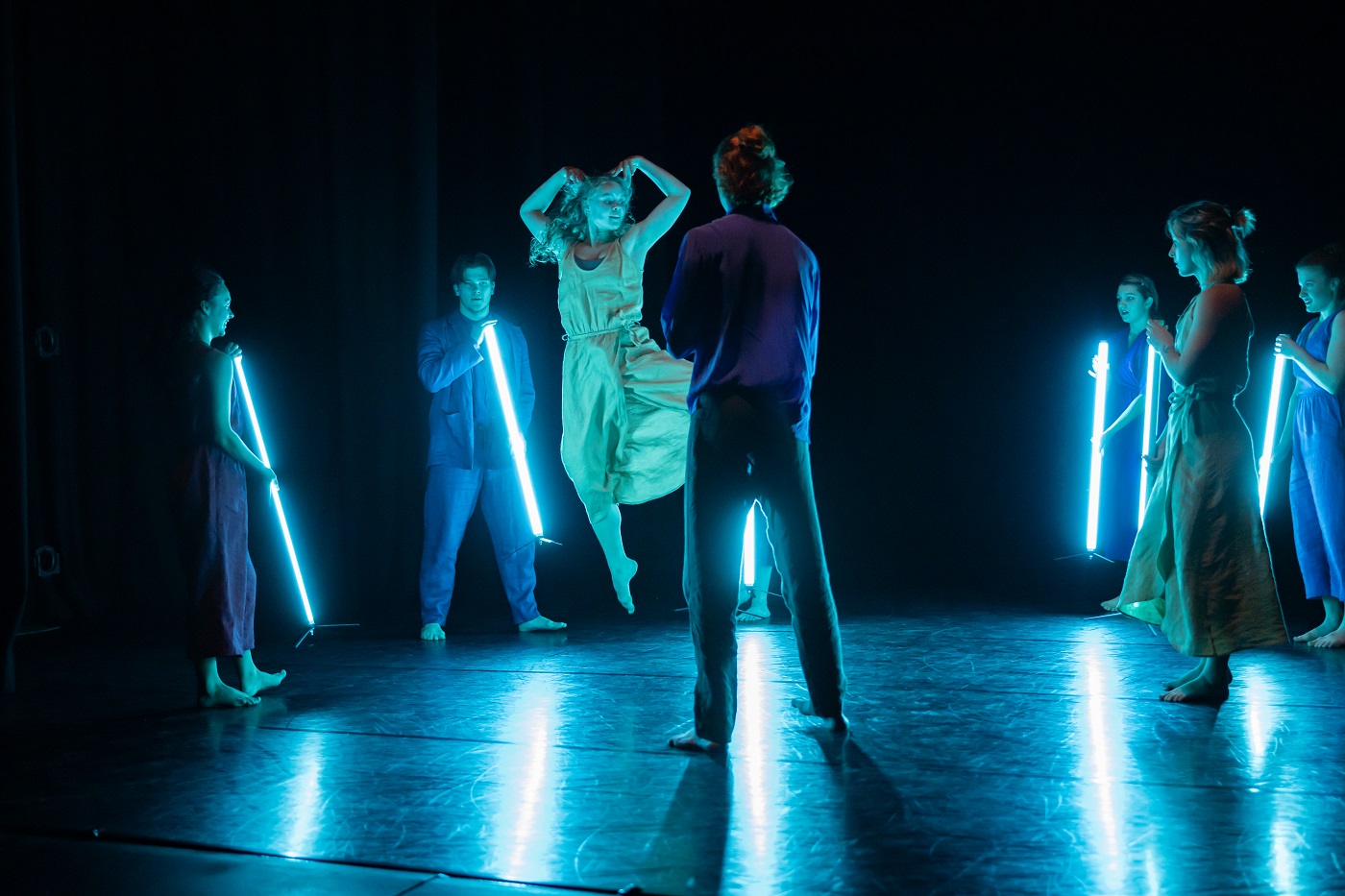 Finally, Sarah Foster-Sproull's To the Forest, To the Island is the most scintillating and emotive work of the Contemporary Dance Programme showcase. Premiered in 2021 for Unitec School of Performing and Screen Arts in Auckland, the choreography nevertheless appears tailor-made for the NZSD students' superb technique, achieving a most pleasing balance of challenge and flattery. Foster-Sproull's ability to craft and sculpt a completely satisfying and authentic choreography is at its masterful best in this kind of intimate contemporary setting. With thoughtful and fully-integrated lighting, To the Forest, To the Island also benefits from the choreographer's ongoing artistic relationship with composer Eden Mulholland, which sees all elements of the work build subtlety and deliberately, moving the audience into new parts of the experience with a vitality that surpasses what has gone before. At once celebratory and poignant, To the Forest, To the Island is magnificent and immediate dance. A number of performers enjoy a new level of power and prominence onstage under Foster-Sproull's direction, including Hannah Scholten, Caterina Moreno and Amélie Logan. To the Forest, To the Island makes a star of one dancer, however, and that is Deija Vukona. Her performance is sophisticated and intriguing, harnessing the communication and embodiment of generosity, joy, and the evocative inevitability of transitioning from student into the enormously uncertain professional arena.
Having enjoyed a comprehensive celebration of the NZSD's achievements and contribution to the landscape of dance in Aotearoa in its 55th year, it is appropriate to acknowledge the staff, whānau and third year students – just four of them remaining in each stream – who have braved the brunt of the Covid-19 storm, and found the courage to stay the course and follow their dream of a career in dance. Our stages will be richer for it.
BRIGITTE KNIGHT
Brigitte Knight, M.Prof.Studs (Edu. First Class Honours), BA, Dip. Teach (Sec) is an experienced and innovative choreographer, dance educator, dance and theatre critic, and dance adjudicator. She has created work for Okareka Dance Company, Coca Cola Christmas in the Park, New Zealand Fashion Week, Māori Television, TV3, The Auckland Shakespeare Company, Tempo Festival, The Basement Theatre, Aotea Diwali Festival, University of Auckland Diwali Festival, Desi Showbiz International, The Radio Network, Short + Sweet Dance, NZ One Act Play Festival and many more.