Article
DANZ
Graduation Season - Tradition
New Zealand School of Dance
21 November-1 December 2018, Te Whaea National Dance & Drama Centre, Wellington
Reviewed by Ann Hunt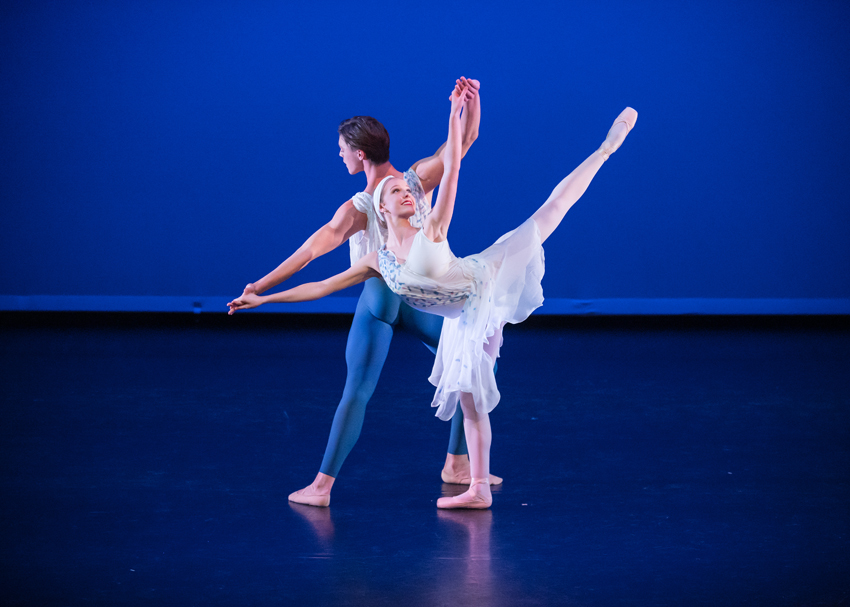 This splendid Graduation Season of the New Zealand School of Dance (NZSD) honours the twenty-year tenure of its Director Garry Trinder (MNZM.)
Throughout this time Trinder has encouraged creative diversity and has established a school that provides equal support through its teaching, to ballet and contemporary dance.
This Graduation Season has been carefully curated to reflect this and a more fitting tribute would be hard to imagine.
Two programmes are presented this year – Tradition (ballet) and Innovation (contemporary) – running on alternate evenings. Both are beautifully produced and extremely varied. Tradition is one of their best Graduation Seasons for many years, if not ever.
We begin with a charming excerpt from Danish choreographer August Bournonville's classic work La Sylphide. Bournonville's technique is a difficult one to master with its emphasis on epaulement, rounded gentle arms and great lightness and balon.
Third year student Jaidyn Cumming as the Sylph danced with lightness and ease and, on the whole, coped well with the technique's specific demands.
She is strongly partnered by Bo Hao Zhan, (Third Year,) as James. Zhan captures the Bournonville style very well, with excellent balon and batterie deftly executed. There is a pleasing rapport between the pair.
The Corps de Ballet dance well in unison, but still have some way to go to master the overall style.
Undoubtedly an evening highlight is George Balanchine's exuberant pas de deux Tarantella. Brittany-Jayde Duwner (Second Year) and Rench Soriano, (unbelievably a First Year student) dance with supreme confidence and insouciant style. Duwner has a pleasing unforced gaiety and tosses off the speedy technical demands very well. And Rench is simply outstanding. Dancing with effortless batterie and elevation, every movement cleanly finished, he is a joy. The chemistry between the pair is dynamic and they look like they're having such fun.
American choreographer Betsy Erickson's light-hearted Sfumato, to Boccherini's Concerto No. 2 in D Major, is delightful, and captures the youth and vitality of its young cast very well.
From a musical term meaning 'very lightly, like a vanishing smoke,' Sfumato is very well nuanced by all, with Lara Flannery, Bo Hao Zhan and Isaac McLean particularly impressive.
After such a great first section, one never thought it could get any better. But it did!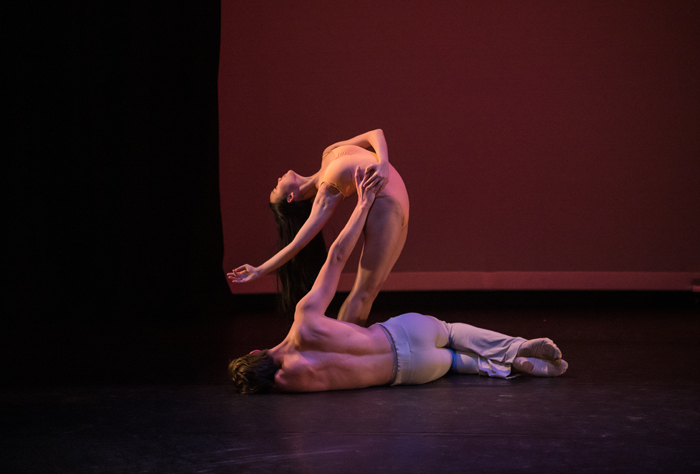 UK choreographer Christopher Wheeldon's glorious pas de deux, After the Rain, performed with superb clarity and grace by Sook Meng Lim and Isaak McLean, is breathtaking. Both second year students, their professional dance futures appear assured.
Wheeldon's sweeping choreography, full of back-breaking arcs and swirls, is danced effortlessly by Lim. While McLean imbues his partnering with a strength and gentleness that is quite unusual in one so young. Together they are matchless and a testament to Damian Smith's staging and the ability of their tutors. Arvo Part composed the sublime music, Spiegel im Spiegel. This beautiful work embraces life and all that love has to offer, including its fragility.
Jordan Lennon dances with clarity and strength in the world premiere of Louise Deleur's rather predictable solo Emerge.
Christopher Hampson's stunning Saltarello is an exhilarating finale.
This dynamic work first performed by the Royal New Zealand Ballet in 2001, is a show stopper. The dancers reveled in its sexiness and urgency, the glamorous costumes (Gary Harris) and the rhythmic fourteenth century music. They seized the stage and held it fast.
In a terrific cast, Lim again shone with a totally different command. Also, very strong are Jaidyn Cumming, Calum Gray, Therese Chen, Bo Hao Zhan and Isaak McLean.
What a wonderful tribute to the profound impact of Trinder's leadership. Bravo to all.