Article
DANZ
As It Stands - Muscle Mouth
8-10 March 2019, ASB Waterfront Theatre, Auckland
Auckland Arts Festival
Reviewed by Hamish McIntosh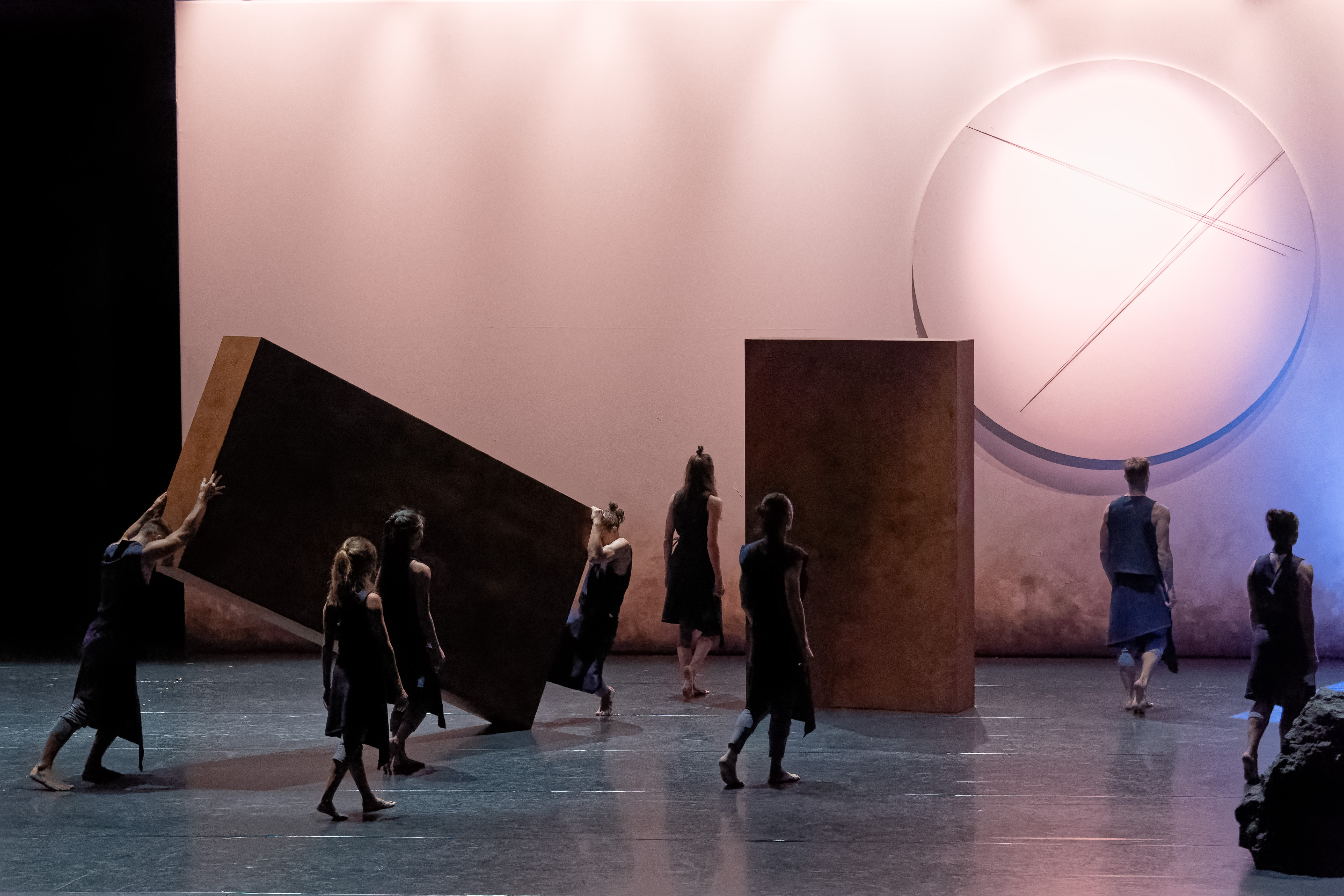 As It Stands, a new work from Muscle Mouth director Ross McCormack, is a superlative lesson in theatre-craft.
Enter this Wachowskian Eden—bursting with the contrasts of helium-headed, slack-jawed mobility and precision so indirect it wanders without wondering—and witness a chaotic experiment in three parts.
McCormack's use of props and set is, frankly, unparalleled in New Zealand. His works are richly materialistic and the dancers adore the exquisite space designed by McCormack and Owen McCarthy. Tall, terran boxes evoke Platonic classicism and ground the work in Earthen references. White canvas walls guard the stage as burnt smudges of paint daub at their imposing edges. A rock rests in a lonely front corner, whilst an Aspirin sundial—massive and round—spins freely at the back of the space. Natasha James' lighting is suitably primeval, and dresses the set in the yellowed blues of a post-lightning glow. Of note, Jason Wright's sound design is the best I have ever heard in New Zealand and lends visceral texture to McCormack's universe.
The work begins with a Sisyphean image of man versus the immovable. As McCormack's logic unfurls, this piece goes on to examine countless tones and ideas. Hips readily crease and ribcages swirl. Arms slice into pyramidic structures, and crouched bodies retreat only to rush forward and lounge over the stage's lip. Like a pod of Bonobo apes, the ensemble swiftly pick and search their bodies in one breathless moment of synchronisation. They walk like Sims™—in-place, uncanny, unrelenting—only to transition into mangled mounds of gripping/un-gripping geometry and innards.
McCormack's interest in vertical planes and space is an intriguing theme. Like The Lost Boys, bodies defy gravity and concepts of dominion are touched upon in what seems to be a contest between Nature and Man.
Of those entertaining these ideas, you would be hard pressed to find a better company of dancers in Aotearoa. Lauren Langlois is a Sun and her commitment burns with an entrancing presence. Luke Hanna continues to mature in the most sensitive way—his inherent power tempered with velvet softness. Christina Guieb and James Vu Anh Pham captivate with mantis-like reach and an electric command of the space, whilst Emily Adams' cool centring of her peers sustains the work. Tiana Lung's bravery and listening provides instant relief in this work's more frenzied moments, and Toa Paranihi's quiet strength organically buoys his surrounds.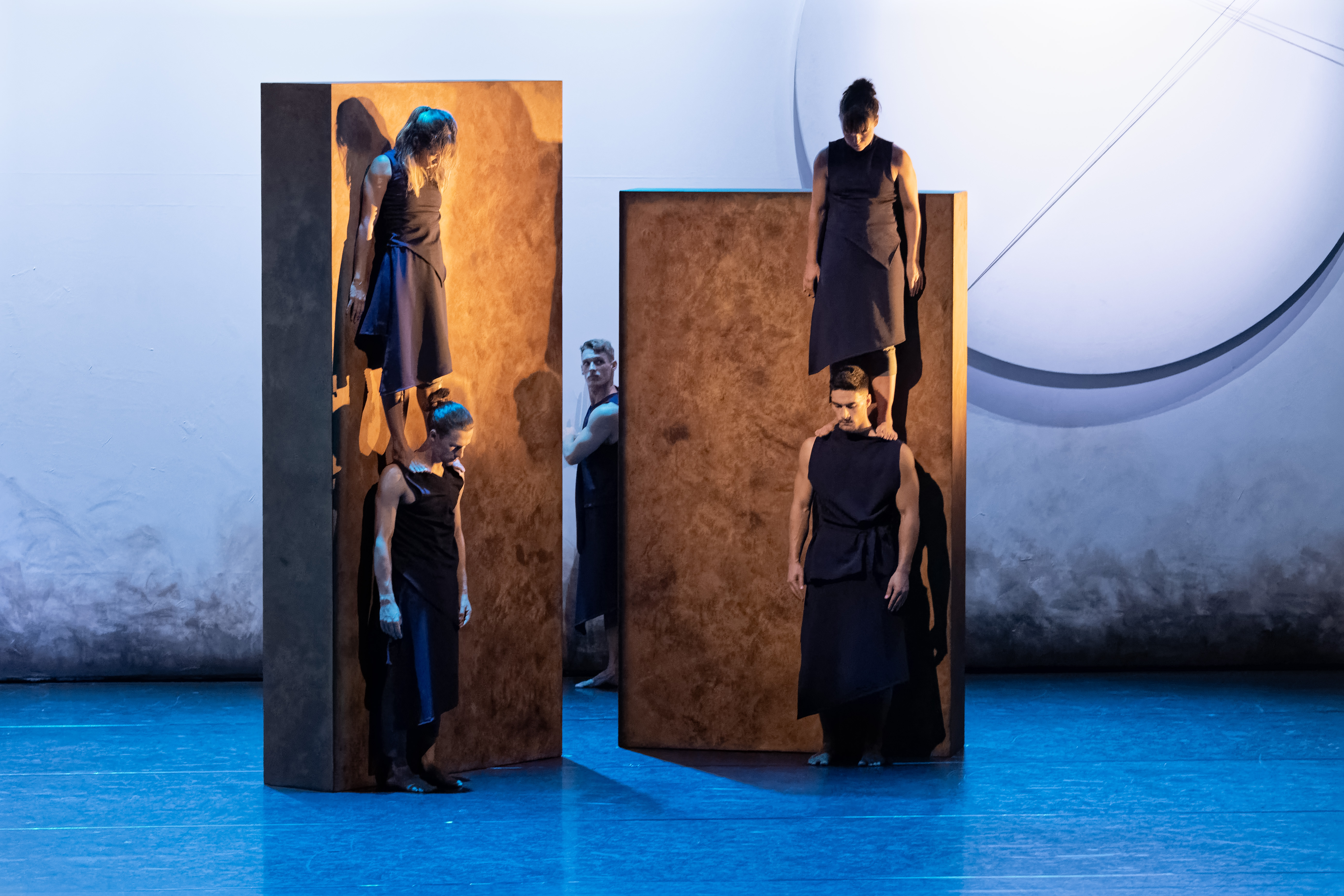 Those familiar with McCormack's work will note his signature aesthetic nestled within the choreography, which I refer to here as 'Rossing'. To Ross is to contemplate through the body—to consider a task and, like a quantum computer, rapidly attend to every possible point of entry, every vantage point. The physicality of Rossing appears frenetic, perhaps indecisive even, yet definitively McCormack and reflective of his interest in role. However, and as evidenced in As It Stands, Rossing is not yet a tired trope. Jeremy Beck, for instance, adds great depth to McCormack's aesthetic, and his clean placement—like a circuitous palette knife—is intelligent and curious.
More generally, this work's vocabulary is diverse and at times quite understated. Purposefully, McCormack directs and redirects the audience's attention. Whilst one dancer explores a solo, others gently examine the space. As the ensemble moves one way, a lone dancer is left impossibly grasping at two corners of set. It is difficult to do justice to amount of information we are given, albeit it is not always information of the 'dancerly' kind. As above, and as seen in many of McCormack's works of late, great attention is given to role within this piece. They are not characters—least this work become any more narrative—but archetypes of someone we almost know. These movers are the dark halves of the audience and each other—doppelgänger who reveal and examine the distracting irregularity of humanity.
That is, we want there to be patterns but all that exists is tension across a spectrum.
There is, then, a lot going on in this work, yet I never felt overwhelmed. By the contrary, the myriad scenes and layers of movement and technology on display speak to the multiplicity of life. It is non-linear, rhizomatic; everywhere at once and yet nowhere familiar. Like the first day on Earth, the dancers ask whether a society is intrinsically a community, and reject any simplification of our material and relational experience.
I am very conscious of sounding overenthusiastic and perhaps not critical enough about this work. I admit, then, that I get excited by works like As It Stands, but not without good reason. This is the kind of work that pushes the zeitgeist forward, and one that I would love to interrogate further if space allowed. Theatrical without being sanguine; stirring without being indulgent, As It Stands asks questions we hesitate to pose as they compromise the ordered facade by which we navigate life.
As this piece drew to a sudden close, I barely clapped for I was at such a loss for words that my hands faltered. Testament to my awe, as I took notes for this review I wrote "holy shit" with a double underline. Enough said.
See Theatreview review (Chloe Klein)