Reviews
DANZ
Footnote New Zealand Dance UNDERCURRENT
Aurora Centre, Burnside High School, Christchurch, 10 November 2020
Reviewed by Robyn Jordaan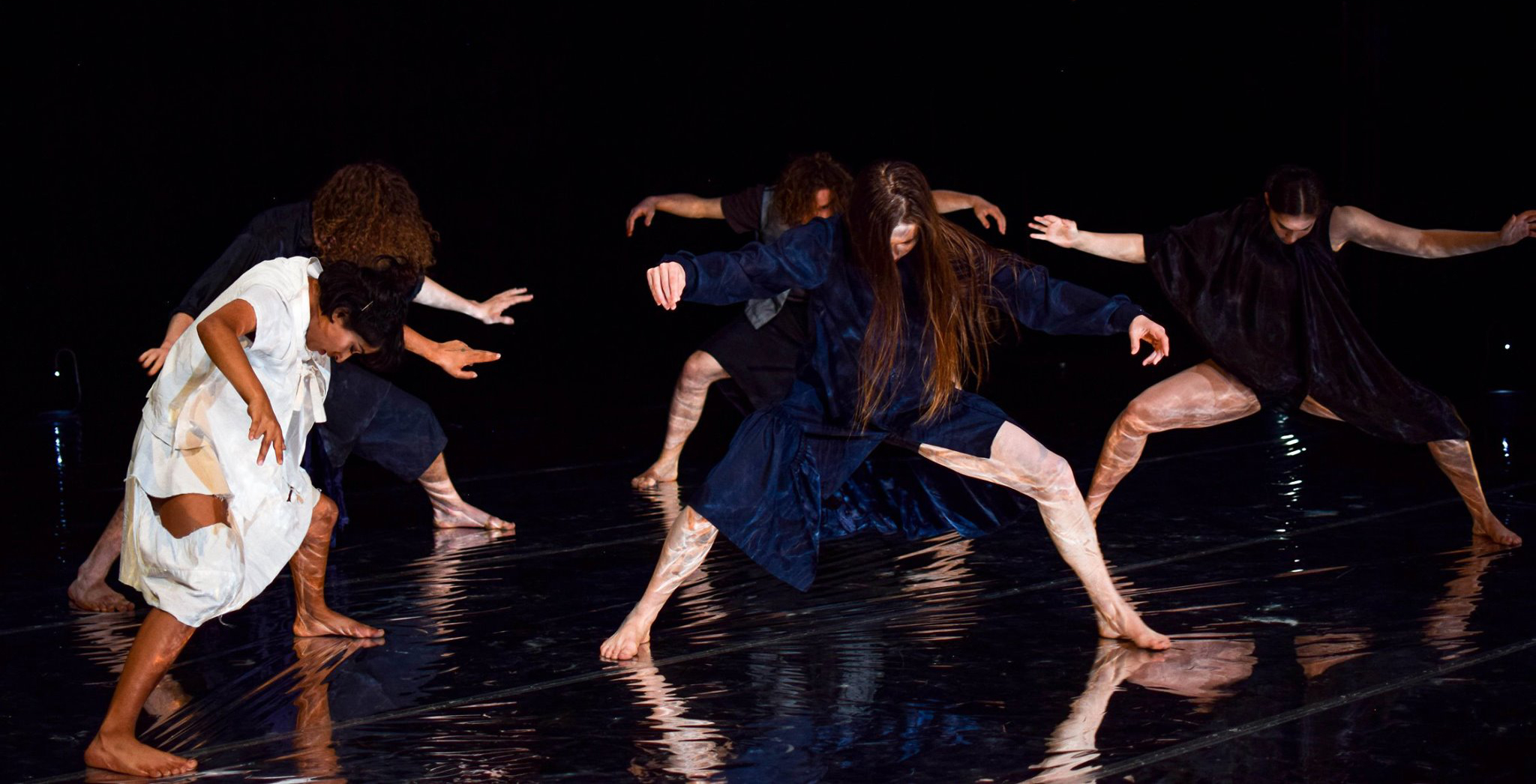 Footnote's UNDERCURRENT is a full 360.
Closing 2020 and Footnote's 35th year, the premiere of UNDERCURRENT presents two astounding choreographic works by Kota Yamazaki and Rose Philpott, featuring an eloquent cast of Rosie Tapsell, Sebastien Geilings, Cheyanne Teka, Nadiyah Akbar and Oliver Carruthers. Audience members are taken for a full 360 through the depths of becoming to a queer dream revival.
Truly neurotic in nature, Kota Yamazaki's piece creates an organic universe where you traverse from edge to edge of the tip of a cliff overlooking a stormy ocean. Where the comparison between the earth's natural elements and our own neurological thoughts start to bind. Sound by Jesse Austin-Stewart sifts through the work reminiscent of a Rachmaninoff score. Sitting with becoming without becoming, noticing how engagement acts in silence of the witness.
Yamazaki holds you with its confidence in time. Self aware placing you in a safe cauldron of oblivion. From heavy dense and impactful shaking to water like arabesques, Yamazaki's decision making is seamless. Akbah dances, a whisper holding the fort at bay, whilst Tapsell continues to traverse, spiraling the neuroses.
A choreographic invitation arises in both Dry Spell and Fog, Nerves, Future, Ocean, Hello [Echoes]. On one hand Yamazaki's use of voice leads us into the behaviour of our dancers on stage and creates a tunnel into their world, meanwhile the outward provocation of playful explorative choreography by Philpott completely overtakes the auditorium. Both are effective in making the individual seated audience member really feel their own flesh.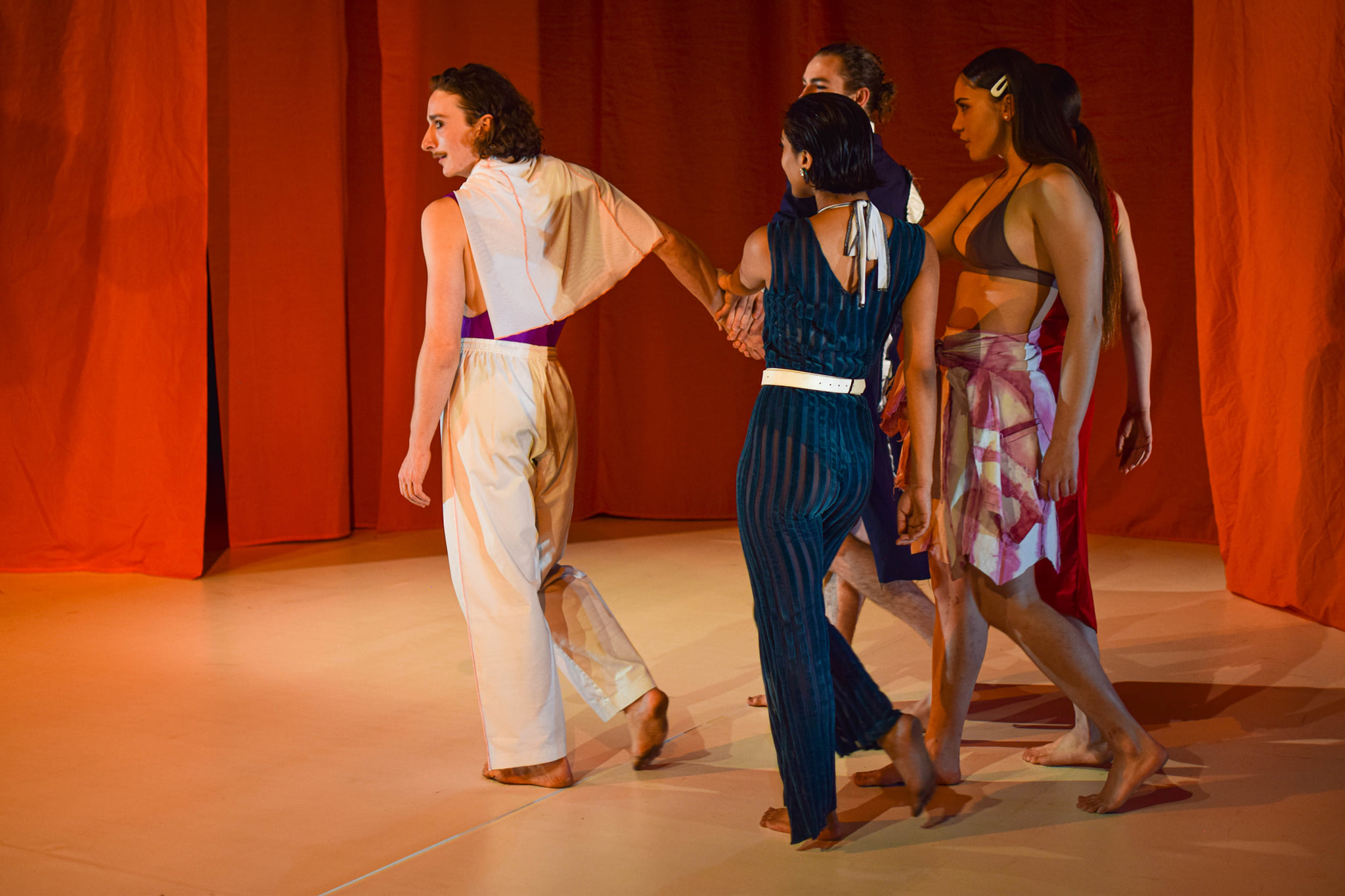 Rose Philpott guides you through the trials and tribulations of a dadaist queer world. Timeless in essence, making one doubt whether it's a period piece or something in vogue of the 21st century. The set plays a role in how the dancers navigate space, using architecture of the Art Deco period, the aesthetic of a Fleet Foxes music video, and the creation of a fantasy dream world, even through the costume design and the use of the lady in the red dress being a modernised trope. We see upward and downward spirals of recognisable social behaviour, allowing a reflection into oneself in a world where things are massively changing due to the world pandemic. Tapsell's erotic walk up the stairs, Geiling's extraordinary contemporary catwalk, Teka's powerful gestures, Curruther's and Akbah's dive into the theatric and dance of proximity all confront how display of confidence makes an audience react when the space is owned by the dancer. You're very much under their spell. Philpott doesn't allow any hints as to when it may end, much like this pandemic. Acting as a sense of limbo, a communication with a glitched world.
Both works are a needed release for what this year has handed us on a platter. A nostalgic queer burlesque buried in spiraling spectacle and a delicate portrayal of a dense world not as simple as a seems, where thoughts have no home but nonchalantly become something, for the feeling of sanity is neither a solution nor a reality.