Reviews
DANZ
New Zealand School of Dance Graduation Season 2019
20 – 30 November 2019
Te Whaea: National Dance and Drama Centre, Wellington.
Reviewed by Tania Kopytko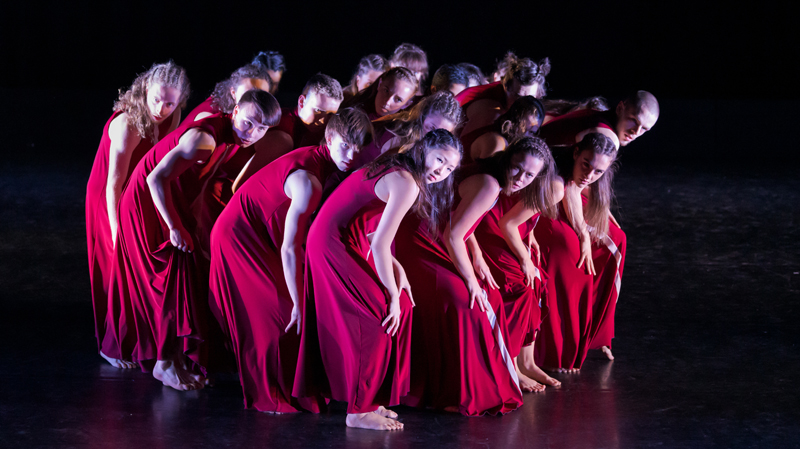 A Sparkling Graduation Season 2019 From the NZ School of Dance
Billed as "a thrilling collection of performances by young dancers on the brink of their professional careers", the opening night of the Graduation Season 2019 did not disappoint. In the two-hour programme (plus two intervals) eight meaty works were presented, which each tested the young dancers' performance and technical abilities and provided the audience with an amazing mix of choreographic styles and ideas.
The School has put much work into the programming of this graduation season, with new works commissioned, as well as works from established ballet and contemporary dance repertoire. The programme also mentions the many grants that have provided funding for particular choreographies; illustrating the hard and thorough work undertaken by the school.
Concerto Barocco, a beautiful classic Balanchine work set to Bach, is a grand opening and the dancers rose to the occasion beautifully, in particular honouring the work's rhythm, timing and spacial qualities. Velociraptor, a gritty, dark contemporary work by Scott Ewen allowed the contemporary students to show their considerable physical floor, elevation and precision partnering skills. Not Odd Human (excerpts), choreography by Sam Coren, provided the contemporary dancers with the opportunity to really use their theatrical, as well as their dance skills, in this fascinating and strange medieval romp.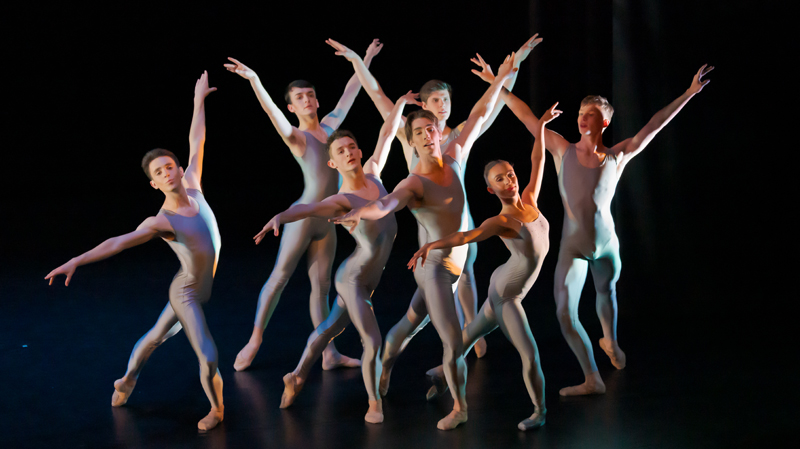 The second part of the programme began with a beautiful ballet solo, choreographed by American David Fernandez, where Rench Soriano showed his confidence, and his wonderful elevation and sure pirouettes. Re:Structure by Ross McCormack is a new work commissioned for the season. Visually stunning, the ensemble of contemporary dancers deftly manipulated a 5 metre pole, sweeping it around and climbing into beautiful formations. The third work in this section was Round of Angels, another classic 1980's American work, by Gerald Arpino for the Joffrey Ballet. In contrast to the opening Balanchine, with a cast of females and one male, here was a flock of male angels plus a female soloist. Brittany-Jayde Duwner and Jordon Lennon achieved some amazing and controlled lifts, as did the ensemble.
The final part of the programme has two strong works. A joyous full ballet ensemble by American Helgi Tomasson to a range of music by Handel; it featured 13 pairs of ballet dancers. Again the students performed well with beautiful lifts and a variety of rhythms and moods, from the fiery and sparkling, to the soft and romantic. The final work, Carnivale 4, is by international choreographer Raewyn Hill, a graduate of New Zealand School of Dance. A tour de force in energy, focus and concentration, the full ensemble of 22 dancers in full-length, rich red kaftans, gave us a tremendous performance. This not only displayed excellent ensemble work, but each dancer expressed themselves as an individual performer within the whole. There are clearly some exquisite up-coming contemporary dancers ready for work!
Congratulations to the 2019 graduates and the faculty of the New Zealand School of Dance. You have all done yourselves proud in your teaching and preparation of these young dancers and the young dancers certainly show their capabilities.