Reviews
DANZ
Natraj School of Dance
20th Anniversary Production
Little Theatre, Lower Hutt, 11 October 2019.
Reviewed by Mona Williams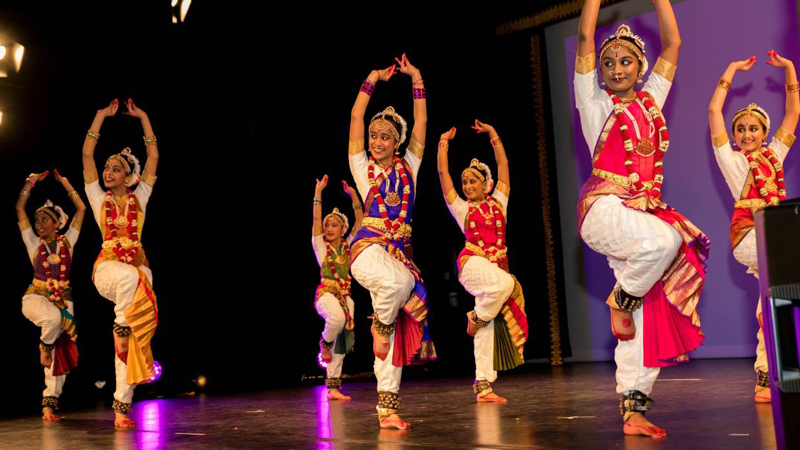 The ancient, high Art of the Bharatanatyam Dance tradition was richly expressed in a two-hour, evening interpretation of complex rhythmic and percussive sounds, expressive facial, body and hand movements; performance to music of voice, flute, sitar, ankle bells and tabla, and danced narratives of virtue, sacrifice, treachery, loyalty, magic, marriage, good government and love. The dancers, almost exclusively female, were a feast for the eyes in a beguiling array of costumes in pink, purple, gold, cerise, green and turquoise accented by a wealth of gold coloured jewellery, with toes and finger tips dyed red.
The School's director, Mrs Prabha Ravi, flew to India to attend her mother's funeral, but her daughter (who also teaches), Radhika, stepped in and skilfully mounted this Anniversary performance. The dancers' depth of training was demonstrated by the versatile seniors; whether in a floor-seated duo, a trio, or an ensemble of five or of eight. They executed numerous geometrical floor patterns, swift precise grand plies, graceful sweeping arcs of their leg, co-ordinated mime; rhythmic stomps and elaborate footwork. The aesthetic lines described by their bodies were graceful and captivating. Their high energy and sense of enjoyment never dimmed, portraying idealized humanity. The hallmark of their dancing was its choreographic clarity, rich vocabulary of poses and tableau, nuanced formations and emotional involvement.
The crowd pleaser was the stage full of very young dancers. The older male dancer as Lord Rama with his wife Sita are an emphatic assurance that Dance belongs to all ages. This 2,000 year old tradition definitely possesses vibrancy, judging by the audiences' enthusiastic response. Radhika is to be congratulated on a creditable job. Mrs Prabha Ravi's return, it is hoped, will continue to infuse these ancient dances with her rich, sometimes modernized vocabulary and her ingenious complexity of interpretation.