Reviews
DANZ
MAMAI'ATA
7 June 2019, Te Auaha, Wellington
Kia Mau Festival
Reviewed by Mona Williams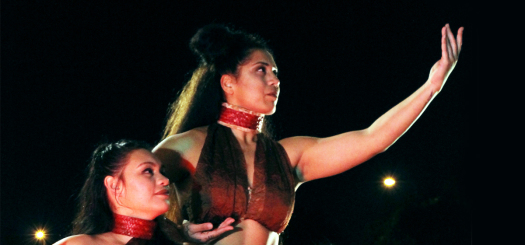 Inano Dance performers presented Mamai'ata, which in the Cook Island language means The New Dawn. The opening scene presented women seated on the floor, draped in flowing white costumes connected in a tender, extended embrace. The stage was softly lit but largely unadorned. A woman's voice called, in a traditional chant, to welcome the audience and a male voice encouraged the viewers to travel with the dancers from innocence to knowledge, to noble spiritual practices, to alert sensitivity, to naked truthfulness, from frailty to the finest qualities of the human mind. This work requested the deepest exploration of the heart during quite a short programme of 45 minutes. Rather than a narrative, the dance excelled as a collage, a tapestry, richly expressed through Cook Island symbolism; visually presented in two parts.
Joined by the creator, Te Hau Winitana, the dancers' unhurried and unified style emphasised sculptural forms, eloquent arms, smooth floor rolls, and symmetrical body movements; expressing their cultural preference for community cohesion. Cook Island drumming of varying tempi, bird songs, chanting, snatches of a wood-wind's melody and a passage of silence gave the dancers a range of aural stimulus to interpret in formations that traversed the stage with telling effect. Their disciplined, precise movement vocabulary evoked visions of canoeing, fire dancing, responding to the wind, to the earth, to the sky and to the human thirst for beauty, for females' gentle strength and for their intelligent optimism.
A scene of washing clothes using four 'buckets' in a river was complex and satisfying. Tessa Russell's projection onto both the backdrop and the dancers, showed undulating water in which the characters laundered, suggested washing, rinsing and emptying our unworthy qualities; cleansing the soiled white gossamer cloths of our lives that dress us. This laundering by hand was a harking back to a simpler village life. Moreover, the occasional use of cannon form sequences, particularly in the extended arms was a harbinger of the psychological shift required in appreciating the second half of the dance.
Appearing in a contrasting second half in traditional Cook Island costume, the headdress by Paris Kaitai was a tour de force; a tall sculptural form extending from the head wreath, assembled in earth colours. The body adornment included a traditional bra and encircling the hips, a familiar wreath of flowing, dried plant life. Panels of stylized floral designed fabric fell from the waist at the front and back. With joyful outpourings of sensuality, vigour, female elemental power, liberation from Western prudery and enjoyment of Nature's gift of eroticism, the dancers drew approving calls and cheers from the audience. To plucked strings, insistent drum rhythms and flute thrills each dancer performed with intense vitality.. Showcasing their unique strengths, their hip vibrations were mesmerising.
This half of the performance stirred my elemental self. The set was now awash in a creamy-orange colour of sunrise. The new dawn's vision of the future wisely incorporated the dramatic and artistic power of Cook Island tradition; its past. Ms Winitana's choreographic ability impressed with its clarity of purpose and width of vocabulary. The dancers revelled in their task. The crowd was ecstatic. True, the entire show was concise; half the length of most dance programmes but as they say, "Have you ever seen a diamond as big as a brick?"