Reviews
DANZ
About Others by Caitlin Davey
Tempo Dance Festival
Q Theatre, 2 October 2019
Reviewed by Lauren Sanderson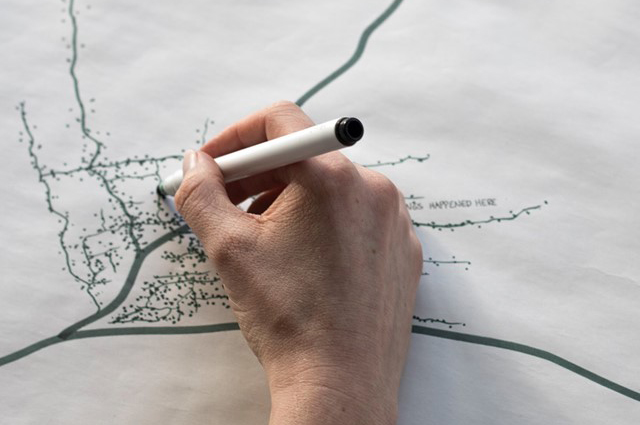 Kicking off Tempo Dance festival was Caitlin Davey's work About Others. The interactive piece was brought to life during a two-show production at Q theatre this week. Looking at humanity, the dynamic piece left us questioning our own existence and demonstrated how dance can be used as a platform for people to be vocal.
As we entered Q Theatre's Vault, the space was very minimal and there were no chairs to be seen. The floor was covered in white material and white boxes were stacked in each corner of the room. As people entered the space, it was hard to tell who was acting and who wasn't, until one of the dancers handed out pencils to us for later use. The performance began with a monotone woman's voice asking us to follow instructions and it was interesting to see how easily we did follow what was asked of us.
The three female dancers formed a triangle shape and shuffled around the space simultaneously, each gesture was slick and perfectly in sync with one another, that is until we were asked to join. The once slick triangle soon became an abundance of people trying to follow routine, but that is what made the piece so unique. Each step was different from one person to the other, demonstrating that no one is the same and that people cannot be categorised.
As the movement became more fluid, instructions began to flow and we obeyed, "sit down in an empty space", "lie down", "join the queue" - each demand brought a different point of view to the performance. As we sat down on the floor, one dancer began to draw lines on the floor from one part of the space to the other, this would later become a map that would influence the movement and physicality of the piece.
The work consisted of group choreography and solo movement that was extremely dynamic and the consistent input from the audience broke the barrier between audience and performer, allowing you to take a step back and reflect on your own experience and your own journey.
The props used were again minimal but packed a whole lot of meaning, for example, we were asked to build a wall out of cardboard boxes, it wasn't until later that I realised that this wall represents the barrier we put up as humans.
Although the piece was quite frantic and there were many elements to it, it's important to emphasise the crucial message hidden within, that we need to 'listen to other groups of people, especially those most different from us, and especially when they are in pain.'
About Others is a cleverly constructed piece of art that connects the audience with each other, with the dancers and the space and is the perfect example of what dance can represent.