News
DANZ
2019 Alana Haines Australasian Awards: Cash and Prizes Worth $460,000 Awarded to Young Dancers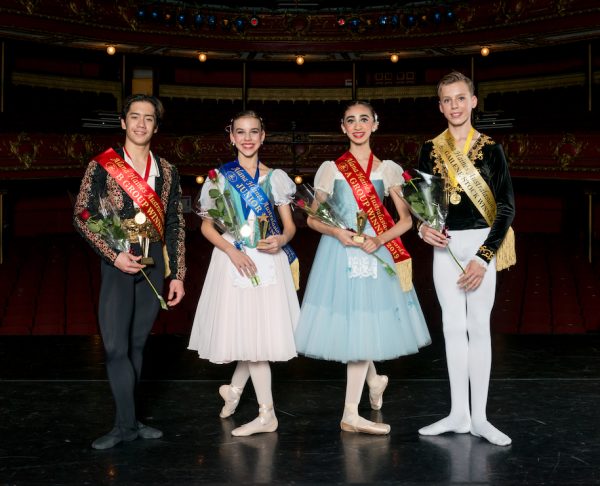 The biennial Alana Haines Australasian (AHA) Awards ballet competition was held at the Opera House Wellington over the Easter weekend Thursday 18th – Monday 22nd April 2019.
Six hundred young classical ballet dancers aged between 11 – 18 from throughout the Australasian region participated in the AHA Awards competing for cash and scholarship prizes worth $460,000 in the categories of junior and supreme winners, audience choice and most promising male.
The Grand Finals on Monday evening was hosted by Martin James (former Royal Danish Ballet principal) and saw 22 outstanding finalists perform to a full house with stunning guest performances from New Zealand, Sydney, Royal Ballet School London, Stuttgart's John Cranko Schule and Royal New Zealand Ballet.
All three Audience Choice awards were won by talented male dancers and reflected the audience's agreement with the judges' own selections: Junior Audience Choice was Xavier Xue (Annette Roselli Dance Academy QLD) who also placed third overall in Juniors; Supreme Group A Audience Choice was Alfie Shacklock (Dance Centre Peregrin Springs QLD) who also won the Supreme Gailene Stock award; and Group B Audience Choice was Rench Soriano (New Zealand School of Dance) who also placed first in Group B.
The overall Junior Winner was Lily Sophia Dashwood, from Jane Moore Academy of Ballet in Victoria. And while Alfie received the main title and cash prize of the event, Kohana Williams (Mount Eden Ballet Academy QLD) placed first in Supreme Group A, and Rench Soriano placed first in Group B.
Lukas Maher (Rowe Dance Auckland NZ) was named the most promising unplaced male junior dancer and Charlie Dashwood the senior.
Abigail Boyle (former principal Royal New Zealand Ballet) drew tutor raffles (Ballet tickets donated by RNZB/QLD Ballet/MCB) won by Fusion Dance Studio Auckland, Queensland National Ballet School and McDonald College Sydney.
The AHA Awards commemorates promising eleven year old Wellington dancer Alana who was tragically killed on Christmas eve in 1989, and was founded in 1991 by Alana's mother and former Royal New Zealand Ballet dancer Katie Haines.
The AHA Awards has become the largest and most prestigious dance awards event in Australasia and is supported by the dance community around the world. Scholarships are sponsored from the most sought after international dance schools from UK, USA, Canada, Europe and Australasia and judged by an elite international jury.
AHA Awards provides young dancers a career platform and as a result many of our past finalists are international stars throughout the world.
For a full list of results and scholarships awarded please visit www.ahaawards.co.nz