Reviews
DANZ
Snow White
Ballet Preljocaj, Auckland Arts Festival
Kiri Te Kanawa Theatre, Aotea Centre
11-15 March
Reviewed by Jenny Stevenson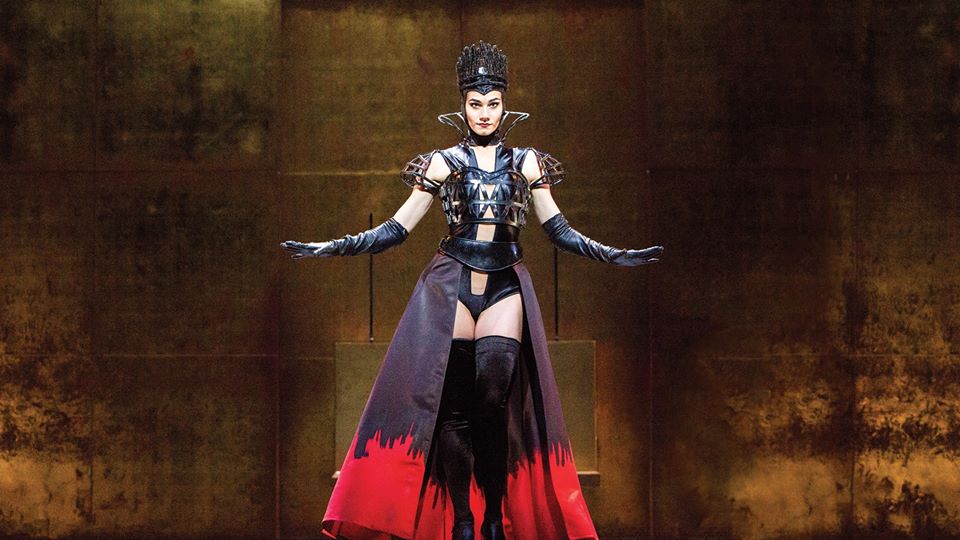 French choreographer Angelin Preljocaj's reading of Snow White, first created in 2008 for his company of twenty-six dancers, is a morality tale of vanity and obsession, which still resonates nearly twelve years later, mirroring as it does the narcissism of the present-day Trumpian era.
The character of the Queen, danced by Nuriya Nagimova, the wicked stepmother of the Grimm Brothers' dark tale, is the central axis around which the story unfolds. Her bondage-style black and red costume and head-dress created by renowned French designer Jean Paul Gaultier sees her strutting in her killer-heeled boots, swishing her floor-length half-skirt and creating mayhem in all her interactions. She is accompanied in her nefarious deeds by two Cat-Gargoyles who roll, tumble and arch their way around the stage.
The symbolism in the work is blatant, with Snow White the polar opposite to the black Queen. Danced by Mirea Delogu, the beautiful stepdaughter is sweetly virginal in a white Grecian-style tunic and she dances with a soft vocabulary of movement. In love with her Prince, played by Antoine Dubois, she slowly embraces her emerging womanhood. Their pas-de-deux, especially the one performed initially in silence, transpire as some of the stronger moments of the ballet.
Choreographically the vocabulary employed by Preljocaj sometimes seems disconnected to the action unfolding onstage. The courtiers' dance early on in the work is strangely inelegant and detached, but there are startling moments also - such as the seven dwarves dance in which they abseil into their mine and the Queen's wild and heavy-footed dance to the death, that concludes the work. When Snow White is choked out by the Queen, who forces an apple into her mouth, it is also a disquieting moment - by virtue of its violent subjugation
The undoubted commercial appeal of the work is aided by the set design of Thierry Leproust and of course Gaultier's flamboyant costumes. The music of Mahler which has become increasingly popular among choreographers, works well in this ballet of heightened passion. It is interspersed by electronic sound created by 79D. The lighting by Patrick Riou is a significant contributor to the ambience of the work – often dark like the subject matter - but highly effective in the forest scenes.