Reviews
DANZ
Shakti: The Universal Energy - Mudra Dance Company
30 June 2019, Little Theatre, Lower Hutt
Reviewed by Jennifer Shennan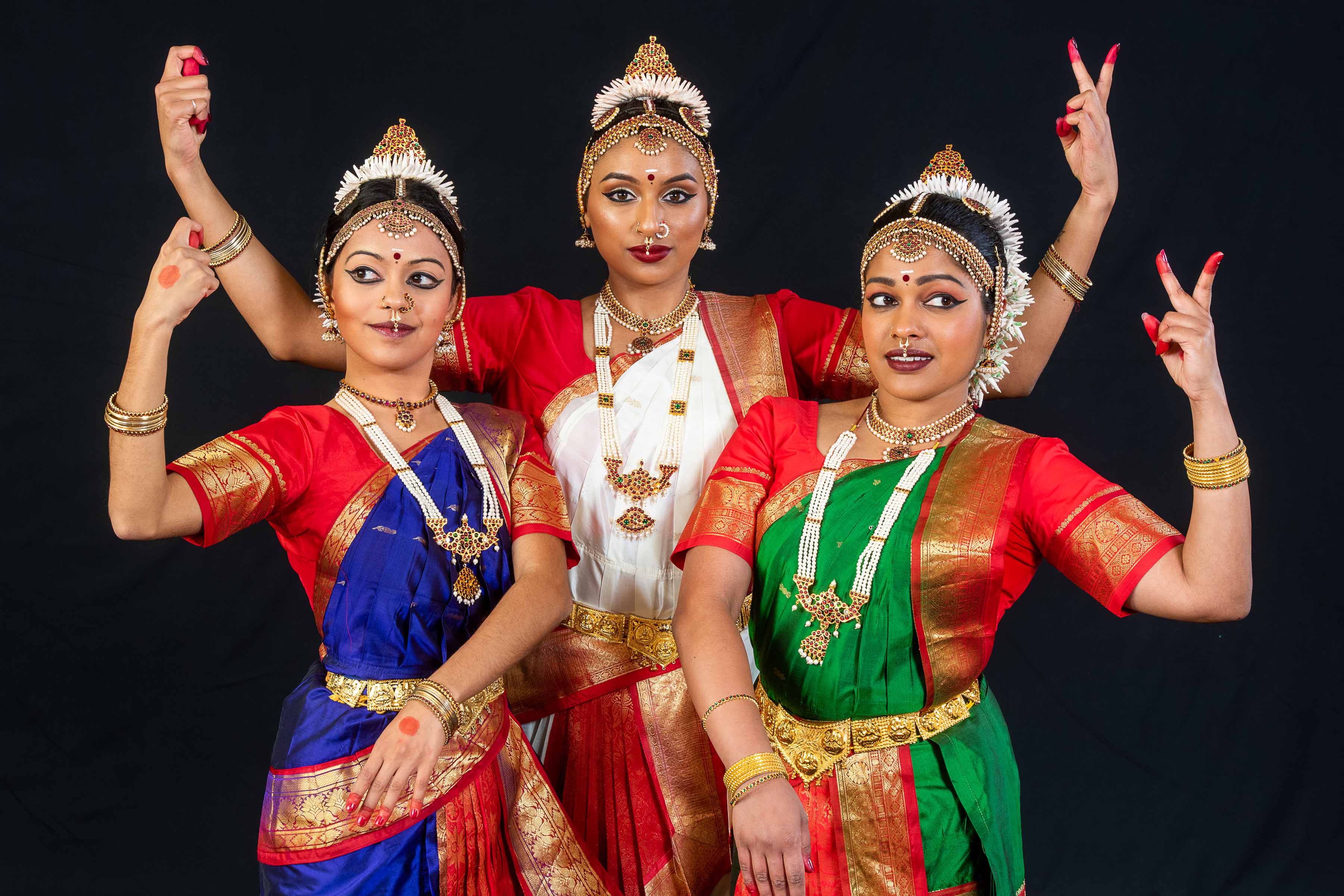 Let me count the ways this programme of Indian dance by 20 bejewelled female performers invites celebration. May as well count stars in the sky, grains of sand on the beach, drops of water in the ocean? Arithmetic is hardly the point, yet there are numerous good things in Shakti, themed with powerful female deities from the Hindu pantheon. The mantra for this dancing is "We start with the physical and move towards the divine" so it's love dancing expressed in many modes, moods and rhythms, like poems, or prayers for peace. Go Girls.
Vivek Kinra has taught, performed, choreographed, directed and produced Bharatanatyam in Wellington for 30 years, travelling each year to India, commissioning and recording music, arranging costumes. He will have given thousands of classes to hundreds of students here, more than 40 of them graduating in Arangetram solo performances, something quite unprecedented in other world dance traditions. Some dancers stay on to perform with Mudra at professional level, and assist in teaching. Many also turn to tertiary studies, typically achieving high qualifications then careers in science, medicine, law, teaching, commerce. Years of dance discipline and language learning, including Sanskrit, stand them in good stead for such study and career transitions. Go Mudra.
Before each item, Vivek takes the stage and, to voice-over commentary, gestures images and themes in the following dance. These are miniature narrations, a kind of celestial sign language, exquisite in their mercurial flashes of a deity's qualities, character, beauty. Expressions of face and eyes follow hands portraying a crescent moon to adorn the head, eyes the shape of lotus petals, an alluring gait, imminent birth, swan's flight, shimmering intensity of buzzing bee, falling rain, sudden anger exploding from behind the eyes, a sad or grieving heart, a state of bliss after devotion and meditation. These cameos mimed by Kinra would be among the finest you'd see anywhere in the world, and that includes India.
One choreography portrays the six faults of human character, pleading for guidance and forgiveness to be sent in a downpour of rain. These faults? Lust – Anger – Greed – Intoxication – Jealousy – Attachment. Later Vivek laughingly tells me – "Just like the seven deadly sins, minus Gluttony. We Indians love food so we eat as much as we want". And indeed there are delicious treats in the interval. Mudra is always happy for that to be run as a fundraiser for Karunai Illam – New Zealand writer Jean Watson's miracle work of founding an orphanage for destitute children in South India, back in 1987. It too survives, indeed thrives, and has moved beyond a star count of the children it has saved and supported. Bharatanatyam classes are now offered to the children there. Rate that a further miracle.
Driving home afterwards I scarcely notice fireworks over Wellington harbour. We'd watched these performers in fireworks of pushpanjali, varnam, tillana, rich colour, rhythmic intricacy, great grace, dazzling geometry cadencing in sculptured silhouettes, for two hours. Make that thirty years.