News
DANZ
RNZB CHOREOGRAPHER CREATES NEW WORK FOR LONDON STAGE
28 February 2020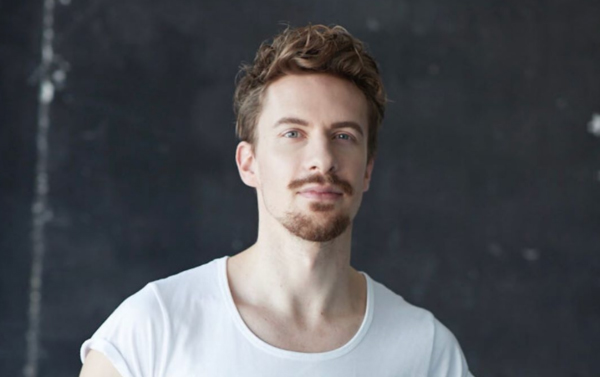 Loughlan Prior, photograph by Garth Badger, 2019
Royal New Zealand Ballet Choreographer in Residence and creator of last year's acclaimed Hansel & Gretel, Loughlan Prior, has been invited to create a new work as part of The Royal Ballet's International Draftworks series at the Royal Opera House, Covent Garden, from 19 – 21 March. International Draftworks brings together emerging choreographers, and dancers, from leading international companies to create short works to be showcased over four performances at the Royal Opera House's Linbury Theatre, in the heart of London's historic theatre district.
RNZB Artistic Director Patricia Barker says: 'What a wonderful recognition of Loughlan's talent and opportunity, as a choreographer in residence for the Royal New Zealand Ballet to be included in this monumental lineup of today's brightest stars. The RNZB dancers will share the stage with dancers from leading ballet companies from North America, Europe and Scandinavia. We are proud and excited to represent the spirit of New Zealand on the international stage and thrilled to be adding a new work by Loughlan with music by Claire Cowan to our repertoire.'
Loughlan's new work, Ultra Violet, will be choreographed to New Zealand composer Claire Cowan's piano trio of the same name, and will be created on and performed by RNZB Principals Paul Mathews and Mayu Tanigaito, Soloist Joseph Skelton and Artist Kirby Selchow. Loughlan and Claire collaborated last year on Hansel & Gretel and have formed a dynamic partnership, fusing the artistic visions of two of Aotearoa's brightest young creative minds. Costumes for Ultra Violet are designed by RNZB Head of Costume Donna Jefferis.
Loughlan Prior says: 'I am beyond thrilled to represent the RNZB at London's Royal Opera House at such a prestigious event. To be able to work with the incredible dancers along with another original composition by Claire Cowan so soon after Hansel & Gretel is a very special gift.'
'As artists at the beginning of exciting creative careers, Claire and I are full of gratitude for Patricia and Lester's support, the support of the RNZB Board, the dancers, production and staff. I would like to especially thank The Royal Ballet for the invitation to take part in such a fresh and innovative programme. Beaming with pride and aroha!'
International Draftworks offers emerging choreographers from around the world the opportunity to learn from the masters and network with their peers. Alongside four performances of his work at the Linbury Theatre, Loughlan will attend workshops with choreographers Wayne McGregor and Christopher Wheeldon, lighting designer Natasha Chivers, dance film maker Ross McGibbon and leading dance writer Judith Mackrell. As well as rehearsals in the heart of the Royal Opera House, including sessions open to the public in the historic Paul Hamlyn Hall, the RNZB dancers will take daily class with The Royal Ballet, working in studios which have played host to a galaxy of stars over the years, including Darcey Bussell, Carlos Acosta and Wayne Sleep.
The Royal New Zealand Ballet would like to thank the Ballet Foundation of New Zealand En Pointe Patrons for their generous support towards international travel costs.