Reviews
DANZ
FOR BY FOUR
New Zealand School of Dance
26 May 2022 , BATS Theatre
Wellington
Reviewed by Brigitte Knight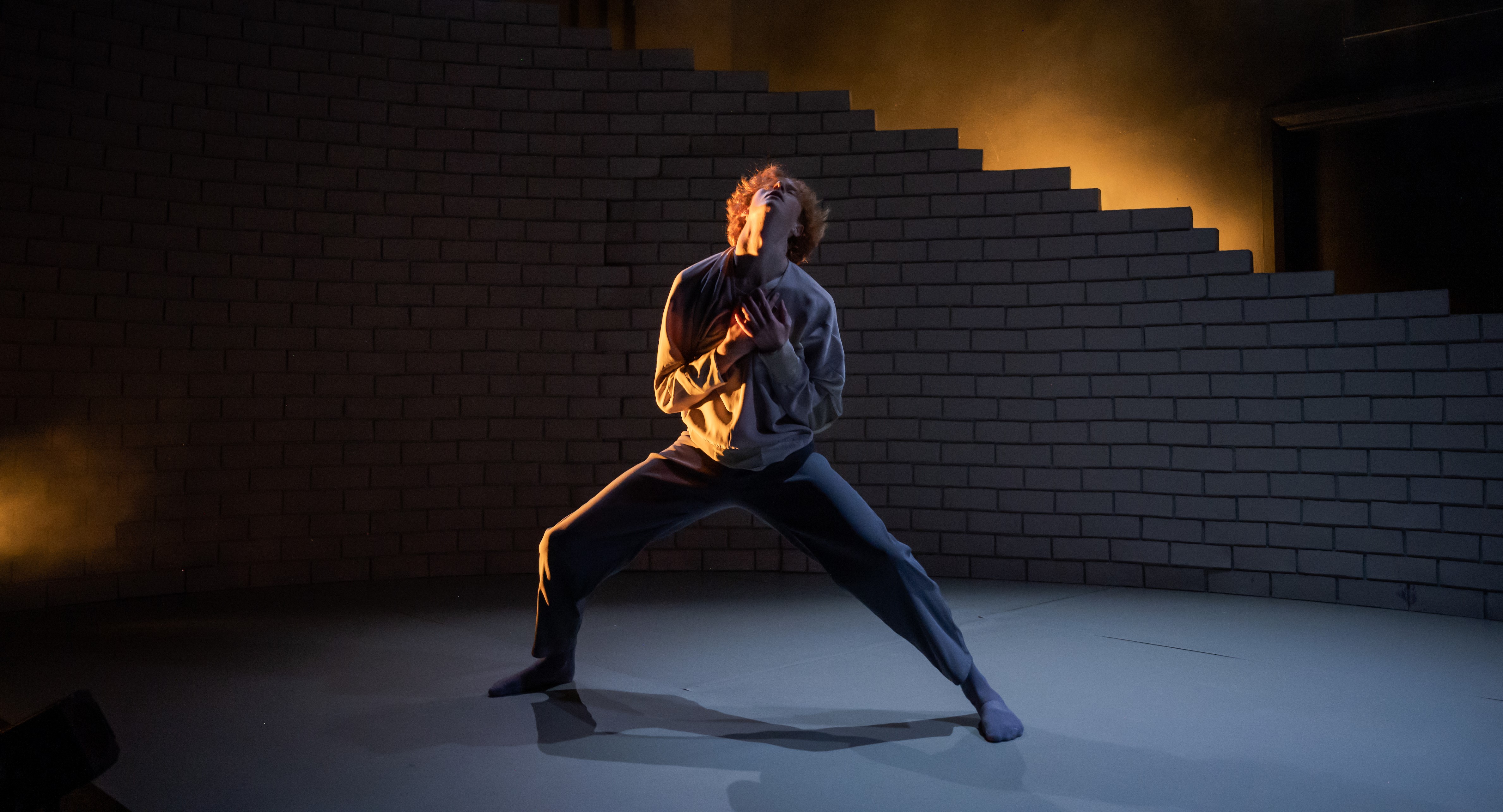 Choreography: Kit Reilly, Brydie Colquhoun, Olivia McGregor, Toa Paranihi
Lighting Design: Elekis Teirney
Set Design: Max de Roy, Roxie Black
Costume Design: Anne de Geus
In 2022 The New Zealand School of Dance is celebrating its 55th anniversary, incorporating the work of students past and present throughout the year. For By Four sees four Aotearoa/New Zealand choreographers create four brand new works for four graduating contemporary dance students.
Unusually, the season is not presented at NZSD's home venue Te Whaea but at the more intimate BATS Theatre. This initiative (in its second year) provides essential first-hand experience of the venue, staff, production systems and practical skills for the students. As the contemporary stream dancers are far more likely than their classical stream peers to work as freelance artists in the future, the season facilitates innovative and crucial learning that will move them more seamlessly into the professional world upon graduating.
Original, clean and decisive set design by Max de Roy and Roxie Black is sophisticated and highly effective in the restrictive space of BATS' black box theatre The Stage. The single set piece - a sweeping, curved white brick wall that crumbles to nothing at one end - juxtaposes the geometry of the space and creates a slick cohesion with choreographic content, costuming and programme design. Elekis Teirney's lighting is equally impressive, making considered use of the set and space, and is especially beautiful in the first two works.
Opening For By Four is Apex by Kit Reilly, performed by Lyndon Foley and choreographed to music of Reilly's own composition. The synthesis of music, movement vocabulary and the energy arc of the work is evident in every moment, evolving with sensitivity and crafted skilfully by Reilly's refined hand. The choreography utilises Foley's length and extension with respect and intelligence, celebrating the dancer's fluidity and grace and harnessing it for momentum and crescendo. Some minor losses of grounding and control by Foley are an opportunity for the dancer to grow the power of his performance, however, the rich choreography ensures that Apex's foremost impression is of abstract yet highly articulate emotion leaving the audience wanting more.
Similarly, Brydie Colquhoun's And Then It Spoke danced by Miriam Joyce is a work with a clear and confident sense of choreographic voice and movement vocabulary. Joyce is extremely versatile and accurate, and delivers isolation, control, release and attack with equal success. Ka mua ka muri; the whakatauki underpins the subtle and detailed movement decisions, hinting brilliantly at untapped wealth and power in reserve. Thoroughly utilising a single chair in fresh and unexpected ways, And Then It Spoke is a work of self-awareness and consideration. A crescendo of vivid choreography and live voice feels short given the length of the work's intro and outro, however, this may be a testament to the riches at the heart of the piece.
Olivia McGregor's work Profile performed by Persia Thor-Poet explores "relentless stimulation and being observed" alongside the "achievements and…many facets of her on/off/line existence". For a short solo work Profile has a long opening section, with the dancer setting up strobe lights onstage and moving through magnificently-controlled upper body isolations. Thor-Poet's laser-sharp focus is used effectively here, bringing meaning and weight to minimalist choreography. Utilising the dancer's proficiency in jazz, commercial and hip hop-informed movement, McGregor uses attack rather than contemporary exploration or innovation to develop the piece.
The final work of the evening, Mind of a Man by Toa Paranihi, is performed by Seth Ward in a bombastic and literal staging of the "fragility of masculinity". Reliant on a plethora of white props and striking costuming, the piece uses live voiced stream of consciousness, abstracted conversation and monologue to accompany highly physical theatrical movement and a few precious moments of hip hop-centric choreography. The physicality of Paranihi's direction is hinting at Ward's skill as a dancer but not revealing or centering it. Familiar threads of self-deprecating humour and rage power Mind of a Man in a work reliant on the acting and vocal skills of the performer. Ward is well-supported by peers in the audience, however, the work may be more successful within the tertiary environment than on the professional stage.
For by Four aims to offer a "unique glimpse at how New Zealand's contemporary dance future is evolving", and in this it resoundingly succeeds, giving alumni and graduating students space to create, innovate and be seen. The four choreographers and the NZSD provide a rare and generous opportunity for graduating dancers to showcase their skills individually in a professional setting.
BRIGITTE KNIGHT
Brigitte Knight, M.Prof.Studs (Edu. First Class Honours), BA, Dip. Teach (Sec) is an experienced and innovative choreographer, dance educator, dance and theatre critic, and dance adjudicator. She has created work for Okareka Dance Company, Coca Cola Christmas in the Park, New Zealand Fashion Week, Māori Television, TV3, The Auckland Shakespeare Company, Tempo Festival, The Basement Theatre, Aotea Diwali Festival, University of Auckland Diwali Festival, Desi Showbiz International, The Radio Network, Short + Sweet Dance, NZ One Act Play Festival and many more.