Reviews
DANZ
ACCEPDANCE - Love is Everything by Amit Noy
New Zealand Fringe Festival
Te Whaea Dance and Drama Centre, Wellington
27 February 2021
Reviewed by Mona Williams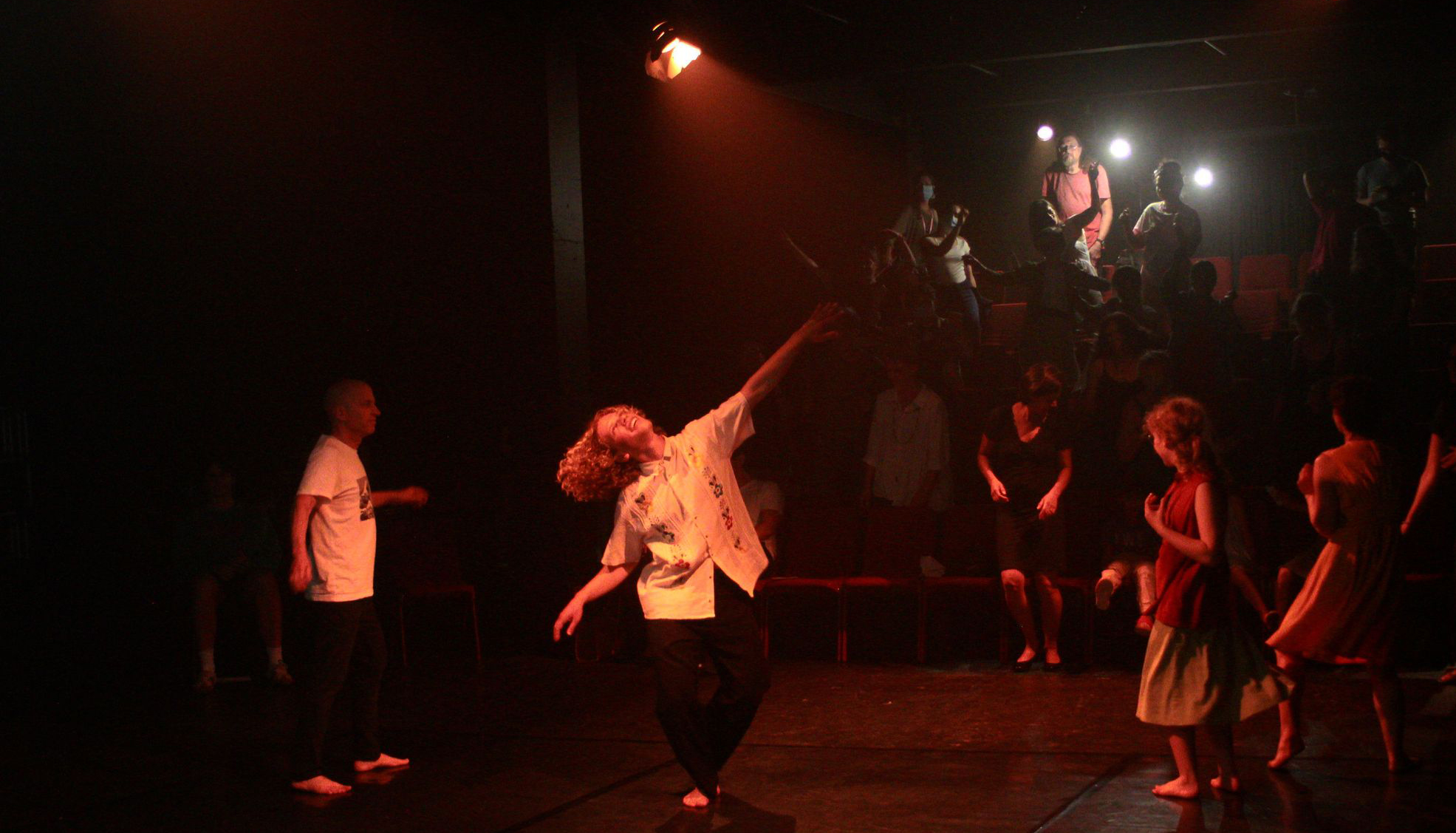 Photo: Mark Whittet
The Noy family's programme notes began with written greetings in Spanish, Hebrew, Te Reo and Hawaiian. Before the Dance performance began this immigrant family's imported linguistic cultural wealth was interwoven with a respectful spoken address acknowledging the indigenous Maori ancestral claimants to the land on which the performance would unfold. A depth of cultural sensitivity was thus signaled. Intimated too, was the family's determined striving to achieve a sense of belonging to Aotearoa, their new homeland.
Adult son, Amit Noy's creation, text-written with his pre-teen sister Maytal, and performed by both his parents and their three children, was a studied exploration in evolving a feeling of place and identity in the world. A stylish dancer, Amit employed layer-overlaying-layer of choreographic artistry to achieve psychological density in his portrayal of family interdependence, meandering its way towards a unified foothold in Aotearoa.
Inviting the audience to the front to sit on cushions level with the stage, was a perceptive ploy. The cushion-concert informality instantly created an intimacy with the dancers and a palpable sense of involvement. Four family members then sat on the stage floor for Amit's introductions to the audience; the absent adult son, Shakked, studying in another city was present on the large TV monitor, dominant upstage. Playful interactions and joyful tactile familiarity propelled the narrative; through Hawaiian style swaying led by the Mother, Leora; Broadway routines in Maytal's break-out solo; a lyrical pas de trois of undulating arms, and the Dad's solo of night club grove-moves which were a tad self-conscious although infused with joie de vivre. Amit's explosive leaps, impressive extensions, dizzying turns with a hint of reckless abandon which then ended in precisely controlled stops, attested to his depth of training.
The sound of the ocean's rhythmic swells became dance music, as was a percussive beat tapped out by Maytal on her Dad's pate, which drew peals of laughter. Steering the journey were aphorisms of the person being an ocean compressed into an individual drop, demonstrating the vastness of every human's potential. Maytal's mesmerising voice evoked in the listeners, memories of perhaps their aspirations, dreams, waterfalls visited, oceans and beaches experienced, chocolates, hopes, wonder. Father and son shared the stage. Mother and daughter briefly claimed the floor. The absent Shakked became the 'present son' via zoom, dancing in his style to his own Afro beat. Young and old, far and near, male and female, parent and child were intertwined by myriad experiences. They felt bonded to each other, to this country and to their most cherished selves. At the heart of it all is family love. And Dance.
Invited by Amit to join in, the cushion concert audience and those in seats sprang up, becoming high spirited revellers with the Noy family, celebrating through Dance, love and life itself. Producer Christina Guieb, Toi Poneke Dance Residency, DANZ and the NZ Fringe Festival have contributed to a premier winning performance.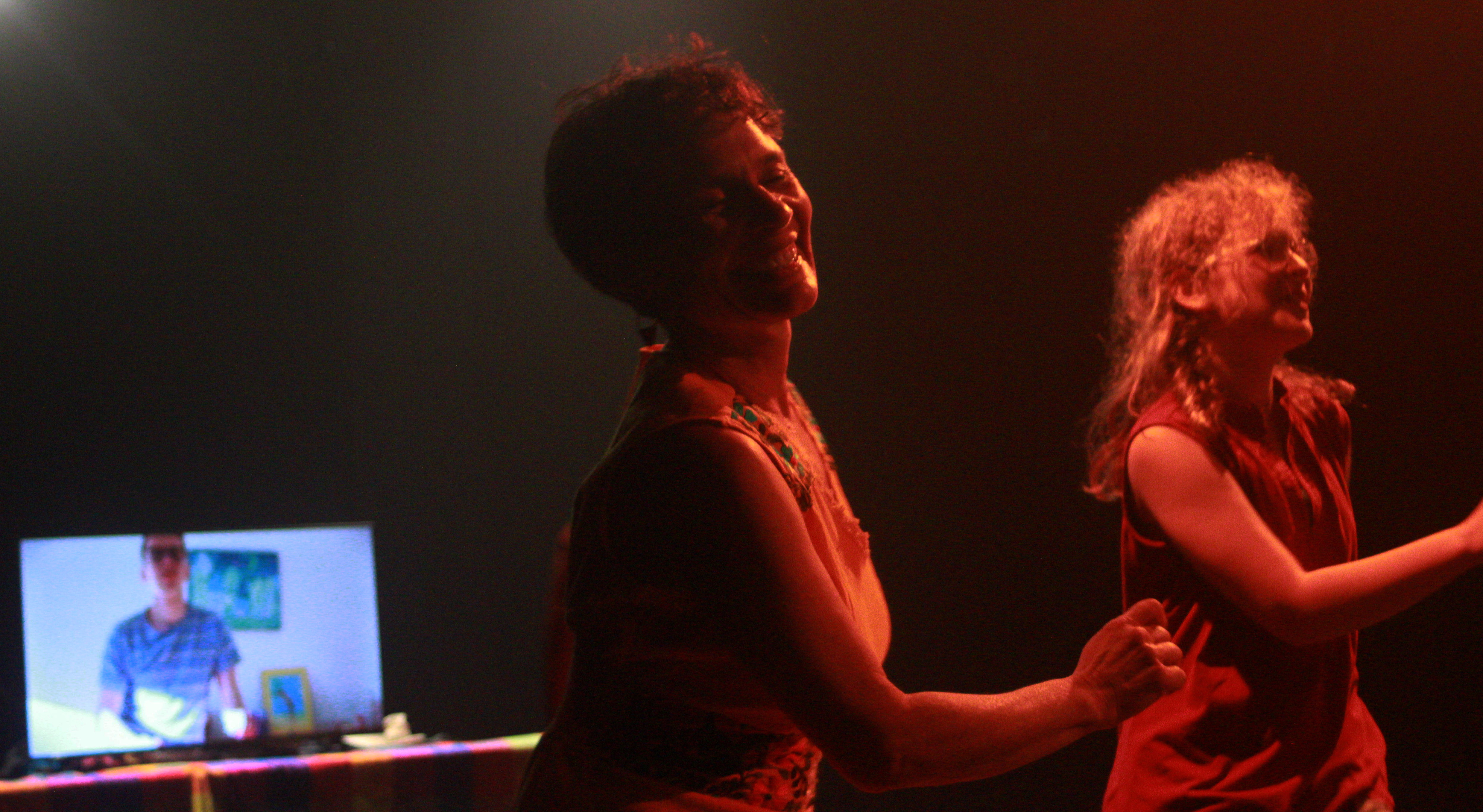 Photo: Mark Whittet