New Zealand Dance Week 2019 – a year of firsts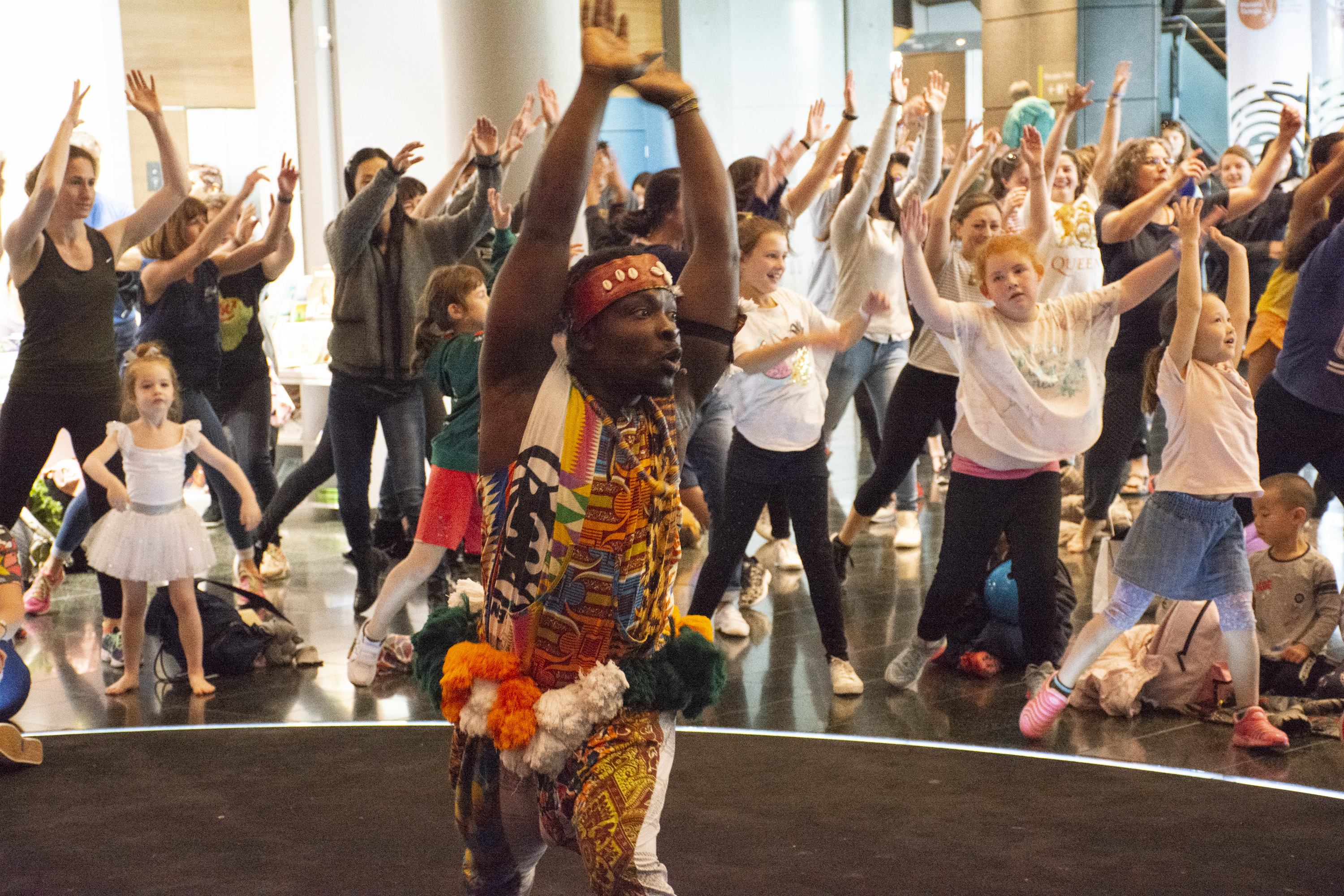 New Zealand Dance Week (NZDW) returned in 2019, from 27 April – 5 May, with a growing programme of dance activity taking place around the country. Local dance people from Whangarei to Dunedin got communities moving and engaged in the diverse world of dance; raising awareness of the art-form, growing dance literacy and dance audiences, and highlighting the positive benefits dance has on community, physical health, mental wellbeing and the spirit.
DANZ launched NZDW in Palmerston North on Saturday 27 April, marking a number of firsts. It was the first time the event was launched outside of the main centres, and an overlap with NZ Music Month provided an opportunity for the special synergy between dance and music to be celebrated. Hosted at Te Manawa and the Globe Theatre, the launch included a line-up of dance performances, 'have-a-go' workshops led by local dance groups, films, a VR dance experience, networking opportunities, and a keynote address by renowned dancer Rodney Bell (Movement of the Human, Touch Compass, Axis Dance Company). Bell gave a special performance alongside live music by Tom Scrase (Strike Percussion), and these two talented artists also worked together to present an inclusive movement and music workshop.
The launch was included as part of the Let's Dance Palmy! event, and was just one of many celebrations of dance throughout Aotearoa over the 10 days. Other events around the country included a programme of free dance tasters in Wellington, Palmerston North, Whangarei, Christchurch, Rotorua, Dunedin and the Botanic Gardens in South Auckland. Mary Jane O'Reilly choreographed a contemporary performance of Giselle: What Becomes of the Broken Hearted? at the Auckland Art Gallery and, in a first-time partnership between DANZ and Shakespeare Globe Centre NZ (SGCNZ), Wellington's Hannah Playhouse hosted a Shakespeare inspired dance showcase. People from different backgrounds had a chance to dance many styles in Northern Dance Network's Chance to Dance at the Auckland Town Hall, and VR Dance took audiences outside the box of viewing dance live in theatres, or in dance films on screens, phones and laptops. VR technology brought audiences within inches of the dancers; transporting them with the dancers to faraway locations, surrounded and immersed in their movement.
NZ Dance Week has become a vital platform from which DANZ amplifies the talents and work of our diverse dance communities, enhancing the visibility of dance and encouraging New Zealanders across all communities to participate in and present dance. This connects strongly with Sport New Zealand's goals and focus on promoting the lifelong benefits of engaging young people and adults in physical activity, movement and sport. This ethos formed the basis of another first; funding support from Sport New Zealand to deliver a programme of activities to increase physical activity among young people in the wider community. Dance was the big winner in this strategic alliance, and it was a win-win for DANZ and Sport New Zealand; two organisations part of a system supporting young people to develop a love of movement, to reap the health and wellbeing benefits of being physically active through dance.
DANZ is committed to further expansion of NZDW and forging new strategic partnerships and collaborations that will enable the realisation of shared goals and the growth of a resilient and dynamic dance sector. There is strength in working together to achieve shared outcomes.
The smallest things are vital in helping to grow dance in New Zealand, and NZDW is a critical part of our work to provide platforms to grow, support and amplify the dance sector.
"In this day and age where connection and connectivity have taken on new meanings and where we are at our lowest point in our ability to connect… Dance remains the most sought-after action to help us re-establish that lost connection. Dance brings us back to our roots, in the cultural sense but also in the most immediate sensory, personal, individual, down to the core and heart way, whilst still enabling us to be social animals. For it is when we connect with ourselves when we listen to our inner rhythm, that we are really able to establish a connection with others and communicate."
Karima MANSOUR (Egypt) Dancer, Choreographer & Educator
Excerpt from message for International Dance Day 2019