News
DANZ
Mudra Dance Company Presents
Shakti: The Universal Energy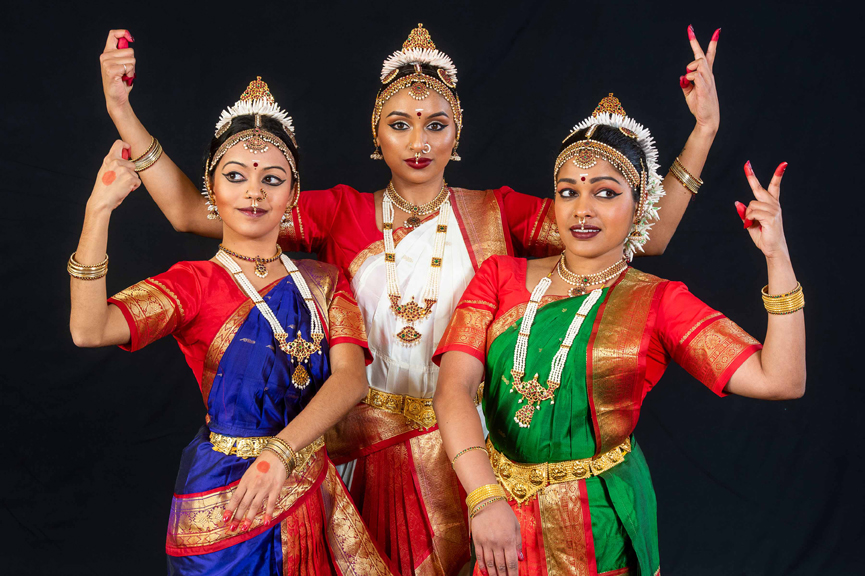 A dynamic dance work in celebration of women and their strength.
Choreographed and produced by Vivek Kinra
Performed by Mudra Dance Company
The acclaimed Mudra Dance Company are to perform a new and dynamic dance work of Shakti in June. Shakti will be performed at the Lower Hutt Little Theatre.
This dance work of Shakti is a celebration of the grace, beauty and strength of women.
This celebration of women is portrayed through the depiction of the primordial mother Goddess Shakti in her various forms and moods, from sublime Saraswati to fierce Goddess Kali.
Shakti is a divine cosmic energy that represents feminine energy and the dynamic forces that move through the universe. She is responsible for creation and can be an agent of change, often being manifested to destroy demonic forces and restore balance in the universe.
As Goddess Durga, she represents the feminine aspect and the Shakti (energy/power) of the One God (The Brahman), as well as the empowering and protective nature of motherhood.
As Parvati, she is the wife and energy behind the Hindu god of destruction and rejuvenation, Shiva. With Shiva, she produced two sons: Ganesha, who became the elephant-headed god of wisdom and good fortune; and Kumara, who conquered the demon Taraka. Parvati symbolises fertility, marital happiness, devotion, power, and asceticism.
Vivek Kinra is acclaimed both nationally and internationally as an exemplary exponent of the classical Indian dance form Bharata Natyam. He came to New Zealand in 1990 and this performance of Shakti will be a culmination of the 30 years of Kinra's exceptional dance career in New Zealand. This new dance work will provide a great opportunity for the prestigious Mudra Dance Company to showcase their professionalism to audiences under the leadership of Kinra.
Shakti is honoured as the primordial mother goddess; a universal source of energy, power, and creativity. This is an excellent theme for the Company to use, as they will explore Shakti's many manifestations, which will allow different dancers to deploy their various skills. It will also stretch the senior Company members and will help develop their interpretative abilities to a greater degree.
Mudra Dance Company will also be working with Karunai Illam to raise money for their trust. The Karunai Illam Trust is a New Zealand incorporated charitable trust. It was set up to support the work of the late Jean Watson, a Wellington writer, who in 1987 established a children's home in the rural town of Nilakottai, in the southern state of Tamil Nadu.
Shakti will be a powerful display of motion, colour, music, mime, and rhythm. The dances highlight Kinra's choreography which combines innovative and traditional elements of dance. Characterised by exotic beauty and charm, Mudra Dance Company is a visual feast of brilliant sari colours, traditional headdresses of braids and flowers, and the sparkle of gorgeous jewellery.
The music for the new dance work of Shakti was specially recorded in India earlier this year, where Kinra travelled to work alongside India's acclaimed musicians to create something completely different for New Zealand audiences. Kinra also procured hand-painted stage sets and completed the experience by creating colourful costumes with Chennai's talented tailors. These will ensure a piece of India is brought alive on the Wellington stage this year.
Mudra Dance Company will once again excite the audience with fast-moving dramatic dance pieces that will showcase the incredible talent of this highly regarded dance company.
Artists Mudra Dance Company
Venue Little Theatre, 2 Queens Drive, Lower Hutt
Date/Time June 28 Friday 7:30pm
June 29 Saturday 7:30pm
June 30 Sunday 4:00pm
Duration of 2 hours including an intermission of 20 minutes
Tickets $20 - $30
Available from Eventfinda 0800289849 www.eventfinda.co.nz Booking fees apply
Contact Mark Graham 021 550245 (Publicist Mudra Dance Company)
www.mudra.co.nz mudra@xtra.co.nz