News
DANZ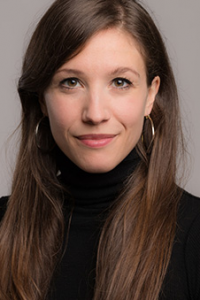 Caroline Plummer Fellowship in Community Dance recipient Lucy Marinkovich is an experienced practitioner who values community engagement.
Lucy is an artist, choreographer, educator, practitioner and performer who has worked with young people and those with disabilities, as well as with professional dancers.
Through her proposed project InMotion: Dancing with Parkinson's, Lucy will deliver dance classes to people living with Parkinson's disease.
"I am endlessly fascinated by dance and the body, and through the Fellowship my experience and knowledge of dance has the possibility to support the Parkinson's community and help individuals to feel confident and positive about their bodies," she says.
As a performer, Lucy has worked with New Zealand's elite contemporary dance companies such as Footnote Dance Company, New Zealand Dance Company, Movement of the Human and Taki Rua Productions.
Her choreographic work, notably the dance-theatre productions she has created with her company Borderline Arts Ensemble, investigates the realm of the subconscious, positioning the performer as an intermediary between dreams and reality.
Borderline's surrealist-inspired Lobsters won three Wellington Theatre Awards, and Strasbourg 1518, their latest commission which premiered in the 2020 New Zealand Festival, explored the true story of a dance epidemic from the Middle Ages.
Lucy says she was delighted and overwhelmed on receiving news of the Fellowship.
"I am also very grateful to be selected for this unique opportunity to live and work in the Ōtepoti community.
"I believe that arts and culture are vital components of a healthy society and that as individuals we have a social responsibility to care for our fellow community members.
"Dancing enables people with Parkinson's to redefine their body's relationship to movement while giving them the opportunity to express themselves creatively and recapture a sense of grace in their movements.
"While we can't solve Parkinson's through dance, I can share my love for dance with people who can benefit from experiencing the joy of movement. I have a sincere passion for community arts and am proud to be able to actively contribute to the cultural and social development of local New Zealand communities through this Fellowship."
Lucy has held a number of choreographic residencies and performances, and in 2018 was awarded the Harriet Friedlander New York Residency from the Arts Foundation of New Zealand.
The 2009 New Zealand School of Dance graduate has worked with the Royal New Zealand Ballet as their Dance Educator, implementing the company's education and community events.
Lucy has taught at primary, intermediate and secondary schools throughout Aotearoa, delivering creative dance, ballet and NCEA workshops alongside community events such as the Audio Described Performances and Touch Tours for blind and vision impaired patrons. She has also held family workshops at Te Papa and Auckland Live.
Source: University of Otago: https://www.otago.ac.nz/news/news/releases/otago746054.html?fbclid=IwAR0IDYC0Cd_hItnM9A0ybE68sqU6rt_uaAyaR8q1cHwTHiJHcs40lLpzYpU