Reviews
DANZ
In Search of Dinozord by Studios Kabako
New Zealand Festival of the Arts
Wellington, Sat 29 Feb 2020
Reviewed by Sascha Perfect
We can thank the New Zealand Festival of the Arts for bringing a work that normally wouldn't be seen on our shores. Presented at Soundings Theatre at Te Papa to a full house, the work received a standing ovation from many in the audience.
In Search of Dinozord by Studios Kabako is a work coming out of the Democratic Republic of The Congo, formerly known as Zaire.
The stage is set with the performers in situ as we enter. A thin red line and a tall red column demarcate the space horizontally and vertically. A large plywood rectangle hangs to the back and seven performers, sit, stand and move on the stage. A man sits at a table with a typewriter. Another man downstage, sits with a microphone behind an open frame, his face painted white, mask like.
This turns out to be the Director – Faustin Linyekula; breaking the fourth wall, he welcomes us casually and introduces the cast and 'hopes we will enjoy the show.' A multi layered work involving poetry, dance, song and text. Fusing contemporary dance with theatre, Linyekula intermittently breaks up the mise en scene with his microphone narration or to shine a light directly on the other performers. This post dramatic technique makes the director more present and brings the audience closer to the reality of the performance.
He begins with a simple song only to be drowned out by a deafening sub base soundtrack. A metaphor perhaps for the menacing political system that consumed their lives. (I learn later that by 2008, the war in the Congo had caused 5.4 million deaths, making it one of the more deadly conflicts since World War II).
The poetry of writers Muhindo and Kabako are spoken in French with English subtitles. We learn that both Kabako and Muhindo became political prisoners. Muhindo turns out to be the actor sitting at the typewriter. He is lucky to have escaped prison alive. Kabako - his fellow inmate, not so.
They speak of the torture and brutality inflicted upon them in the prison. They are witnesses to the horror and the trauma that remains.
The only female cast member (Hlengiwe Madlala) sings in a rich operatic voice, melodious and angelic, a counterpoint, a maternal presence, Mother Africa, grounded and eternal.
We learn that they were the artists, the writers, that were going to change the course of African literature. Young, idealistic and ready for revolution. Who found themselves instead at the mercy of child soldiers, caught in a war-torn land.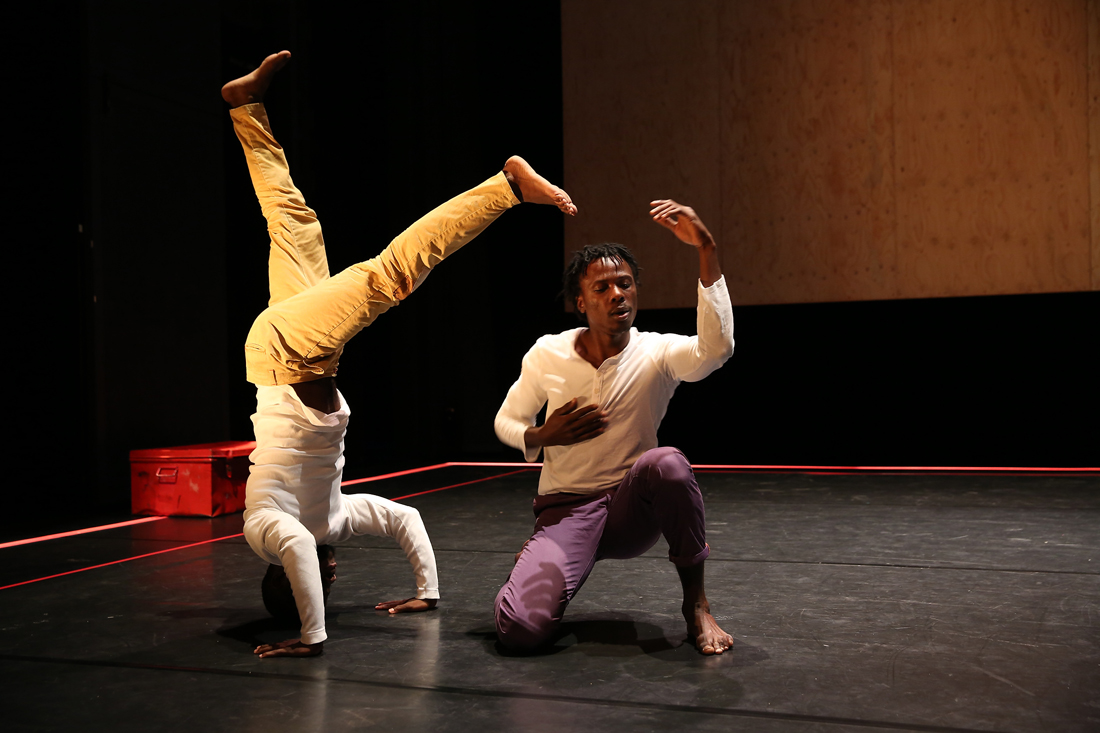 One prop - a large red metallic trunk, full of letters; spills Kabako's writings onto the stage, it cleverly alternates as a lectern for a pontificating politician and as a screen in which bodies disappear.
The dancers' bodies are wrenched, pulled and manipulated to stand on their heads. They fall down hard, lifeless, to be picked up again, re worked, re positioned, again upturned on their head; legs flayed into the sky, rigid and stiff, collapsed bodies that must get up again. An analogy of the political upheavals, manhandling these players. Linyekula's final solo a mixture of hip hop/ breaking in style, frenetic, his knees inverted.
You get the sense that there is a solace found in their theatre and dance making. In one scene, the dancers seem suspended in a sensual rhythmic undulation of hips, perhaps reminiscent of a night out at a dance club.
This is theatre that is working through trauma. Raw and poetic. A legacy for friends they have lost. What could so easily be erased or forgotten is finding a way to be processed here. The deep pain, the scars of memory, through theatre and dance they are finding a way to tell the world their story. The fact that Muhindo can see himself as a seed speaks of the resilience and redemption that is present in these brave artists' work.