Media Release
DANZ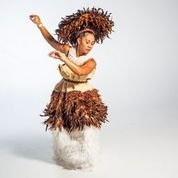 DIGITAL SPACE TRANSFORMED BY PACIFIC HERITAGE
Pacific Dance New Zealand present
The Transform Series
Testament to their creativity and ability to adapt, Pacific Dance New Zealand (PDNZ) are proud to introduce a brand-new digital initiative The Transform Series, launching on Wednesday 24 June, 2020. Consisting of 10 episodes of inspirational curated content, dance artists have come together to celebrate their unique cultural heritage and the traditions of Pacific dance forms here in Aotearoa.
2020 celebrates the 10th anniversary of PDNZ, who had confirmed a calendar of live events to mark the milestone, including their annual June festival which was postponed to 2021 due to the global COVID-19 pandemic. In light of the changes, the team have moved into the digital space to create original content, responding to audience desire to see more work focused on retaining cultural heritage and tradition.
10 Aotearoa-based artists have been selected to each create a 25-30min episode of personal content, to explore how their own dance practice is informed by their unique heritage. Hailing from 10 islands across the Pacific region from Papua New Guinea to Tuvalu to Uvea, these artists, dancers, and choreographers are masters in their specific fields of Pacific dance, and will share their knowledge and expertise. The pre-recorded episodes are all themed on transformation, and will be premiered live then accessible on-demand, all free of charge through PDNZ's digital platforms. Each episode will be completely different, with some artists offering workshops or classes, others creating interactive history lessons and origin stories, but all will touch on the artist's own cultural interpretations in a deeply personal exploration of Pacific heritage in Aotearoa in 2020 through dance.
Iosefa Enari, director of Pacific Dance NZ, says that The Transform Series is in direct response to the current climate and audience feedback: "The world has been transformed, but a constant is our heritage and culture that we cannot lose sight of in the noise. This series is a gift to our audiences in lieu of live performances, in direct response to what they asked for - enriching and authentic heritage content available digitally and on-demand, without any boundaries."
Enari will introduce the programme with the first episode, premiering on Facebook Live at 1pm on Wednesday 24 June, which would have been the last week of the 2020 Pacific Dance Festival. For up to date information, sign-up to the newsletters on the Pacific Dance NZ website to be in the know when new episodes are released.
Pacific Dance NZ presents
The Transform Series
June 22 - August 24
Live premieres at 1pm on Wed 24th June on Facebook: facebook.com/PacificdanceNZ
On-demand on YouTube: youtube.com/user/PACIFICDANCENZ
pacificdance.co.nz/
THE TRANSFORM SERIES
Artists:
Tupe Lualua - Sāmoa
Albert Trail - Fiji/Melanesian
Molia Alama-Tulafono - Tuvalu
Joachim Kaeo - Tokelau
Julia Mage'au Grey - Nesian Dancing
Steev Maka - Uvea (Wallis & Futuna)
Milika Pusiaki - Tonga
Leki Jackson Bourke - Niue
Soane Pusiaki - Tonga/Uvea
Tahiti Ia Ora - Tahiti