Article
DANZ
Big J Stylez - Everybody Cool Lives Here
4 July 2018, Herald Theatre, Auckland
Reviewed by Lauren Sanderson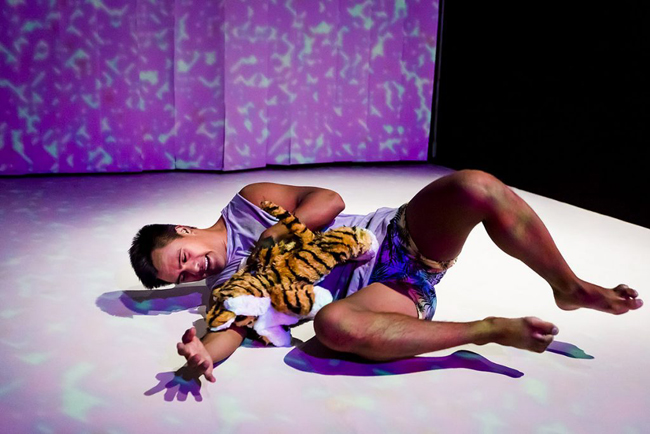 Big J Stylez is an exploration of dance, music and physical theatre and highlights and celebrates why and how the arts can help with self-expression. Jacob Dombroski is the star of this captivating performance produced by Everybody Cool Lives Here. Inspired by his love for music, dance and acting, Big J Stylez takes us on an emotional journey through Jacob's life – where he shares his story about growing up in New Zealand as a young Samoan/Maori who also happens to have Down Syndrome.
Wellington based theatre company Everybody Cool Lives Here aims to celebrate New Zealand's diverse identity by bringing artists and groups together and empowering them to create dialogue within the wider community. Artistic Director Rose Kirkup has created a thought provoking piece that is very rarely portrayed on stage, by doing this she has opened up a wider conversation around how we support others and 'smash perceptions'.
We first meet Jacob as he enters the stage with bundles of energy and a contagious smile, he has the audience clapping and cheering from the get go and we're all fixated on him as he commands the stage. Always by his side is his little bro Corbin the tiger, who has been part of the family since Jacob was a baby. The pair do everything together and although they fight, they are the perfect representation of unconditional love.
The conversation starts light-hearted when Jacob talks about playing pranks on his mum but soon turns darker when he reflects on times of bullying and being told he was 'different'. I have never felt so many emotions in one performance and I believe the entire audience can agree with me on that. One minute we were dancing and cheering and the next we were sobbing into our friend's shoulder. Let's just say tissues are needed for this performance – whether you're crying of laughter or simply crying, Jacob will make you feel something you've never felt before.
Rowan Pierce has created a fantastic set that really captures the essence of the piece and Jacobs personality. It's simple yet fun and vibrant, and compliments Jacob's emotions. The live action was accompanied by stunning visuals of homemade videos that showcase a timeline of Jacobs life – from being raised by a single parent, gaining a father figure and the arrival of his little brother.
There is no denying the talent that Jacob holds – his dance ability is simply incredible; his monologues will pull on your heart strings and the joy he brings to a crowd is indescribable. It's hardly surprising that Big J Stylez is an award-winning performance. It is an emotional rollercoaster but one certainly worth taking as it's guaranteed to make you laugh, cry and so much more.