News
DANZ
New Zealander Alice McArthur takes home the coveted Genée Gold Medal, over 30 years after her mother won silver in this prestigious competition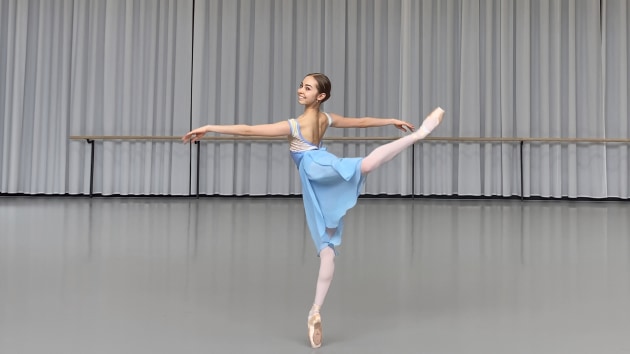 · 4 dancers have been announced as medallists in The Margot Fonteyn International Ballet Competition, RAD's flagship event (previously named the Genée).
· The Fonteyn is one of the most prestigious competitions in the world, with this year marking 90 years since its inception in 1931.
· The final, hosted by RAD President Dame Darcey Bussell and RAD Artistic Director Gerard Charles, took place entirely online for the first time on Thursday 9 September, attracting a truly global audience
Watch RAD Chief Executive Luke Rittner announce this year's medallists
· Find out more at www.royalacademyofdance.org
The Royal Academy of Dance (RAD) is pleased to announce the medallists of The Margot Fonteyn International Ballet Competition, held entirely online for the first time in its history. After remote coaching and masterclasses from world-renowned teachers and choreographers, the competition final saw the coveted Genée Gold Medal awarded to New Zealand dancer Alice McArthur, trained by Auckland Academy of Dance and currently Sarah Abendroth at John Cranko School. In a touching coincidence as the RAD celebrates 90 years since the competition began, Alice's success comes over 30 years after her mother was awarded the silver medal in London.
Australian dancer Milei Lee won the silver medal. Milei has been trained by RAD Teachers Liane McRae and Janne Blanch, and English National Ballet School. Bronze medals were presented to British dancer Hannah Martin, trained by RAD Teacher Mary Goodhew and Australian dancer Amelia Soh trained by RAD Teachers Jasmin Bobyk, Paris Bobyk and Celine Bobyk. As previously announced, the Choreographic Award was won by British dancer Olivia Chang Clarke. The judges felt that her solo Rain of tears (choreographed by herself) demonstrated the highest standard of choreography within the Dancer's Owncategory.
The young dancers were judged by Dame Darcey Bussell, President of the RAD, Director of The Royal Ballet Kevin O'Hare, CEO and Artistic Director of Scottish Ballet Christopher Hampson and Irek Mukhamedov, Ballet Master, Opera Paris Ballet. They judged the dancers on a 19th or 20th century classical variation, a contemporary solo choreographed by them or for them (Dancer's Own), a commissioned solo by choreographer Ashley Page and set class exercises.
Gerard Charles, Artistic Director of the RAD said: "I am so pleased that we were able to make the competition happen this year, after what has been an incredibly challenging time for dance students and teachers. It has been so inspiring to see these young dancers surmount unforeseeable challenges of separation, closed studios and lockdowns, just to take part in the competition, let alone take home a medal. This is a true testament to how deeply they value dance. I would like to extend my heartfelt congratulations not only to all the medallists, but also to everyone that took part, their teachers and families."
This year the RAD was thrilled to see a record number of applicants, thanks to the new competition format intended to widen access to this prominent event. The dedication and passion shown by all of the dancers who have taken part in the competition has been inspiring. In the early stages of the competition, the RAD delivered one to one online coaching for 114 dancers from 18 countries. The coaches, some of the leading professionals in dance today, included former Royal Ballet Principals Ed Watson and Leanne Benjamin, from Rambert, Miguel Altunaga and Amber Scott, Principal with The Australian Ballet. 75% of candidates said that the competition being online helped them to participate in this rich educational opportunity. 97 dancers then applied to be considered as a finalist, before judges selected the 15 dancers to take part in this historic final.
The RAD remains committed to providing opportunities to aspiring young dancers at this challenging time for the arts industry. In addition to competing for medals and prize money to further their training, all finalists' solos will be sent to Artistic Directors of leading companies across the world, providing a potentially crucial stepping stone in their career path. The competition has long produced alumni who have gone onto careers with the world's leading companies, including Francesca Hayward, Xander Parish, Mlindi Kulashe, Stella Abrera, Amber Scott and Steven McRae, to name a few.
Source: Ballet News UK