The Māori ChoreoLab / Te Kanikani Whakamātau Expressions of Interest
Mon 09 Jul 2018, 09:00 am
Fri 27 Jul 2018, 05:00 pm
Wellesley Studios
113-115 Wellesley St West
Auckland
Applications close 27 July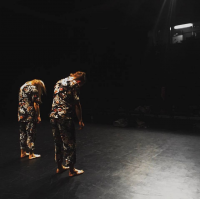 The Māori ChoreoLab / Te Kanikani Whakamātau
Expressions of Interest
Dance Aotearoa New Zealand (DANZ) is offering a unique opportunity for a Māori choreographer and/or Māori dancer to explore their craft by being supported during a three week period to investigate and develop their own choreography.
"Since receiving Te Kanikani Whakamātau funding, many doors have opened for me and it really has led on to many other amazing opportunities. Thank you DANZ for the part you have played in my development." – Bianca Hyslop, 2016 Māori ChoreoLab recipient (DANZ Magazine Issue 45)

AIM AND PURPOSE
The aim of The Māori ChoreoLab / Te Kanikani Whakamātau is to expand the choreographic expression of Māori in Tamaki Maukarau, reflecting the artistic vision of Māori in the 21st century. The whakataukī chosen for this choreographic project reflects the history of Māori choreographic exploration over the past 30 years:
Kua mārō te haere o te kaupapa. Ko tā tātou i nāianei he ū tonu, he ū tonu kātahi ka whakahōhonu, ka whakawhānui / The progress of the project has firmed. What we have to do now is consolidate and then deepen and broaden its scope.
This project presents a new pathway for emerging or experienced Māori artists in the Auckland and Northland region, to have time and space to explore ideas, concepts, styles and forms of expression. The emphasis is on exploration, experimentation and is open to all dance styles and expressions of Māori movement.
HOW IT WORKS
DANZ will provide:
An artist stipend for three weeks.
Additional stipend to work with additional dancers.
A rehearsal space at Wellesley Studios (Central Auckland), or an alternative space can be negotiated.
A mentor; an experienced choreographer or appropriate person.
HOW TO APPLY
Application for The Māori ChoreoLab / Te Kanikani Whakamātau is by written proposal, outlining ideas for choreographic exploration. Applications close 5pm, Friday 27 July.
Due to funding requirements, applicants must be based in the Auckland/Northland region.
Please complete the following application form which includes the following:
Name and contact details,
Iwi affiliation,
Dance background,
Title of the project,
Area and focus of exploration,
What do you want to do and why?
How will this opportunity benefit your career?
Suggested mentor for the project,
Your current CV.
Application PDF version The Maori ChoreoLab Application
Application Word version The Maori ChoreoLab Application
Email completed application forms to danz@danz.org.nz by 5pm, Friday 27 July
TIMELINE
Deadline for expressions of interest; 5pm, Friday 27 July.
The project should take place between; September - October 2018.
A public showing will be scheduled at the end of the three week period.
Notification of the chosen artist by; 5pm, Wednesday 1 August.
SUPPORT OFFERED
Rehearsal space for 6 hours per day for five days a week, for three weeks.
Stipend @ $750 per week for the artist.
$1,500 towards stipend for additional dancers or artists to work with.
A mentor's fee of $450 (to be approved).
Note: Stipends paid to artists and mentor fees will need to incur appropriate income tax rates
REQUIRED OUTCOMES
A public showing at the end of the three week process.
A written report on the artistic and cultural benefits.
Images and/or video material for promotional purposes.
If you have any further questions please contact DANZ by emailing danz@danz.org.nz or phoning 04 802 9885
Te Kanikani Whakamātau is organised by DANZ, with the support of Toi Māori Aotearoa and is funded by Creative New Zealand and Foundation North

| | | |
| --- | --- | --- |
| | | |