Article
DANZ
NZDC: Matariki Through Dance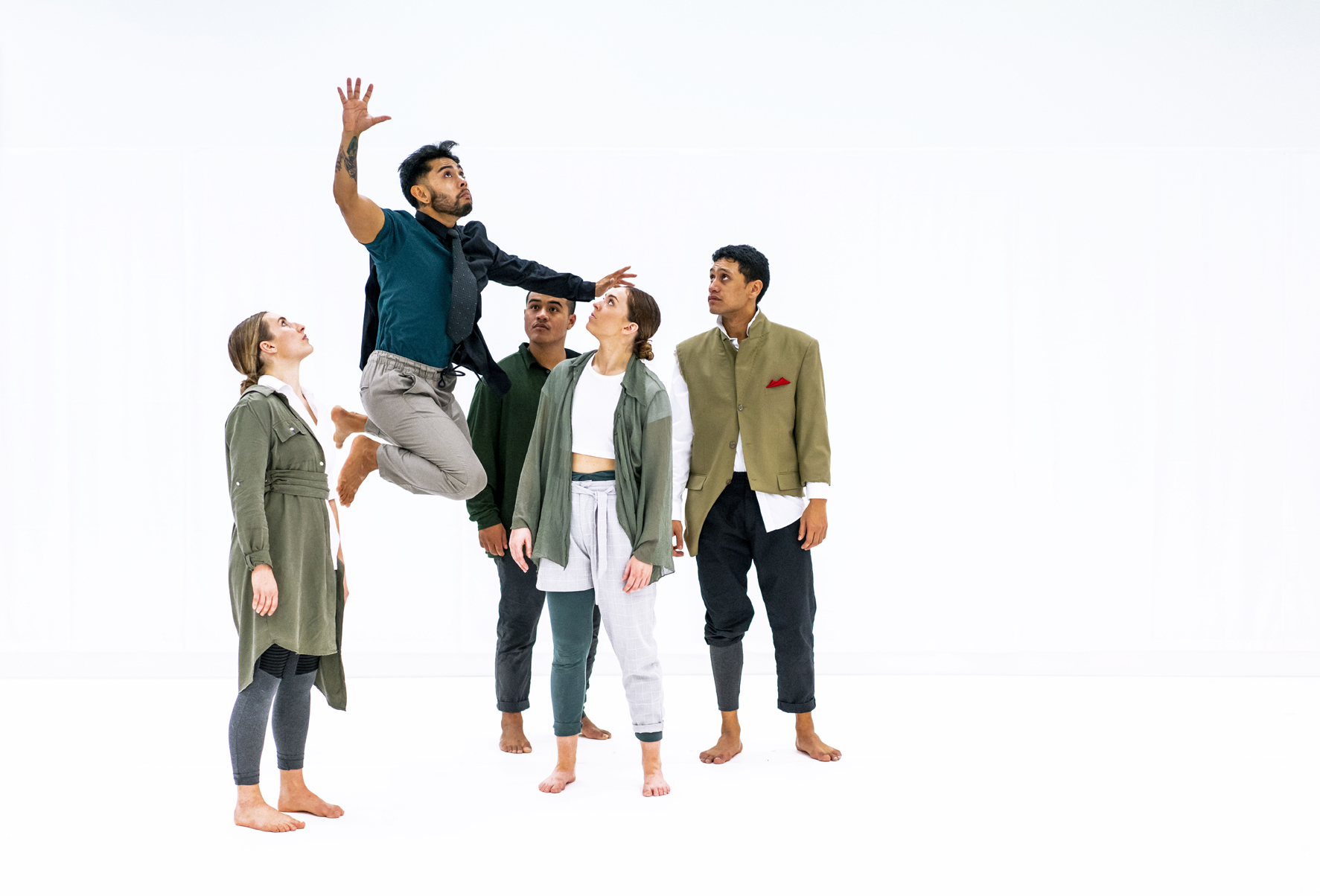 The New Zealand Dance Company (NZDC) presents the premiere season of Matariki for Tamariki – their first full length work specifically created to be enjoyed by children and adults alike. Known for their incredibly high calibre contemporary dance productions, this work showcases an expansion for NZDC into the realms of physical comedy, dance-theatre, and waiata to create an accessible narrative work that tells the story of the nine whetū (stars) of Matariki.
In Matariki for Tamariki, six dancers are charged with storytelling through the language of movement, exploring the unique tales of each star of the Matariki constellation, and weaving together familiar Māori myths and legends. These stories have been beautifully translated into physical retellings through Sean MacDonald's (Ngāti Kahungunu, Ngāti Raukawa, Ngāi Tahu) playful choreography, developing sequences such as the Māori creation myth of Papatūānuku and Ranginui, and a high energy fight scene between Tāwhirimātea and his brothers which forges the Matariki constellation.
The work has been choreographed by Sean MacDonald, a senior seasoned Māori dancer and choreographer who has been dancing professionally since the 90s and was a founding member of Black Grace Dance Company. Sean developed a short work in 2018 for NZDC titled Kaleidoscope that was magical, moving, and unmistakably of Aotearoa. Sensing the opportunity to develop the work further to engage meaningfully with local artists and audiences, Kaleidoscope has had a new life with Matariki for Tamariki – a 60-minute piece to be presented for all to experience in a high quality, whole whānau programme.
Speaking about the work, Sean says: "It has been a really wonderful process creating a work that is geared for our tamariki during this Matariki season. The performing arts inspire something in each individual, especially our very honest young people, who need to be exposed from an early age to watching and participating in its magic. You never know who you might touch and provide the "lightbulb" moment for through your mahi."
Performing this innovative new work are some of NZDC's most elite artists – Chrissy Kokiri (Te Arawa), Carl Tolentino, and Katie Rudd who have been full-time with the Company since 2016, joined by Eddie Elliott (Ngāti Maniapoto) who last danced with NZDC for the international tour of Lumina in 2018, newcomer Ngaere Jenkins (Ngāti Kahungunu, Ngāti Tuwharetoa) who is a recent graduate of the New Zealand School of Dance, and Taniora Motutere (Te Rarawa, Ngā Puhi, Ngāti Whātua, Ngāti Porou, Ngāti Tuwharetoa) who makes his NZDC return in this energetic new work.
Travelling through the season as the Matariki constellation that signals the Māori New Year dawns and sets, an essential part of the work explores into the relationship between voyages, nature and the cosmos. To create Aotearoa's landscape that the dancers traverse, evocative costume and set design by Rona Ngahuia Osborne and spectacular sound design by Alistair Deverick (Boycrush) combine to form lush ngahere (forests), mighty maunga (mountains), and majestic moana (oceans), along with seasonal changes of flora and fauna.
An exciting element of these performances are the two affiliated Youth Winter Schools – one at each venue – for aspiring dancers ages 12 years and older. Students "live a week in the life" of NZDC's professional dancers, participating in daily contemporary technique and creative choreography sessions, culminating in a rare opportunity to perform alongside NZDC Company members in Matariki for Tamariki. Applications are still open for the two separate Youth Winter Schools, to be held at the Bruce Mason Centre July 8-13 and Māngere Arts Centre July 15-20, with limited "pay what you can" options are available for young people. in need through funding from Youthtown and Chisholm. Shona McCullagh, NZDC's Artistic Director & Chief Executive is delighted to be staging this work for Auckland's families, fully aware of the profound impact this can have on the next generation, saying: "Dance has the power to transform lives through developing discipline, responsibility, reliability, tenacity, self-expression, confidence, sense of identity and connectedness to ourselves and the world around us."
Proudly a part of Auckland's Matariki Festival and Auckland Live Kids 2019, Matariki for Tamariki has two runs this winter. NZDC returns to the North Shore's Bruce Mason Centre as part of the Auckland Live Kids 2019 Programme for three performances, one being "relaxed" for individuals with specific sensory needs, July 12 & 13 and perform their debut season with three performances at the Māngere Arts Centre on July 19 & 20.
Visit www.nzdc.org.nz/matariki-for-tamariki/ for tickets and information