Movement Workshop with Rodney Bell - Gisborne
4 days ago, Sun 13 Oct 2019, 11:00 am
4 days ago, Sun 13 Oct 2019, 12:30 pm
YMCA Stadium
447 Childers Rd
Gisborne
Gold Coin Event, Conferences Workshops Classes, Arts Culture, Performing Arts
Wheelchair access, Accessible toilets
Limited spaces available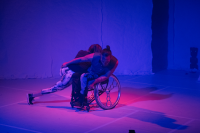 Join internationally acclaimed performing artist, Rodney Bell, in this unique movement workshop for people of all ages and abilities.
Rodney is an internationally recognised performing artist who is specialised in working with people who live with a disability. Rodney will lead participants through a playful investigation of movement creation.
Following his workshops in Palmerston North and Christhchurch, this is a unique opportunity for participants of all ages and abilities to work with Rodney to explore and create movement.
Places are strictly limited, please email danz@danz.org.nz to register your interest.
WHEN: 13 October, 11am-12:30pm
WHERE: YMCA Stadium, 447 Childers Rd, Gisborne
COST: Pay what you can / Koha
Rodney Bell (Movement of the Human) will be presenting his stunning solo work, Meremere, as part of the Te Tairāwhiti Arts Festival.
Meremere
War Memorial Theatre, Gisborne
SATURDAY 12TH OCT - 2:00PM & 8:00PM / SUNDAY 13TH OCT - 5:00PM
Tickets: https://tetairawhitiartsfestival.nz/events/meremere/
This workshop is supported by Dance Aoteaora New Zealand, Movement of the Human, Te Tairāwhiti Arts Festival & Creative New Zealand