WIDance Classes 2019
Sat 16 Feb 2019, 11:00 am
Sat 23 Mar 2019, 01:00 pm
Te Whaea National Dance and Drama Centre
11 Hutchinson Road Newtown
Wellington
Wheelchair access, Accessible toilets, Mobility parking
Term One Begins 16 February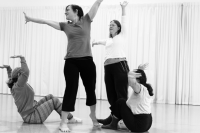 Inclusive dance embodies elements of contemporary dance and contact improvisation techniques as a base to explore and evolve personal movement vocabulary, as well as developing skills in the basics of dance composition.
Look to gain skills that you can apply to your own performance and movement practice, or join in for some fun, exercise and personal wellbeing.
WIDance provides a safe and supportive environment for all skill levels and abilities.
Classes are inclusive to everyone.
Term One:
When: Saturdays 11 am to 1 pm Feb 16th, 23rd, March 2nd, 9th, 16th, 23rd.
Where:Te Whaea, National Dance & Drama Centre,11 Hutchison Road,Newtown, Wgtn
Cost: $90/term waged.$60/term concession. Limited places – so sign up now!
Registration & Information:
Contact Sumara Fraser 021 050 1565
facebook.com/WIDance.nz