Karanga - Tempo Dance Festival
Tue 08 Oct 2019, 06:30 pm
6 days ago, Fri 11 Oct 2019, 07:30 pm
Basement Theatre
Auckland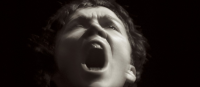 Co-created by Forest Vicky Kapo and Paea Leach
Tempo Dance Festival
An experimental performance of embodiment created by two Australian-based wāhine Māori, who are seeking out the essence of karanga unfolding across a continuum that revisits the past, while creating space to release energy into the present and reflecting on the auspices of the future.
Karanga resonates as a dance and sound duet comprising two solos: resilient, dark, and questioning. The dancers are seeking to discover the sinuous vibrations of the call to their tīpuna and how they can be pulled through the body. How do these sensations move and how can the concepts of karanga be embodied into a contemporary performance model?
Karanga is an on-going analysis that projects forward the cosmology and protocols of Matauranga wahine and Mana Wahine within modern Australia, augmenting those already existing in Aotearoa. The call goes out …and it will perhaps be responded to over many light years.
Photo by Pippa Samaya