Flamenco Dance Masterclass for Professional Dancers in Auckland
58 minutes ago, Sun 23 Feb 2020, 01:30 pm
Sun 23 Feb 2020, 03:00 pm
Victory Performance Studios
260 Queen Street, Studio 3
Auckland
Dance, Flamenco, Ballet, Performing Arts
https://www.Flamencoaustralia.com
Bring Character or Flamenco shoes for dance. No ta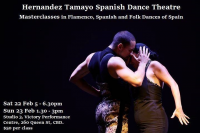 Hernandez & Tamayo are offering a Master Class series for all dancers from various styles. Ballet, Spanish and Flamenco dance techniques. Students will develop strategies to re-align and develop their personal aesthetic lines used in danza estilizda and marcaje.

Hernandez a former dancer of the Nacional Baile de Espana (National Ballet of Spain Company) joins Marina Tamayo (trained in Sacromonte, Granada) in sharing culture and technical knowledge with the dance community of Auckland.

Our teaching objectives are:
To develop a platform of support for aspiring and professional artists training in both Australia, New Zealand, and Spain through preparing individual educative training programs.

To offer accessible and comprehensive Flamenco education by engaging professionals and the community in informative fun-filled Classes, Open Forums, and workshops.

To ensure the art of Flamenco is practiced and shared in its traditional non-institutionalized form by open teaching methods, encouraging improvisation and performance in each individual. By respecting the uniqueness of each student, both student and teacher work towards finding together a common voice through this art form.

The session will include choreography Fandangos with fan work. Additional mins will be offered to castanet students.

This Master Class will be limited in numbers to ensure individual attention to improvements is made. Ballet students are encouraged to attend.