Double Bill - Jolt Dance Company
Fri 30 Aug 2019, 07:30 pm
Fri 30 Aug 2019, 12:00 am
Ara
130 Madras St
Christchurch
Wheelchair access, Accessible toilets, Mobility parking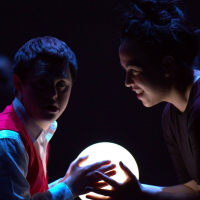 Jolt is proud to present Double Bill.
Double Bill features I am Sam - a dance theatre work by Jolt Youth, and the premiere of Prelude - an original work for 6 dancers choreographed by Aleasha Seaward.
This is a one night only performance so book early!
When: Friday 30th August
Where: Nasda Theatre at Ara, Madras Street Campus, E Block
Bookings: alextonykerr@yahoo.co.nz
I am Sam is an original devised theatre work by Jolt Youth, an inclusive dance theatre company. The production was first created in 2017, and performed in 2017 and 2018 for mainstream audiences and secondary school students. Using dance, theatre and film, the show portrays who Sam is – from his birth and early life to the present day. Within that story we see Sam as an individual, not just as a person with Down Syndrome.
I am Sam is also the story of Sam's parents and their journey. In 2019 having a child with a disability is still seen as a negative thing. I Am Sam asks the question "what is it to be human?" The work raises questions about how we view difference and disability and ultimately it is a celebration of what connects rather than separates us.
Prelude is a new inclusive dance work by Aleasha Seaward. Featuring 5 jolt dancers, Prelude looks at who we are, what our journey is, what life and death mean to us and how there is beauty to be found in unexpected places. Prelude is an investigation on understanding what it means to be human.
"The universe took it's time on you. Crafted you precisely so you could offer the world something distinct from everyone else" Rupi Kaur
Prelude is in it's second stage of development after being performed in Auckland for Touch Compass's InMotion Matariki parade earlier this year.