Cinderella - Royal New Zealand Ballet
Kiri Te Kanawa Theatre, Aotea Centre
Tamaki Makaurau Auckland
10 August, 2022
Reviewed by Marianne Schultz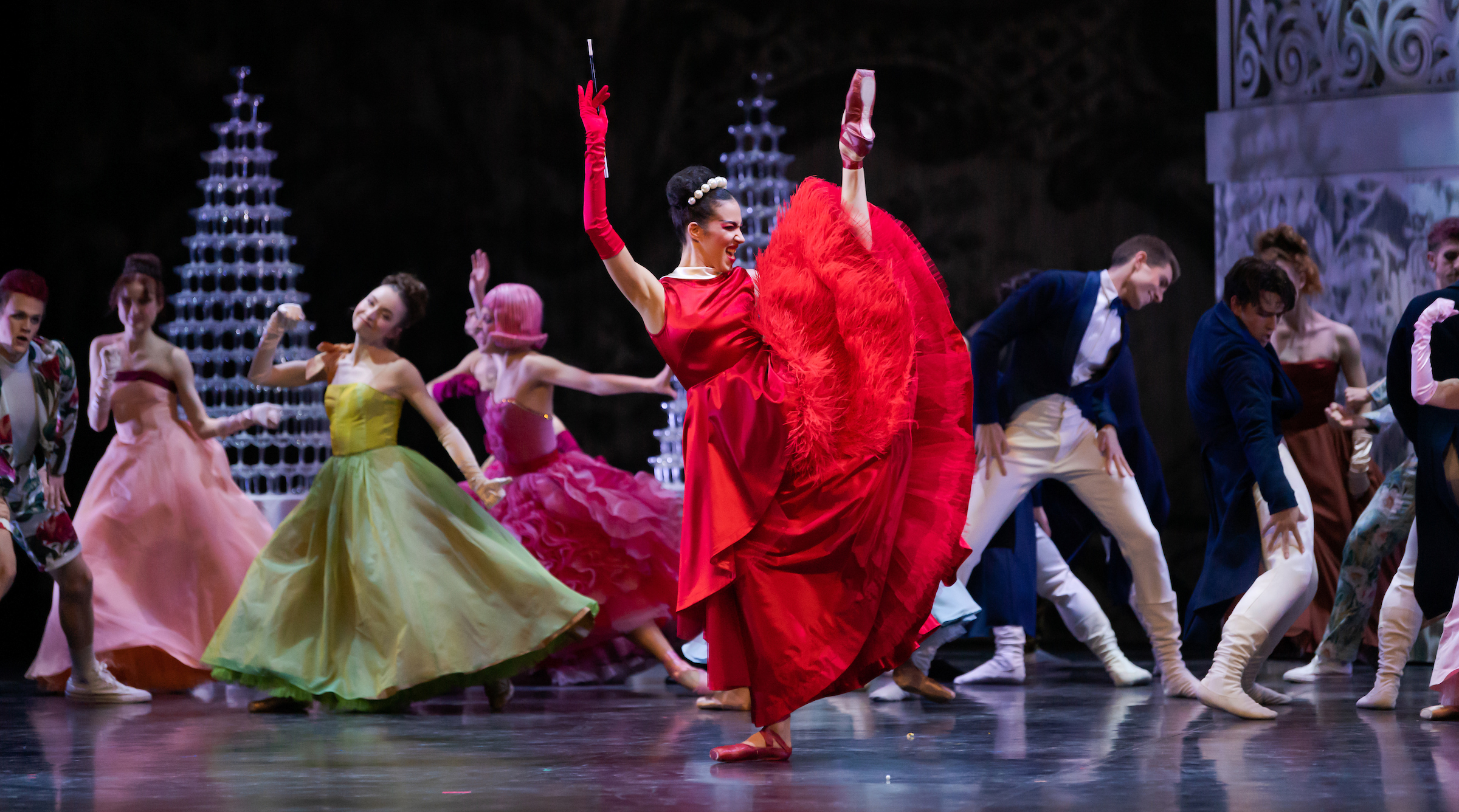 In 1938 the esteemed British ballet critic and director of the Royal Ballet school, Arnold Haskell, wrote:'...we are interested in seeing new dancers who express their own minds and bodies and consequently something of their own times, yes, even in the classic works of yesterday, for that alone can keep the classics alive.' With this production of Cinderella by Loughlan Prior and Claire Cowan, the Royal New Zealand Ballet have made a big leap forward in following Haskell's intent on the continual renewal of the art of ballet.
The classic tale of triumph over adversity is repackaged, offering a bright, and hopeful interpretation of the dictum 'to thine own self be true.' While this production is firmly reflective of contemporary life, there is tulle and tiaras galore for the ballet aficionados in the house, alongside hommage to house music for millenials. The scene is set pre-show when we are privy to work on a giant tapestry crafted by children, evoking 17th century child labour then magically evolving into 21st century animation providing necessary back stories for the ballet's main characters. From here our story begins...
Mayu Tanigaito as Cinderella is all delicacy and lightness in spite of hardship in contrast to her shallow, vainglorious step-sisters, Madeline and Nicolette, danced with abandon by Sara Garbowski and Kirby Selchow. Ana Gallardo Lobaina's slinky, OTT Stepmother delivers ample examples of sinister deeds meted out between puffs from her cigarette holder, especially directed towards her hapless, incapcitated husband, played by stalwart RNZB dancer Paul Matthews.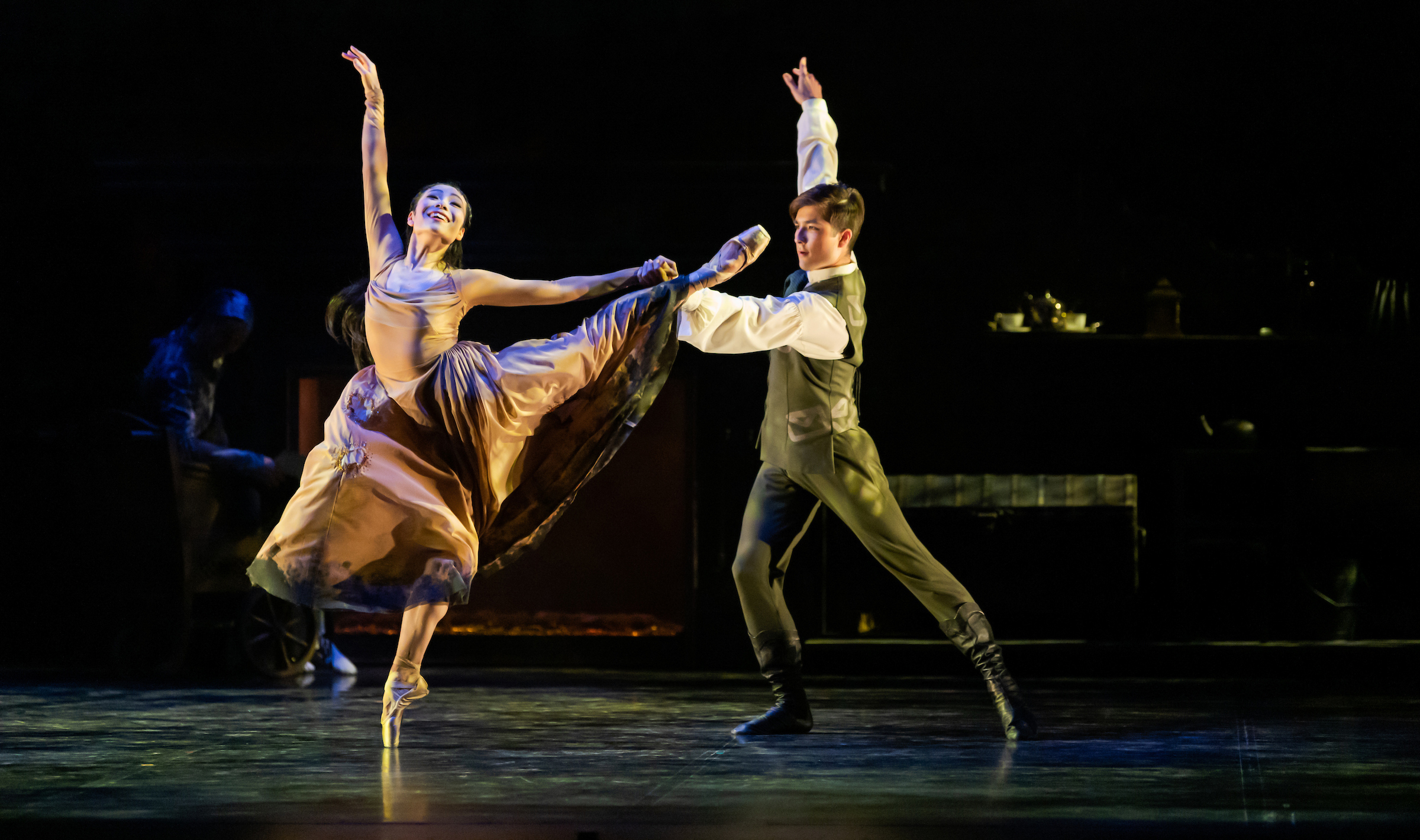 Slotted into this unspecified time period are sprinkled hints of history, via sumptuous animated backdrops by POW studios and evocative lighting by Jeremy Fern. This link to the past is brought to the fore with the stylised fencing scene that introduces us to Prince Charming and his fencing party. Joshua Guillemot-Rodgerson as Prince Charming leads an impressive cast of male dances in a series of jeté en tournant, tour en l'air and pirouette. Principal dancer Laurynas Vėjalis as The Royal Messenger and soloist Shae Berney as Prince Dashing are consistently excellent throughout this two hour-plus ballet. Guillemot-Rodgerson's Prince Charming is, well, charming, and his clarity of line, ballon and extension is most satisfying, while Vejalis's solo in Act 1 is near perfection.
Prior's choreographic voice particularly shines in pas de deux, both in the female/male and male/male variations. His innovative transitions, facings and lifts add elements of beauty and subtle emotion to the characters and the dancers generally accomplish these challenges with aplomb and flair. The pas de deux between Guillemot-Rodgerson and Berney that follows on from the display of male fencing bravado is by contrast increasingly soft and tender. Strangly, Tanigaito and Vejalis's final duet of the evening felt a tad frenetic, with the entanglements and mechanics of some lifts diminishing the sense of ease that their 'happy ending' would engender.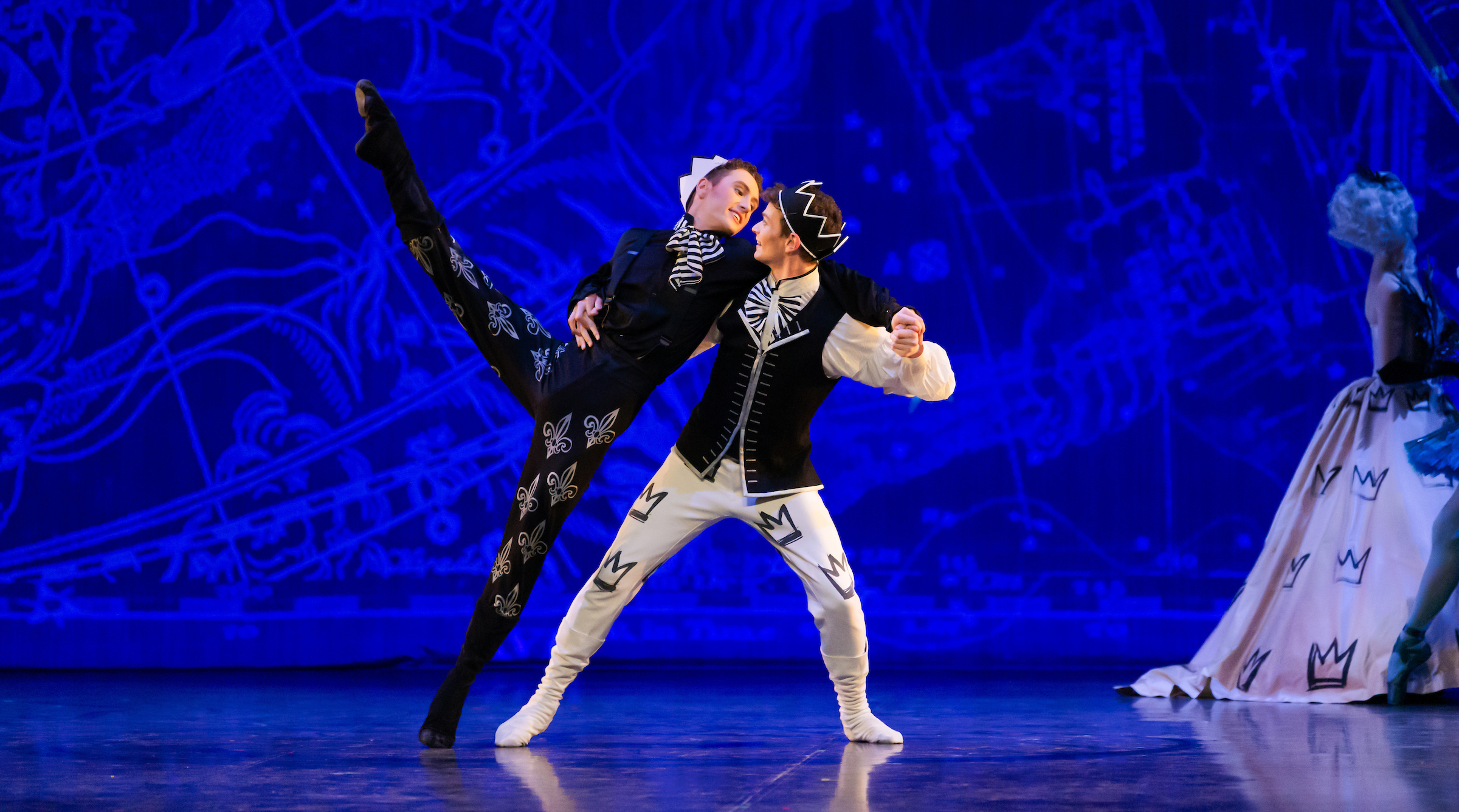 With the introduction of the Fairy Godmother, danced pluckily by Kate Kadow, the darling Fab Five and the Ball/Rave we get the full-on Prior & Cowan package. A nod to postmodern self-reflexive expressionism is the sisters' attempt at Swan Lake choreography; trained ballet dancers–attempting to be posh–decimating classical ballet–on stage before a knowing ballet audience. Touché!
At times Cowan's score has the aura of a Danny Elfman film score, full of percussion, Glokenspiel, harp and chimes. The woodwind section of the APO, under the baton of Hamish McKeich deserves special mention for its atmospheric sound while the addition of an electric guitar adds a fizzy edge. Emma Kingsbury's grand set and costume designs are nothing short of marvellous.
In the climatic denouement Clytie Campbell's regal Queen offers perhaps the most contemporary but heartfelt moment of the evening. Her acknowledgement, acceptance and, finally celebration of her son finding his one true love, Prince Dashing (sans glass slipper) brings this contemporary fairy tale to its modern-day conclusion. Placing the crown on Dashing's head, it is hard not to rejoice with her that love is love. The RNZB has given us a true happy ending.