Reviews
DANZ
Romeo & Juliet
Royal New Zealand Ballet
St James Theatre,
Wellington, 4 May 2023.

Choreography: Andrea Schermoly
Music: Sergei Prokofiev
Set & Costume Design: James Acheson
Lighting Design: Jeremy Fern
New Zealand Symphony Orchestra conducted by: Hamish McKeich
Reviewed by Brigitte Knight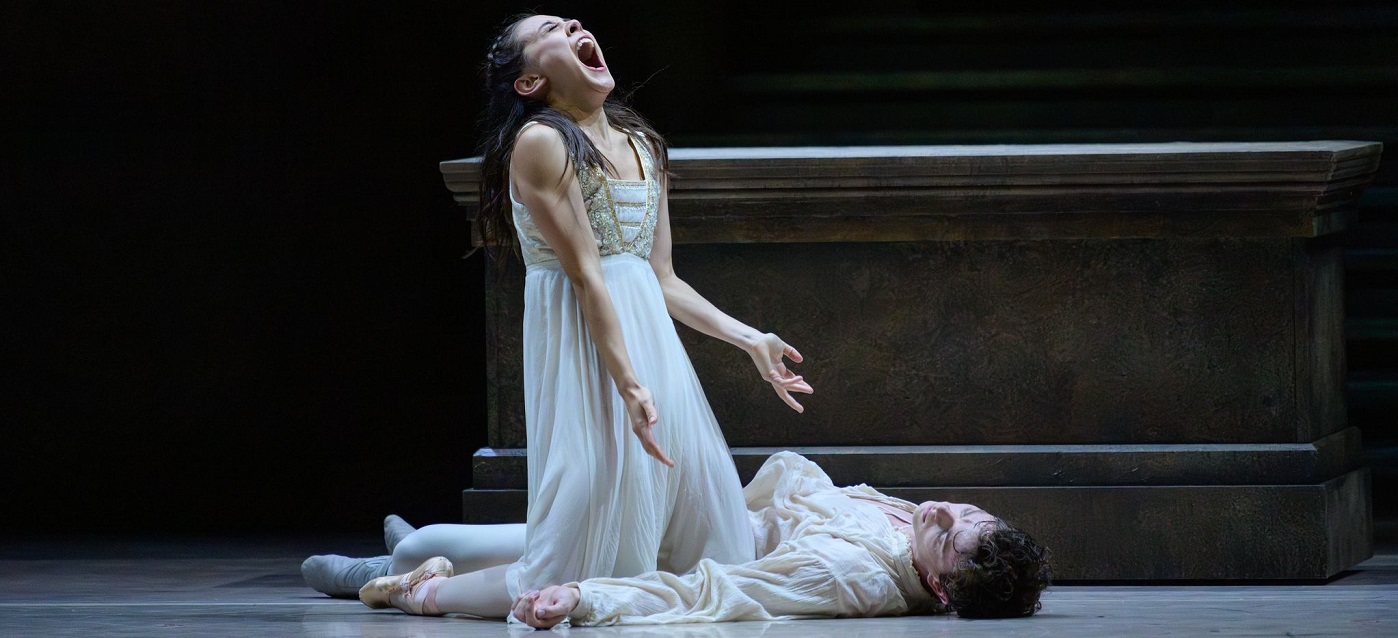 The Royal New Zealand Ballet celebrates its 70th Anniversary in 2023, a truly magnificent achievement reflecting the extraordinary talent and determination of the artists and crew, past and present, who have fuelled the consistent delivery of productions of remarkable quality. It is an anniversary made all the more impressive for being realised in a small country with some enduring parochial attitudes about the value of ballet and worth of our artists. The depth of artistic talent within the company has served it admirably through the first part of its 70th year, under interim senior leadership.
Programming for the 70th Anniversary leads with ambitious new choreography by Andrea Schermoly for the Francesco Ventriglia production of Romeo & Juliet (2017). South African born Andrea Schermoly is resident choreographer at Louisville Ballet Company and was introduced to Royal New Zealand Ballet audiences with her commissioned short contemporary ballet Stand to Reason - a remarkable work of power, sensitivity, depth, and intelligence, that was staged for a 2018 Wellington-only season Strength & Grace, and restaged for the national tour of Bold Moves in 2019. Romeo & Juliet is Schermoly's first full-length classical narrative ballet, and a substantial undertaking; the ballet is in three acts, over two hours long, interprets Shakespeare's beloved play, and follows highly successful Royal New Zealand Ballet productions in 2003 (Christopher Hampson) and 2017 (Francesco Ventriglia).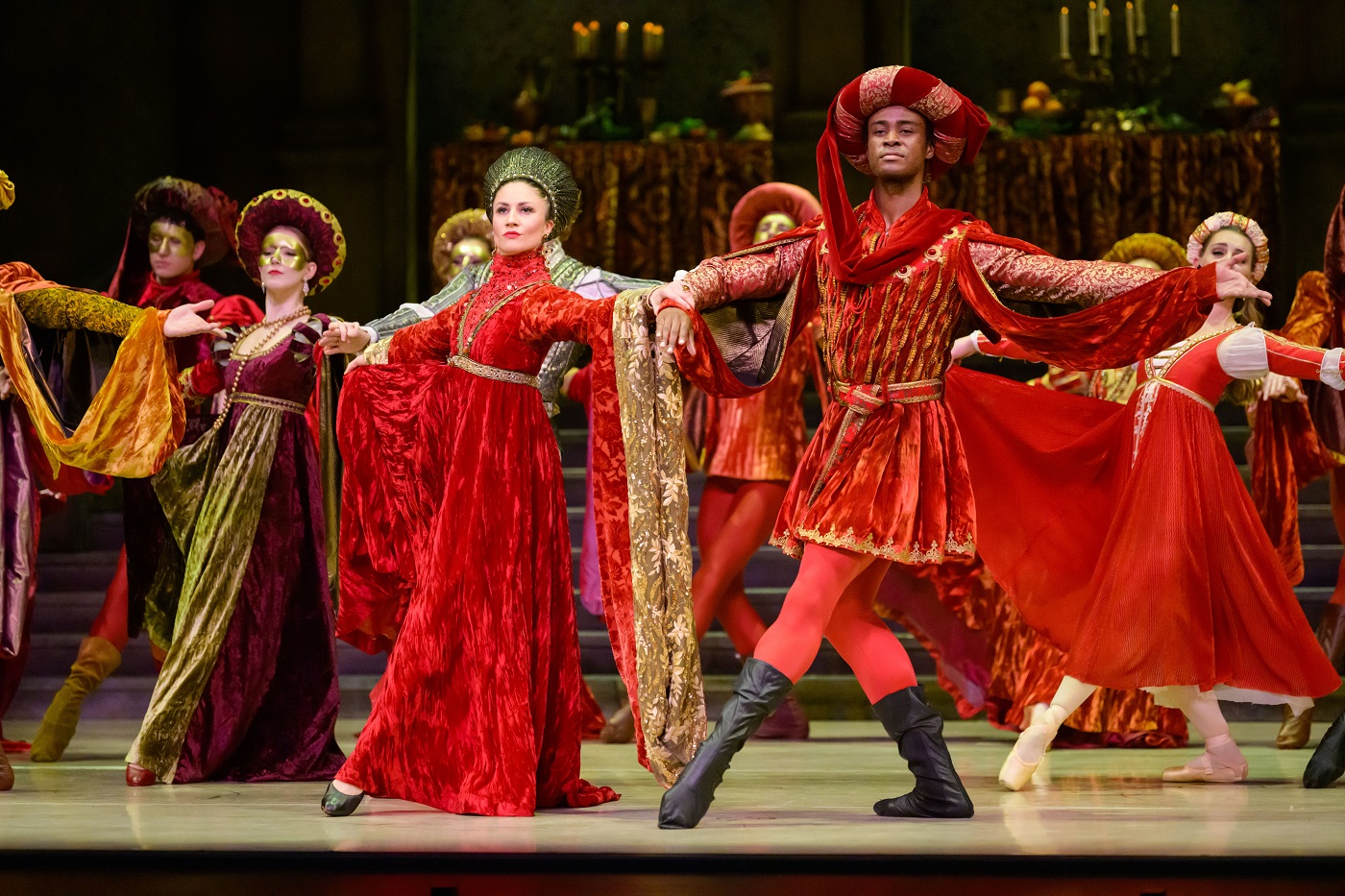 A significant parameter for Schermoly is that her new production of Romeo & Juliet retains the set and costume designs of Ventriglia's 2017 vision. Her movement vocabulary and more contemporary choreographic voice need to meld with the pre-existing visual world of the ballet. Schermoly approaches this challenge by working predominantly within the classical ballet canon, with subtle but consistent contemporary motifs, some unexpected pas de deux partnering, and by featuring lead women characters with physical and intellectual agency reacting to real societal restrictions. Juliet danced by Katherine Minor and Rosaline danced by Kirby Selchow master impressively sustained balances and promenades alone that would normally be supported by a male partner. The choreography is dense and imaginative. Musicality is stronger in some sections than others leaving room for the evocative score to be more intricately synthesised with movement choices at times.
Schermoly introduces some effective dramatic conventions in Romeo and Juliet, such as when time freezes in Act III (which is seeded briefly in Act I) and feels satisfyingly akin to West Side Story's (1961) Dance at the Gym. Were a longer rehearsal period available development and exploration of these ideas, and strengthening of choreographic contrast between Capulet and Montague might have been explored. The production delivers its narrative clearly and with some welcome light-heartedness, although the dramaturgy calls at times for more investment. Elements of character development, chemistry, nuances of relationships, and power play between both relations and enemies don't always progress to and earn the dramatic heights pitched in second and third acts. Some significant points in the story land with unexpected humour and evoke laughter, such as the killing of Tybalt and the bedroom scene in Act III, although generally the audience picks up what the choreography intends and our beloved star-crossed lovers deliver their tale of woe.

Fresh from his success playing the adorable and quietly courageous romantic lead in Cinderella (2022), Joshua Guillemot-Rodgerson as Romeo shows wonderful ballon and length in Act I in particular. Schermoly has given much more consideration to providing Juliet agency than traditional productions, and on opening night Katherine Minor commits passionately to her demanding and expansive role. Minor losses of pas de deux control and underdeveloped magnetism and eye-contact between the pair leave room for more detail and rising tension, however, with other castings this may resonate differently. Audience favourites Mercutio danced by Kihiro Kusukami, Benvolio danced by Shaun James Kelly, and Tybalt danced by Laurynas Vėjalis deliver technically impressive performances, and Vėjalis brings necessary authority and solemnity to the role providing contrast with the hijinks of the Capulet lads. Damani Campbell Williams and Sara Garbowski as Lord and Lady Capulet cut striking and capable figures, and like other characters may find evolving and nuanced emotional arcs and characterisation as the season progresses. Small inaccuracies of unison will be overcome as the cast settle into the choreography, and may be the result of the concessions made for the expansive set somewhat restricting space available to the choreographer and dancers. Themes of conflict, intergenerational dynamics and the perpetuation of feuds could benefit from casting older dancers in the character roles, and I am reminded of the richness and gravitas Sir Jon Trimmer brought to his performances of Friar Laurence. Juliet's Friends, danced by Tessa Karle, Mayu Tanigaito, Kate Kadow and Lara Flannery are effervescent, youthful, vibrant and facilitated by razor-sharp technique and intelligent attention to detail.

The production retains Ventriglia's strongly Italian flavour, creating a Renaissance Verona of sumptuous textiles, elegant nobles, golden masks and Catholic architecture. With set and costumes by award-winning designer James Acheson, Romeo and Juliet is ingeniously designed. The set rotates and adapts to create the varied scenes of the ballet; Juliet's balcony is revealed before our eyes, forced perspective gives depth to Verona's piazza, the painting dominating Juliet's bedroom is inspired by Cimabue, and the church's crucifix by Giotto. Transitions between scenes are perfectly considered, generally executed smoothly on opening night, and well-choreographed within the narrative arc. Acheson's costumes are enriched by historical accuracy too, and designed to be as close to Renaissance ballet costumes as possible. Lady Capulet's silhouette is especially eye-catching, and starkly contrasts with Juliet's youthful, pastel dresses. Along with being visually spectacular, the design elements of Romeo and Juliet are both secured in historical authenticity, and recognisably Veronese. Equally impactful and impressive is the New Zealand Symphony Orchestra conducted by Hamish McKeich. Experiencing Prokofiev's magical score live alongside the ballet is always a treat, and for Romeo and Juliet it is enhanced with an orchestra of NZSO's size and skill. Fittingly, one of the warmest rounds of applause during the curtain call is for McKeich and the orchestra.
At 70 the Royal New Zealand Ballet is a national company to be proud of, and reflects the ingenuity, ambition and collective dedication of everyone who has contributed to its ongoing success along the way. Congratulations Royal New Zealand Ballet, may you continue to grow and develop as a treasured and uniquely Aotearoa/New Zealand arts institution.
Following the richness of Romeo and Juliet in this first season, audiences can look forward to a mixed bill of short works Lightscapes, and the restaging of Loughlan Prior's joyous Hansel and Gretel (2019) to round out the RNZB's celebratory 70th year.
Photographs by Stephen A'Court
Gallery is loading. Please wait. Javascript will need to be enabled to view it.