Reviews
DANZ
The Opera House
Wellington
20 September 2023

Director/Choreographer - Neil Ieremia (ONZM)
Conductor - Marc Taddei
Production Designer - Tracy Grant Lord
Lighting Designer - JAX Messenger
Composer - Christoph Gluck; Re-orchestration - Gareth Farr; Concertmaster - Amalia Hall
English Translation - Brian Fairbrother; Samoan Translation - Tuilagi Dr Igelese Ete
Reviewed by Brigitte Knight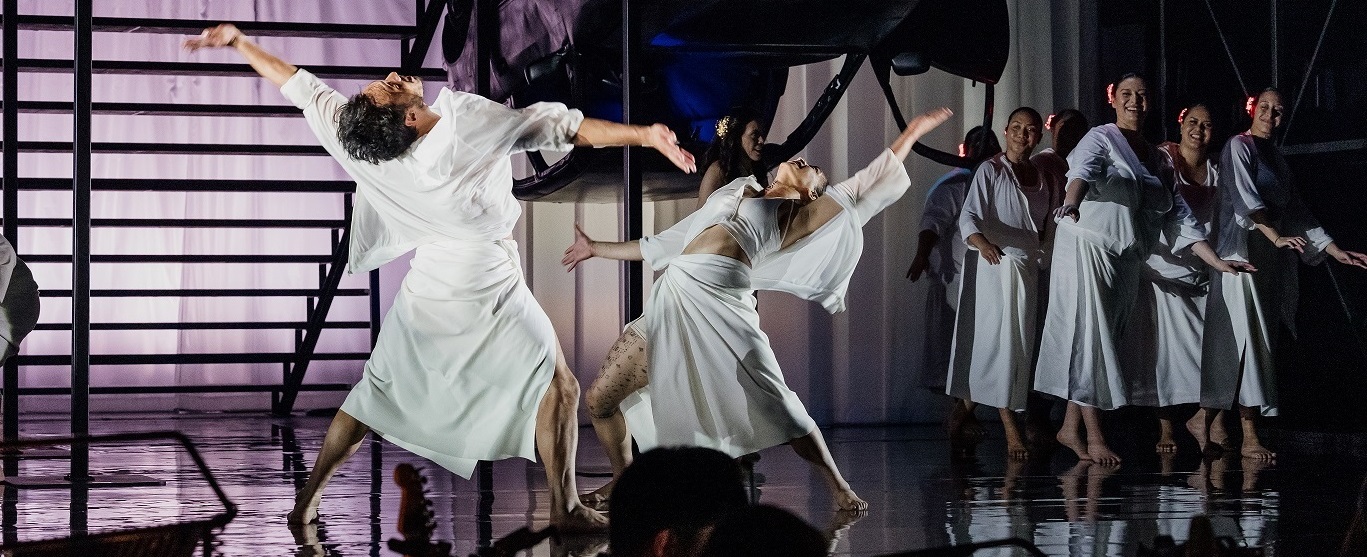 A sizeable and significant co-production between NZ Opera and Black Grace, (m)ORPHEUS reimagines Christoph Gluck's beloved eighteenth-century opera Orpheus and Eurydice as a "dance-opera" through a contemporary Pasifika lens. Director and Choreographer Neil Ieremia is adept at weaving together cultures and movement vocabularies onstage, and (m)ORPHEUS provides him rich source material in spades; Ancient Greek myth and Pasifika storytelling, traditions, and ceremony make easy bedfellows. This is the second such reimagining of Orpheus and Eurydice as a contemporary dance opera; in 2018 The New Zealand Dance Company with Auckland Arts Festival, New Zealand Festival and Latitude 37 premiered OrphEus – A Dance Opera (Orpheus, Eurydice and Us) directed and choreographed by Michael Parmenter (MNZM), a densely researched, layered, and darkly modern production, also designed by Tracy Grant Lord.
Ieremia's creative starting point – the suburban family garage – informs design and setting ("a dislocated future"), including advertising and programme imagery featuring a very glamourised and romanticised high-speed car crash. In his programme notes Ieremia describes his intention to represent the story differently; "…Orpheus is a talented young man who has lost the feminine side of himself..." embarking, after tragedy, on a voyage of self-discovery and what it means to be a "real man" in Aotearoa today. The production has removed Eurydice from its title (adding an 'm' in parentheses to include Morpheus, one of the thousand sons of Somnus, the Ancient Roman personification of sleep), and Ieremia's concept reduces the female lead to a facet of the male protagonist's own identity. Viewed without the programme notes, however, (m)ORPHEUS presents the story of tragic lovers very recognisably. Eurydice performed by soprano Deborah Wai Kapohe (Te Ātihaunui-ā-Papārangi, Te Aitanga-ā-Māhaki and Ngāti Rua (Te Whakatōhea) appears in physical form as does Orpheus performed by Samson Setu (Fogopoa, Salelologa, Fasito'outa, Vaimoso, Manurewa), and the couple interact in a relatively traditional way. In refocussing the narrative in this introspectively, Ieremia has moved away from Orpheus as representative of the power of art to transcend suffering and death. According to the plot synopsis the performance concludes with the "and then he woke up" trope, although this is less clear onstage.
Production Designer Tracy Grant Lord's magnificent set horizontally bisects the stage, striking a dramatic balance between densely weighted and feather-light elements. Her monochromatic palette is rich with treasured textures from the Pacific region, expertly contrasted with unforgiving metals and burned-out cars, and Lighting by JAX Messenger injects colour to an otherwise stark world. The depth of thinking in Lord's concept is evident in her ability to design in layers; mortal world vs. underworld, reality vs. dreams, lovingly handcrafted vs. inhumanely cold, and the Kiwi-Pasifika experience of having a foot in both camps in Aotearoa – constantly moving and navigating the palagi and Pasifika worlds. Reminiscent of "The Upside-Down" from Netflix's Stranger Things, the (m)ORPHEUS set presents Hades as an exact reflection of the mortal world above. Rich with possibilities, it is used brilliantly in a few isolated moments, such as when the Black Grace dancers as Furies unfurl like bats from the set, or when a pathway through the mirror-image car wrecks is Orpheus' access to the underworld. There is room for more exploration and invention here, especially with the sculptural open staircase which is barely used, and the beautiful tapa manoeuvred with simple sophistication in Act I.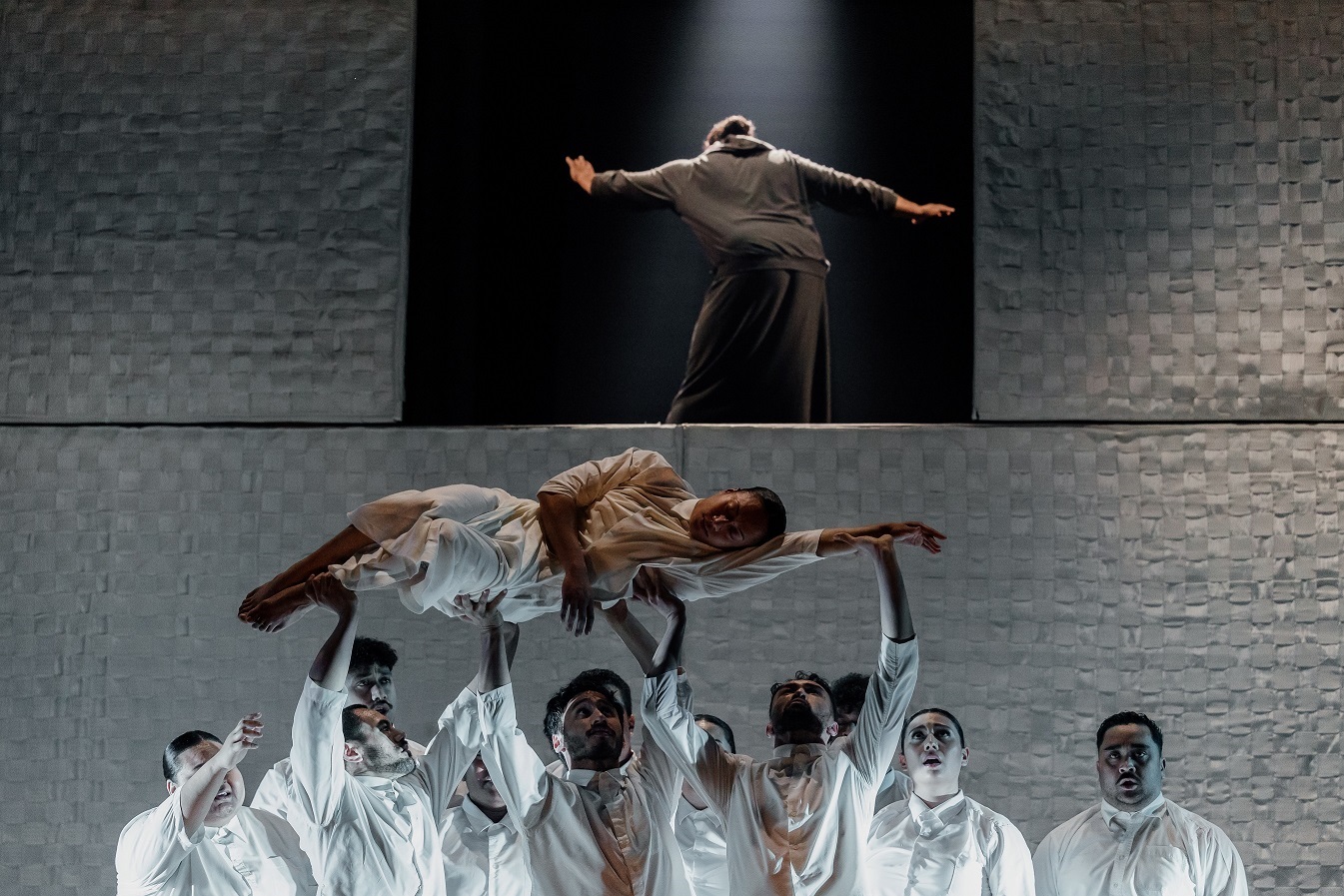 Conductor Marc Taddei sensitively elicits clean and emotive orchestration from the small but impactful ensemble of Orchestra Wellington musicians, and the ensemble of NZ Opera singers are rich and balanced. (m)ORPHEUS is sung in Samoan and English, and although placement of surtitle screens is awkward in The Opera House (requiring audience to turn away from the action to read them) had the opera been exclusively in Samoan it would be more than worth the inconvenience. (m)ORPHEUS' orchestration and choreography provide the performance with moments of emotional weight, and although the singing and staging of the action are absolutely entertaining they do not reach the depths and scope of tragedy and tension that Orpheus and Eurydice offers. The infrequent but precious dance sections in (m)ORPHEUS are exquisitely choreographed – in particular the integration of singers and emergence of dancers from the opening ensemble of mourners in funeral white, the duo between dancers appearing as Orpheus and Eurydice, and the jubilant, vibrant, and vital finale. Ieremia's finesse with motif-and-development canons, and the synthesis of Samoan and contemporary movement vocabularies (including siva's articulation and grace of the fingers and hands, and sasa's rhythm-driven energy) is deployed with confidence and generosity, and served well by the skill of the cast.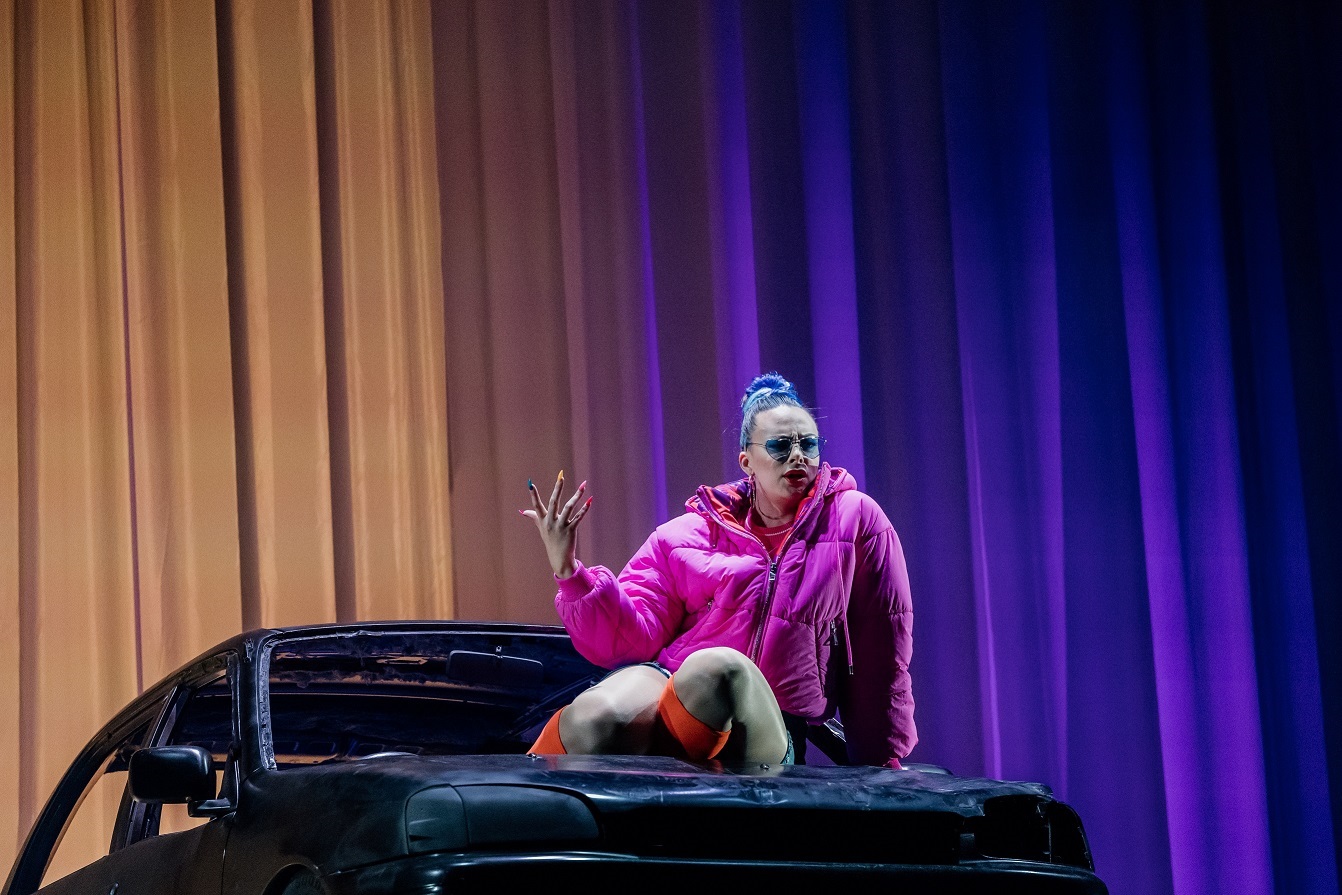 Amor, performed by soprano Madison Nonoa, (Lufilufi Samoa, Hapuku Niue, Hamilton) is played for laughs; an eye-rolling and worldly god in a hot pink puffer jacket and jean shorts. This increases the accessibility of (m)ORPHEUS and serves the pop-culture approach the production takes; her character is warm and engaging at the expense of poignancy and resonance. Removing the pivotal moment of Orpheus losing faith only a few steps from the exit of the underworld and looking back to check Eurydice is still behind him - therefore breaking his vow with Amor and sending her back into Hades forever – feels like a missed opportunity in encapsulating the plot's dramatic peak. Instead the staging involves two screens being rolled between the lovers, the look back becoming a casual glance bereft of emotional weight. Ieremia's (m)ORPHEUS then is a production of contrasts – visually grand and dramatic while emotionally familiar, warm and celebratory, rooted in the ancient world while focussed firmly on engaging a new, modern audience, and informed by finely-honed choreographic skill while grappling with the manipulation and management of wider theatrical conventions and structures.
(m)ORPHEUS is vibrant, attractive, and accessible opera, with broad audience and commercial appeal that is sure to win some new fans over to the art form.
Programme note – The (m)ORPHEUS programme uses a very small font size, grey on black. Audience members may find it helpful to access information online at nzopera.com
Photography by Andi Crown
Gallery is loading. Please wait. Javascript will need to be enabled to view it.