Tautai Oceania Internships Programme 2020
Thu 12 Mar 2020, 12:00 am
4 days ago, Fri 03 Apr 2020, 12:00 am

New Zealand
All New Zealand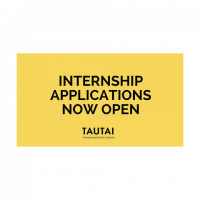 Tautai is thrilled to open applications for the Tautai Oceania Internships Programme 2020.
Now in its 7th year, the Programme is funded by Creative New Zealand and proudly delivered by Tautai to develop future Pacific arts managers and leaders, support Pacific arts infrastructure, and establish pathways for emerging Pacific practitioners to build their arts management skills.
Five internships are available to Pasifika arts practitioners across all disciplines that are keen to build their experience in arts administration. We are now inviting applications from suitably qualified, hard-working, enthusiastic and determined people who are serious about forging a career in the arts.
The Internships are paid and will run for 20 weeks, working 40 hours a week. The 20 week placement needs to be completed between June – December 2020.
The Internship programme will operate on a Tuakana Teina model. Tuakana (mentors) will look after our Teina (interns) – supporting them throughout the duration of their Internship journey and strengthening their connections to the wider Pacific arts sector.
Applicants must have a tertiary qualification and/or a minimum of three years continuous experience working within the arts.
Once confirmed, Tautai will work with the selected interns to align placements with appropriate host organisations throughout Aotearoa New Zealand.
How to apply
To apply to be an intern, please email a cover letter and a CV to tautai@tautai.org
If your organisation is interested in hosting an intern, please send an email detailing your organisation and a draft job description to tautai@tautai.org
Applications close April 3 and selections will be made by early May with placements beginning in June.