YouDance 2021 - Northern Dance Network
View all Dates
Tue 22 Jun 2021, 09:00 am - 4:00pm
Raye Freedman Theatre
Epsom Girls Grammar
Auckland
Wed 23 Jun 2021, 09:00 am - 4:00pm
Raye Freedman Theatre
Epsom Girls Grammar
Auckland
$125 registration fee per school/group
Tia - youdance@ndn.org.nz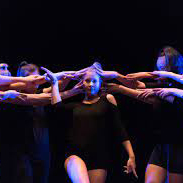 Expressions of Interest for YouDance 2021 Youth Dance Festival are closing SOON - 1 APRIL!
Follow this link to complete and submit your form:
https://docs.google.com/forms/d/e/1FAIpQLSdb_N9dnDPf9BXER2YZzG8VZzgY247Rr2-CqAaMtaJfW8hp2g/viewform?usp=sf_link
YouDance is open to schools, community and cultural dance groups (ages 13 - 18) for participation.
YouDance 2021 performance dates:
22 & 23 June - Raye Freedman Theatre, Epsom Girls Grammar
25 June - Mangere Arts Centre
Contact Tia for any questions or queries youdance@ndn.org.nz.
YouDance is an annual event to celebrate the work of secondary aged students in Dance. Young adults studying dance at school and community youth companies come together in a non-competitive, collegial environment to share dance work with each other and the wider community.
The YouDance Auckland youth dance festival initiative was developed in consultation with a group of secondary school dance teachers and community dance leaders after noting the lack of opportunities for secondary students to share their creative work with one another and the wider community without the boundaries imposed by commercial competitions.
As well as the chance to dance in a professional theatre environment dancers and choreographers receive feedback from members of the professional dance community to help them develop further. In addition, each year Tempo selects dance works from YouDance for inclusion in their show "Ignite".
Event Dates
Raye Freedman Theatre
Auckland
Epsom Girls Grammar

Tue 22 Jun 2021, 09:00 am
Tue 22 Jun 2021, 04:00 pm
$125 registration fee per school/group
Raye Freedman Theatre
Auckland
Epsom Girls Grammar

Wed 23 Jun 2021, 09:00 am
Wed 23 Jun 2021, 04:00 pm
$125 registration fee per school/group