World of WearableArt Auditions for Models-Performers
Sat 22 May 2021, 12:00 pm - 3:30pm
Interarts Cross Discipline, Dance, Free Entry Event, Wellington Region, Creative, Community Arts, Artists
info@worldofwearableart.com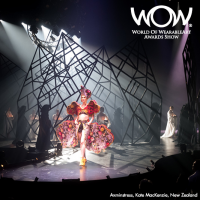 World of WearableArt (WOW) is looking for models/performers for the upcoming WOW Awards Show from Sep-Oct 2021.
We are seeking dynamic movers and confident performers of all nationalities, genders, and levels of experience and welcome you to come along to our open audition.
Being involved in the WOW Awards Show is exciting and rewarding – an achievement you can be proud of. You will make new friends, extend your creative skills, and have loads of fun along the way. You will also have the privilege of wearing cutting-edge garments made by some of the most creative art and fashion minds from New Zealand and around the world. Some of our talented designers have worked for the likes of Madonna, Kylie Jenner, Lady Gaga, Jessie J, and the Black Eyed Peas.
If you are interested in modeling/performing in our 2021 WOW Awards Show, please click the link below to visit our website for more information and frequently asked questions:
https://www.worldofwearableart.com/auditions/
Please note: registration is 12:00 – 12:45pm, with auditions at 1:00 – 3:30pm. You must attend the registration to be considered for the auditions.