Shut Up and Dance Instructors Wanted
Tue 23 Oct 2018, 09:00 am
Fri 30 Nov 2018, 05:00 pm
Whiteria Performance Centre
25-27 Vivian St Te Aro,
Wellington
Applications close 30 November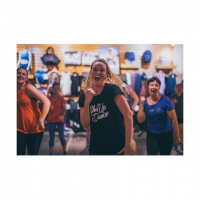 We're looking for people to join our team of Shut Up & Dance instructors.
"It's like a comedy show and a dance class rolled into one."
We teach routines inspired by films and music videos. Every 45 minute class is non-stop, fast, different and always a suprise for our participants. We don't use mirrors, and we do not allow photos or videos in the classes because our focus is on how good it feels to dance, not how it looks. As a result, we attract a wide range of ages, coordination levels, dance and fitness experience etc to our classes. Your job, as a Shut Up & Dance Energy Giver, is to teach a routine (it might be Greased Lightning, it might be Britney Spears Oops I Did It Again, it might be Proud Mary by Tina Turner - there are many routines!), in a safe, fun, inclusive and energizing environment. We offer classes throughout Wellington and are looking for people who are as passionate about making dance fun, accessible and electric for everybody - as we are.
We're looking for people who are committed to delivering our brand and are reliable to teach regular classes. In terms of the job itself, we provide everything you'll need to teach (e.g. choreography, playlists, mic, signage, templates etc), but we'll encourage you to contribute creatively (e.g. design playlists that you love, share your own choreography with us, build your own community).
This is a bit of an idea of what the process looks like:
Stage 1. Send us a video application before November 30th.
Stage 2. We'll meet you for a coffee before the end of 2018.
Stage 3: You'll either need to attend a certain number of SU&D classes to begin with, OR depending on your experience, you'll be fast tracked to the training stage
Stage 4: You'll be required to attend a training session (a two day weekend)
Stage 5: You'll be required to put on a public class that you'll need to pass before becoming an instructor.
DING DONG!
Extra information:
Your rate will depend on your experience
Our regular classes are aimed at adults
We provide choreographed routines on Vimeo (there are nearly 60 + now and growing!) for you to learn. They are broken down and easy to learn
We give you access to a private Facebook Instructors Group where you can get support and enjoy our community
We would hope that you would be interested in being a part of events throughout the year (from joining the silly, fun flashmobs and bespoke performances we create with our participants, work with young women, and getting involved with charity events and collaborations with other local business)
We offer private bookings and Hens Dos where you can earn a higher rate for teaching personalized, private sessions.
YOU ARE
Authentic & Honest
Someone who loves themselves. Rolls or abs, don't care. You love all of you!
An entertainer
A leader in your community
Good at breaking the ice and making people feel comfortable
Emotionally intelligent
Present and Aware
Someone who knows their worth: You believe you're as sparkly and exciting as a bowl of glitter - if not more so.
YOU HAVE
A passion for dance and pop. Previous fitness instructing experience or dance teaching experience is ideal.
Musicality; and or a performance/theatre/drama background
Love for all types of dance and music from different eras
The ability to commit to two + regular, weekly classes and learn our choreography
A high level of fitness (or if not, we can help with that)!
Availability and confidence to take on private sessions for Hens Dos and Corporates
An interest in growing yourself as an instructor; Attending training, growing your own community and taking opportunities.
For more information about Shut Up & Dance, check out the links below!
Links & contact details:
How to apply
Send us a short video explaining WHO you are, what kind of cake you'd be (if you were a cake) and teach us your favourite move. Send applications to hello@shutupanddance.co before November 30th.