Shen Yun 2019 World Tour
Sat 02 Mar 2019, 02:30 pm
Sat 02 Mar 2019, 04:45 pm
ASB Theatre, Aotea Centre, Auckland
50 Mayoral Drive, Auckland, New Zealand 1010
Auckland CBD
Sat 02 Mar 2019, 07:30 pm
Sat 02 Mar 2019, 09:45 pm
ASB Theatre, Aotea Centre, Auckland
50 Mayoral Drive, Auckland, New Zealand 1010
Auckland CBD
Performing Arts, Dance, Theatre, Music
Wheelchair access, Accessible toilets, Mobility parking
NZ$219, $179, $149, $135, $119
Children under 4 are not admitted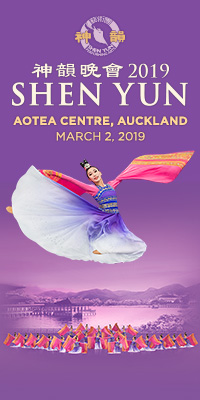 A Heavenly Gift
The culture of ancient China was divinely inspired. Shen Yun's works reflect this rich spiritual heritage.
New York-based Shen Yun invites you to travel back to the magical world of ancient China. Experience a lost culture through the breathtaking art of classical Chinese dance, and see legends come to life. Shen Yun pushes the boundaries of the performing arts to make this possible, with a unique blend of colorful costuming, high-tech backdrops, and live orchestra. Shen Yun is leaving millions around the world in awe. Be prepared for a theater experience like no other.
Shen Yun returns to ASB Theatre, Aotea Centre from 2 March 2019, as part of its global tour with an all-new program. [Tickets] [Trailer]
A Heritage Once Lost
In ancient times, China was known as the Land of the Divine and the world was full of magic and miracles. Everyone, from the emperors to the common people, believed that their culture was a divine gift. They lived in harmony with the universe and saw a connection among all things. Authentic Chinese culture carried these principles for thousands of years – until it was lost.
The traditional Chinese culture Shen Yun presents cannot be seen anywhere else in the world—not even in China. There, the ruling communist regime has viewed China's rich spiritual and artistic heritage as a threat to its ideology, and for decades sought to erase it. Chinese artists have suffered untold ordeals over the past century.
But in 2006, a group of Chinese artists came together in New York with a vision of preserving the best of China's cultural heritage and sharing it with the world. Shen Yun takes you on an unforgettable adventure of this lost civilisation.
Full Houses Everywhere
Shen Yun is now the world's premier classical Chinese dance company. Some people fly from other countries or drive hundreds of miles to see it. Others see the same performance five or six times. Why? There's only one way to find out, and that's to experience Shen Yun yourself.
RUNTIME: 2 hours and 15 minutes including intermission
BOOK NOW: http://www.shenyun.com/auckland
Event Dates
ASB Theatre, Aotea Centre, Auckland
Auckland CBD
50 Mayoral Drive, Auckland, New Zealand 1010
View on map
Sat 02 Mar 2019, 02:30 pm
Sat 02 Mar 2019, 04:45 pm
NZ$219, $179, $149, $135, $119
ASB Theatre, Aotea Centre, Auckland
Auckland CBD
50 Mayoral Drive, Auckland, New Zealand 1010
View on map
Sat 02 Mar 2019, 07:30 pm
Sat 02 Mar 2019, 09:45 pm
NZ$219, $179, $149, $135, $119