RNZB New Choreographic Series 2019
Fri 01 Mar 2019, 07:30 pm
Fri 01 Mar 2019, 09:30 pm
Opera House
113/111 Manners Street Te Aro
Wellington
Sat 02 Mar 2019, 01:30 pm
Sat 02 Mar 2019, 03:30 pm
Opera House
113/111 Manners Street Te Aro
Wellington
Sat 02 Mar 2019, 07:30 pm
Sat 02 Mar 2019, 09:30 pm
Opera House
113/111 Manners Street Te Aro
Wellington
Fri 08 Mar 2019, 07:30 pm
Fri 08 Mar 2019, 09:30 pm
Isaac Theatre Royal
145 Gloucester St.
Christchurch
Sat 09 Mar 2019, 01:30 pm
Sat 09 Mar 2019, 03:30 pm
Isaac Theatre Royal
145 Gloucester St.
Christchurch
Sat 09 Mar 2019, 07:30 pm
Sat 09 Mar 2019, 09:30 pm
Isaac Theatre Royal
145 Gloucester St.
Christchurch
Wheelchair access, Accessible toilets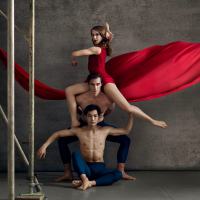 To encourage and challenge choreographers to stretch the limits of their creativity, expanding the horizons of dance in to the future.
The RNZB New Choreographic Series will present commissioned world premieres, tailor-made for the Royal New Zealand Ballet by significant and celebrated choreographers from around the world.
The creation of a new dance work is a voyage of discovery for both dancer and audience. It can bring a fresh appreciation of repertoire and technique, while showcasing the versatility and technical brilliance of our dancers.
This series will provide an opportunity for audiences to experience ground-breaking, original choreographic works designed on the dancers of the RNZB, as we expand our repertory with the spirit of Aotearoa.
Booking is now open for 2019 subscriptions – subscribe here.
Event Dates
Fri 01 Mar 2019, 07:30 pm
Fri 01 Mar 2019, 09:30 pm
Sat 02 Mar 2019, 01:30 pm
Sat 02 Mar 2019, 03:30 pm
Sat 02 Mar 2019, 07:30 pm
Sat 02 Mar 2019, 09:30 pm
Fri 08 Mar 2019, 07:30 pm
Fri 08 Mar 2019, 09:30 pm
Sat 09 Mar 2019, 01:30 pm
Sat 09 Mar 2019, 03:30 pm
Sat 09 Mar 2019, 07:30 pm
Sat 09 Mar 2019, 09:30 pm