Performance Art Week Aotearoa
Wed 14 Nov 2018, 06:00 pm
Sun 18 Nov 2018, 06:00 pm
Various Venues
Various Venues
Wellington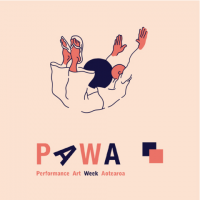 This year PAWA presents an exhibition curated by Istanbul Performance Art, free breakfasts, workshops, discussions and performances that will be held daily at Play_station gallery, Thistle Hall and a range of public locations.
There will be 17 performance artists presenting a diversity of performances including durational works, one on one works, multi-media works, participatory works, site-specific works and more!
We are so excited to be sharing work from local, national and international artists who will be exploring topics as wide-ranging as consumerism, colonisation, telepathy, feminism, fashion, labour and communication.
PAWA2018 ARTISTS: Josie Archer, Kosta Robert Bogoievski, Virginia Kennard, Alexa Wilson, RV Sanchez, Helene Lefebvre, Adam Ben-Dror, Binge Culture Collective, Caitlyn Cook, Zahra Killeen-Chance, Rewa Fowles, Mark Harvey, Louie Neale, Ivan Lupi, INOPPORTUNE, Antonia Barnett-McIntosh and Victoria Abbott.
PAWA// is about fostering the development of the performance art community in New Zealand by having a platform for discussion and displaying works.


PAWA// is about gaining increased awareness and recognition of Performance Art practises in New Zealand.


PAWA// is about stimulating an interest for and expansion of audience participation in performance art.


PAWA// is about encouraging the exchange of ideas, information and skills for the advancement and dissemination of performance art


PAWA// is about inclusivity of culture and accessibility. It is open to dialogue from people with different limitations, different backgrounds, different experiences, and different understandings of space.


PAWA brings together a wide variety of performance artists from around New Zealand and the world with the intent to stimulate critical discourse, broaden audiences, and strengthen artistic ties. It not only serves as a space to host work but also as a space of giving and sharing, a space to create dialogue in the vein of reciprocation and celebration. It aims to showcase work that is challenging, engaging, and at times, quite confronting.
Go to our website for our full programme and artist profiles.
Links: