On Display at The Big Gay Out
Sun 10 Feb 2019, 02:00 pm
8 days ago, Sun 10 Feb 2019, 05:00 pm
Coyle Park
528 Point Chevalier Rd
Auckland
Performing Arts, Fashion Arts, Exhibitions,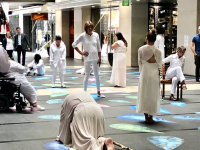 Touch Compass presents On Display at The Big Gay Out. Join us in celebrating and honouring diversity and what makes us all unique.
Ever wanted to be a part of a human art work? Then contact us now! diane@touchcompass.org.nz Ph: (09) 550 6464 / 0210445562
ON DISPLAY is a deconstructed art exhibit/fashion show and commentary on the body as spectacle and society's obsession with body image. It turns a cast of diverse and different bodies into a sculpture court where the performers are the sculptures. ON DISPLAY began as a simple human sculpture court and is now a global movement, a growing portfolio of works that explore and demonstrate inclusion through art.
There will two installations of ON DISPLAY @ 2pm and 4pm (each lasting for about an hour).