MEDANZ Festival - Seven Seas of Bellydance
Fri 12 Apr 2019, 04:00 pm
Sun 14 Apr 2019, 05:00 pm
Viva Dance Studio
10 Newton Road, Newton
Auckland
Dance, Cultural Ethnic, Conferences Workshops Classes,
Middle Eastern Dance Association of New Zealand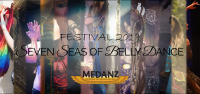 A celebration of all things belly dance! Medanz Festival 2019 offers workshops in dance and related topics, a spectacular Gala show, Hafla, a shopping area and lots of opportunities to socialise and network. It is the largest annual gathering of belly dancers from all over New Zealand.
We have crafted a weekend that will offer over 25 workshops, featuring our top Kiwi teachers, covering technique in both oriental and tribal styles for even the newest of dancers. The theme of the Festival this year is the Seven Seas of Belly Dance. It reflects the diversity of belly dance in NZ, as well as pays homage to the distant seas where our beloved dance's roots came from.
The Middle Eastern Dance Association of New Zealand was established 27 years ago to provide a supportive environment for Middle Eastern Dance (MED), to foster interest and understanding by sharing information and educating the general public about its origins, developing and promoting ethical standards, providing a forum for dancers to discuss issues significant to the community, and facilitating learning and performance opportunities.