Footnote NZ Dance Choreolab 2019
Tue 15 Jan 2019, 09:00 am
Sat 26 Jan 2019, 05:00 pm
Te Auaha
65 Dixon Street Te Aro
Wellington
Dance, Workshop, Professional Development
Applications close 7 November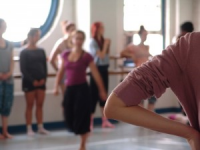 Applications are now open for Choreolab 2019!
January 15th – January 26th 2018
Te Auaha, Wellington
Start your year in the best way possible.
Footnote New Zealand Dance Choreolab is firmly established as the most significant professional development event for dance practitioners in New Zealand, drawing artists from around the country and overseas to Wellington each summer.
We are delighted to announce the tutors leading the workshops for 2019. They are Alex Leonhartsberger, Edivaldo Ernesto, Julia Harvie and Stuart Lloyd-Harris. Join Footnote and these fantastic tutors for two weeks in Wellington to challenge and develop your practice in a supportive environment.
Week One and Two: Depth Movement with Edivaldo Ernesto
Week One: Alex Leonhartsberger
Week Two: Julia Harvie and Stuart Lloyd-Harris (ChoreoCo choreographers)
As always, Footnote will make evening lab time available for participants to explore their ideas, and there will be a number of social and networking events, including the infamous Choreolab boat trip.
Following on from our sold out ChoreoCo seasons in 2017 and 2018, ChoreoCo 2019 will provide a paid opportunity for five Choreolab participants to work with Julia and Stuart on the development of a new work titled Nobody hears the axe fall. This will be a four week paid contract, from the 11th February to the 10th of March (including the week long performance season as part of the New Zealand Fringe Festival).
To apply for Choreolab 2019 please complete the application form (click here) by 5pm on Wednesday 7th November. Please also indicate whether you are interested in being considered for ChoreoCo 2019.
If you have any questions about the application process, Choreolab or ChoreoCo, please email anita@footnote.org.nz
Choreolab 2019 fees are:
$250 (Earlybird fee if paid by November 17th) or $300 (to be paid in full by December 15th).