NZDW 2019: Dance Nimble Soles
Mon 29 Apr 2019, 07:30 pm
Mon 29 Apr 2019, 08:30 pm
Hannah Playhouse
Wellington

Dance, Theatre, Gold Coin Event,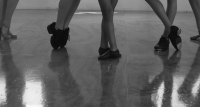 Experience Shakespeare as never before...
"You're wearing dancing shoes with nimble soles," says Romeo in Romeo and Juliet.
Indeed, in Shakespeare's plays, dance has often been part of the performance, from swordfights to jigs. And so Shakespeare Globe Centre New Zealand (SGCNZ) - in association with Dance Aotearoa New Zealand (DANZ) and NZ Dance Week - is leaping into 2019 with another new programme, Dance Nimble Soles. This mixed bill will incorporate many dance forms, and be a true fusion of art forms, with minimal staging, music, a literary source and maybe some spoken words incorporated.
Although Dance Nimble Soles is not a competition, three items will be selected to be performed in SGCNZ's National University of Otago Sheilah Winn Shakespeare Festival Showcase on 2 June at the Michael Fowler Centre in Wellington.
Performance: Monday 29 April, 7.30pm
Prices: Entry by Koha
Performance length: to be advised. Latecomers will be seated when appropriate. Seating is general admission. See Ticketing T&Cs for the Hannah's policies on phones, photos and large items
ENTRY BY KOHA