Ngā Wai - Atamira Dance Company
View all Dates
Fri 27 Nov 2020, 07:30 pm - 8:30pm
Q Theatre
305 Queen Street
Auckland
Sat 28 Nov 2020, 04:00 pm - 5:00pm
Q Theatre
305 Queen Street
Auckland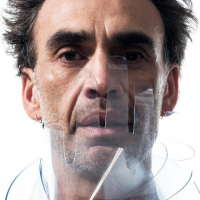 Drawing from tribal mythology and historical figures, set against the backdrop of Te Motu-o-Kura, Ngā Wai by Sean MacDonald (Ngāti Kahungunu, Ngāti Raukawa) is a full-length contemporary dance work featuring six of Aotearoa's finest dancers Bianca Hyslop, Brydie Colquhoun, Kasina Campbell, Jeremy Beck, Tupua Tigafua and Sean himself.
Seers, shapeshifters, warrior protectors, lovers and thwarted romance form the essence of this poetic work inspired by the whakapapa of Waimārama, Sean's ancestral home in the Hawkes Bay. Ngā Wai is about water and how that flows with everything, is in everything, the pool and flow of the moon and the maternal. It flows with connection, history and strength following the journey of Takitimu (migration waka) from Samoa to Waimārama.
With an incredible design team on board including John Verryt (Set), Vanda Karolczak (Lighting) , David Long (Sound and Composition), Te Orihau Karaitiana (Costumes), and Osborne Shiwan (Campaign Design) Ngā Wai is a celebration of Aotearoa's most creative performance artists and the wealth of stories that are held by Māori.
Ngā Wai further cements Atamira Dance Company's platform which proudly champions Aotearoa's remote and wild landscape where Indigenous Māori stories have a powerful voice.
Warning: This performance contains use of haze, periods of black outs and loud sounds.
Event Dates
Q Theatre
Auckland
305 Queen Street

Fri 27 Nov 2020, 07:30 pm
Fri 27 Nov 2020, 08:30 pm
Q Theatre
Auckland
305 Queen Street

Fri 27 Nov 2020, 07:30 pm
Fri 27 Nov 2020, 08:30 pm
Q Theatre
Auckland
305 Queen Street

Sat 28 Nov 2020, 04:00 pm
Sat 28 Nov 2020, 05:00 pm