coLAB3 - Unitec Dance
Wed 19 Jun 2019, 07:30 pm
Sat 22 Jun 2019, 09:00 pm
Unitec Dance Studios
Carrington Road Mt Albert
Auckland
Dance, Professional Development,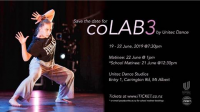 SAVE THE DATE!
Unitec Dance presents coLAB 3
Unitec Dance, New Zealand's most progressive contemporary dance and choreography programme, presents inspiring new works which explore the complexities of human experience with characteristic humour, theatricality, and powerful physicality. If you love LIVE performance that really moves, don't miss coLAB 3, proudly brought to you by future of dance in New Zealand.
coLAB3 Schools Matinee:
WHEN: Fri, 21 June @12:30pm
WHERE: Unitec Dance Studios, Entry 1, Carrington Rd, Mt Albert, Auckland
COST: $5 per person
Payment is by invoice to your school. For all school matinee bookings email pasa@unitec.ac.nz