coLAB2 2019
Wed 04 Sep 2019, 07:30 pm
Sat 07 Sep 2019, 09:00 pm
Unitec Dance Studios
Entry 1, Carrington Rd Mt Albert
Auckland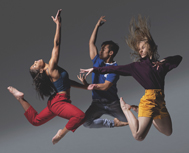 Unitec Dance presents the Year 2 Choreographic Showcase…

coLAB 2
New Zealand's most progressive contemporary dance and choreography programme, presents an evening of inspiring new works which explore the complexities of human experience with characteristic humour, theatricality, and powerful physicality. If you love live performance that really moves, don't miss coLAB 2, proudly brought to you by Unitec Dance.
School Matinee Date: Friday, 6th September @12.30pm
Venue: Unitec Dance Studios, Entry 1, Carrington Rd, Mt Albert, Auckland
Running time: Approx 70 minutes followed by short Q&A
COST: $5 per person (inc GST)
BOOK: To book your school email pasa@unitec.ac.nz with your group numbers and provide a contact name/email to send invoice.
Please note you are welcome to change your group numbers up until a month out from the show date. If you cancel or change your booking within 30 days of the date of the performance your school will still be liable to pay the full cost of the invoice.