What if the City Was a Theatre?
Fri 05 Feb 2021, 08:00 pm
Various Venues
Wellington City
Wellington
Performing Arts, Arts Culture, Festivals Arts, Visual Arts,
Various Costs - Many Free
THEPLAYGROUNDNZ@GMAIL.COM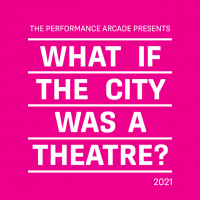 WHAT IF THE CITY WAS A THEATRE? encourages audiences to rethink the limits of public space. The programme presents an invitation to take to the streets, and experience internationally acclaimed FREE arts performance in the places you least expect it.
Reddy Nelken - House of Sand - Fri 12 Feb, Fri 19 Feb
Tōrua - Presented by Movement Of The Human (MOTH) - Wed 17 Feb, Thu 18 Feb, Fri 19 Feb, Sat 20 Feb, Sun 21 Feb
Subtle Dancing - BalletCollective Aotearoa - Sat 13 Feb, Thu 25 Feb, Fri 26 Feb
Station to Station – WIDance - Fri 26 Feb, Sat 27 Feb
Thursday - Borderline Arts Ensemble - Thu 18 Feb, Fri 19 Feb, Sat 20 Feb, Sun 21 Feb
Flamingo Scooter Ballet - Presented by Movement Of The Human (MOTH) - Thu 18 Feb, Fri 19 Feb, Sat 20 Feb, Sun 21 Feb
Le Moana - Tupe Lualua - Thu 25 Feb
Back of the Bus - Java Dance Theatre - Thu 25 Feb, Fri 26 Feb, Sat 27 Feb, Sun 28 Feb
ALL EVENTS: http://citytheatre.co.nz/