The Monotone Era - Jawline Dance Company
View all Dates
Tue 06 Apr 2021, 06:30 pm - 7:30pm
Basement Theatre
CBD
Auckland
7 days ago, Wed 07 Apr 2021, 06:30 pm - 7:30pm
Basement Theatre
CBD
Auckland
6 days ago, Thu 08 Apr 2021, 06:30 pm - 7:30pm
Basement Theatre
CBD
Auckland
5 days ago, Fri 09 Apr 2021, 06:30 pm - 7:30pm
Basement Theatre
CBD
Auckland
4 days ago, Sat 10 Apr 2021, 06:30 pm - 7:30pm
Basement Theatre
CBD
Auckland
Dance, Contemporary, Auckland Region,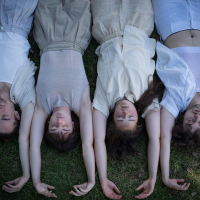 THE MONOTONE ERA
A DOUBLE BILL FEATURING THE WORKS, SUBCLINICAL AND 0ESSIAH.
ON SALE 22 MARCH
The Monotone Era is Jawline Dance Co's debut show, choreographed by Jess Crompton and Carla Harre. In collaboration with the performers Jacob Reynolds, Sharvon Mortimer, Caleb Heke and Cecilia Wilcox.
The Monotone Era is a double bill featuring the works, Subclinical and 0essiah. Take a look into two communities as they deal with their intrigues, individualisms, and each other. Neither are alike, but not dissimilar. Indulge in their Era of being. You may see yourself, you may see someone you know. Their lives are yours if you'll let them be.
DATE: 6 APR - 10 APR
TIME: 6:30PM
RUNTIME: 60 MINUTES
VENUE: STUDIO
PRICE: $18 – $38
Accessibility: Please note unfortunately the Basement Studio space is not wheelchair accessible.
Lock-out: Please arrive 15 minutes before show start time. Latecomers admitted into the theatre at Basement's discretion - no refunds will be given.
Concession prices available to: Senior Citizen, Under 30, Unwaged including people who have lost their jobs due to Covid-19.
Event Dates
Basement Theatre
Auckland
CBD

Tue 06 Apr 2021, 06:30 pm
Tue 06 Apr 2021, 07:30 pm
Basement Theatre
Auckland
CBD

7 days ago, Wed 07 Apr 2021, 06:30 pm
7 days ago, Wed 07 Apr 2021, 07:30 pm
Basement Theatre
Auckland
CBD

6 days ago, Thu 08 Apr 2021, 06:30 pm
6 days ago, Thu 08 Apr 2021, 07:30 pm
Basement Theatre
Auckland
CBD

5 days ago, Fri 09 Apr 2021, 06:30 pm
5 days ago, Fri 09 Apr 2021, 07:30 pm
Basement Theatre
Auckland
CBD

4 days ago, Sat 10 Apr 2021, 06:30 pm
4 days ago, Sat 10 Apr 2021, 07:30 pm