THE ROYAL FAMILY NEW ZEALAND NELSON TOUR 2021!!
Sun 02 May 2021, 07:00 pm - 8:45pm
NELSON GIRLS COLLEGE
40 Saxton Road, Stoke, nelson 7010
Nelson
Dance, Community, Hip Hop, Performing Arts,
info@thepalacedancestudio.co.nz +649 580 2622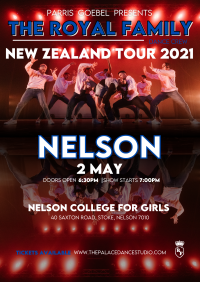 THE ROYAL FAMILY NEW ZEALAND NELSON TOUR 2021!!
Parris Goebel presents The Royal Family Dance Crew touring New Zealand - including the South Island for first time. The Royal Family have performed in sold out shows all over Asia, Europe, USA & Australia. The Royal Family dancers have appeared in music videos reaching over 10 Billion Views. The Royal Family have been crowned Mega Crew World Champions 3 years in a row at the world hip hop champs. Don't miss your chance to see one of the most successful and highest recognized dance crews in the world perform live in Nelson on the 2nd of May. Please go to The Palace Dance Studio website to find link to tickets.
Please find our poster attached with further details.